An AMR without a top module is like a robotic arm without an end-effector tool such as a gripper—it lacks functionality. The benefits of AMRs are only realized—and maximized—with top modules and high-quality gates and carts that transfer the transported materials.
How Top Modules Make AMRs Possible
Q&A with Kenneth Henriksen | Nord Modules
Tell us about Nord Modules and how your company's top modules work with AMRs.
Like many robotics companies today, Nord Modules launched in Odense, Denmark. Bruno Hansen, co-founder of Mobile Industrial Robots (MiR), started the company in 2017 with the goal of enabling autonomous mobile robots (AMRs) to perform multiple material handling tasks with highly flexible and space-efficient top modules that deploy easily and transfer loads quickly and accurately. The top modules optimize logistics, increase worker productivity and deliver a superior return on investment (ROI) for the entire AMR system.
Nord top modules—including the new Quick Mover 180 (QM180)—and corresponding automated gates and carts are deployed in a short time and reduce docking times compared to other AMR docking methods. They're extremely versatile, with one top module able to handle multiple material handling tasks. The small footprint optimizes our customers' valuable floor space.
Why do AMRs need top modules? And why are standard modules better?
An AMR without a top module is like a robotic arm without an end-effector tool such as a gripper—it lacks functionality. The benefits of AMRs are only realized—and maximized—with top modules and high-quality gates and carts that transfer the transported materials. Just a few years ago, all top modules were custom made for a specific use, which added significant time and expense to the AMR deployment process. Today, standard top modules allow manufacturers to deploy AMRs to begin their material handling tasks much faster. The QM180, for example, can be installed quickly on an AMR and start picking up goods from gates, transporting them, and placing them at the next location.
How are your top modules different from other top modules?
Nord top modules are built for speed, space efficiency and flexibility. The QM180 can handle a wide variety of materials without changing the top module. This "one system fits all" approach gives manufacturers the ability to transport multiple types of materials from A to B to C, pick up goods from a pick-up point and deliver to a drop-off point, and precisely re-position goods to another automation area such as a CNC machine. With a Nord top module, an AMR can do more of the tasks needed in factories today.
Our top module can be semiautomatic or fully autonomous, depending on what the customer needs. Nord merges multiple collaborative robot technologies—both cobot arms and AMRs—so customers can achieve a fully automated solution. For example, our gate with a cobot arm can receive the AMR solution and pick up the material and place it onto another AMR or a conveyor to take it to the next station.
Nord has patents pending that add functionality to AMRs and extend navigation accuracy. We will share details in the coming months.
How long does it take to deploy an AMR with a Nord top module?
From unboxing until the top module is running on the AMR takes about 30 minutes. The top module is ready off the shelf. The user mounts the top module with four bolts and then plugs in electrical connectors (3 pieces). Time to implementation depends on how fast the AMR itself is programmed along with the customer's use case.
In which industries do you see the most traction? Give examples of how AMRs with Nord top modules are used.
Companies with a high volume of repetitive and heavy material transport needs, such as in automotive and electronics manufacturing, have the largest user base today. A global automotive OEM with a large US facility uses the Nord Pallet Mover 1500 (PM1500) on Mobile Industrial Robots' MiR1000 to pick up and deliver pallets of materials to production lines. We're also seeing interest from manufacturing industries such as plastics molding and metal. A Danish manufacturer of hygiene products was making its own mobile robot application for the healthcare industry when high production volume led the company to allocate its own AMR for internal production and now uses the QM180 on a MiR250 to transport materials from station to station.
You launched in the US in 2019. What progress have you made in the US market?
We have executed several projects with one of our key distributors, Hermitage Automation, including a global automotive manufacturer using the PM1500. We are continually seeking partners and distributors in the US to build our partner network.
Do your top modules work with other AMRs?
Our top modules are AMR-agnostic, and we are open to working with any of the 130+ mobile robots on the market. We are a MiRGo integration partner, and all our top modules currently integrate with all five MiR robots.
Anything else you can share with us about future plans?
Not for now, but we will have more announcements soon. So stay tuned.
The content & opinions in this article are the author's and do not necessarily represent the views of RoboticsTomorrow
---
Comments (0)
This post does not have any comments. Be the first to leave a comment below.
---
Post A Comment
You must be logged in before you can post a comment. Login now.
Featured Product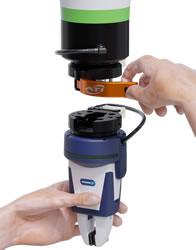 Simpler, stronger, and more precise. ATI Industrial Automation has developed a series of Manual Tool Changers that provides a cost-effective solution for quickly changing tools by hand. They feature a unique design that combines high strength, excellent repeatability, and a patent-pending screw-cam locking mechanism with multiple fail-safe features, which resists vibration and prevents loosening. These robust and compact Manual Tool Changers can handle payloads up to 80 pounds (36 kg) and pass pneumatics and electrical signals.