Supply chains are relying on automation to effectively adapt to fluctuating demand levels, new safety protocols, and shrinking labor pools. The need to operate efficiently, safely, and productively with less people is critical for today and also for success in the future.
Warehouses Turn to Automation to Meet Permanent Peak Demand
Q&A with Jim Rock, CEO | Seegrid
Tell us about yourself and your role with Seegrid.
As CEO of Seegrid, it's important to me that we always take a customer-centric approach to every decision we make, whether it's regarding the right investments, software solutions, or advancements in delivering the most cutting-edge technology. The COVID-19 pandemic put a spotlight on the need for and benefits of our end-to-end automation solutions, both in keeping global supply chains up and running and in providing a safer, more productive, and cost-effective way to do business. The world's largest manufacturing, logistics, and e-commerce companies trust Seegrid to provide the best solutions for automating material flow in their facilities. Seegrid's autonomous mobile robots (AMRs) have driven more than four million miles in live production environments without a single personnel safety incident. Our core values as a company guide our actions and align with the needs of our customers, chief among them safety, integrity, passion, authenticity, focus, growth mindset, and teamwork. Demonstrating these values through our work has never been more important. These principals help ensure that we deliver on the company's core purpose and envisioned future. We operate under the notion of working and winning together.
How have you seen warehouse logistics and automation evolve and companies adapt during COVID-19? Can you share a success story with us?
While the adoption of automation technology has been steadily growing, the pandemic accelerated the trend. Now more than ever before, supply chains are under enormous pressure to move material faster, better, and for less. The pandemic accelerated the pace of industrial automation adoption and emphasized the importance of these technologies. With social distancing measures and public health guidelines now in place, automation has become an even more essential solution for seamless material handling. For example, at a customer site, Seegrid AMRs allowed for a 50 percent reduction in operator touches over the course of one shift by automating payload exchanges. Additionally, they allowed for a 100 percent decrease in direct contact between associates working in different functional areas. Supply chains are relying on automation to effectively adapt to fluctuating demand levels, new safety protocols, and shrinking labor pools. The need to operate efficiently, safely, and productively with less people is critical for today and also for success in the future.
As the retail landscape has evolved, what are the key learnings businesses should focus on to improve logistics operations moving forward?
Before COVID-19, many of our customers would experience peak demand levels around the holidays; now companies are experiencing peak demand levels daily since March with no signs of slowing down. With this in mind, businesses must turn to material handling automation to alleviate the pressure of the always-on peak demand season. Automation increases throughput productivity, improves employee and facility safety, reduces labor and operational costs, and drives continuous efficiencies.
As we navigate the holiday season, what is needed to meet increased demand over the next few months, especially with the rise in online shopping?
In order to meet increased demand, especially during this busy holiday season and with the rise in online shopping, retailers must focus on how they can improve outputs while maintaining the safety of their employees. To do this they must invest in automated solutions like Seegrid's autonomous mobile robots, which help organizations adapt to new operational demands and evolving workflows by autonomously transporting materials so humans can focus on highly cognitive tasks, such as measuring impact and performance of the automation solution itself. Flexible automation solutions like Seegrid AMRs allow companies to quickly and easily make changes to meet evolving needs without sacrificing downtime, whether it's redeploying vehicles to a different shift, task, or facility. Supply chains need to ensure they are set up to adjust quickly, decisively, and effectively.
Do you see this move to automation being a permanent shift or will this fade following the Pandemic?
Robotics and automation are clearly the future of material handling, and the pandemic has pushed us past a tipping point in the industry. Before COVID-19, the rise in demand for automation was underway, but the pandemic highlighted the benefits of automation primarily making warehouses and distribution facilities safer and more productive. The adoption of automation will only further accelerate, and humans working safely alongside robots will become even more commonplace. Flexible automation solutions like Seegrid autonomous mobile robots facilitate continuous improvement. The pressures to move material for faster, better, and for less continue to escalate. To remain competitive, meet customer expectations, and deliver exceptional service, material handling automation is essential.
What technology is going to have the biggest impact and be most disruptive in 2021 or over the next few years?
To stay ahead of the competition and optimize workflow, manufacturing, distribution, and logistics sectors require a complete automation solution which includes a comprehensive view of operations. Looking ahead, autonomous mobile robots are going to continue maturing in their capabilities. By collecting comprehensive information and then prioritizing and filtering data, the robots will gain more human-like situational awareness—increasing their understanding of the world around them enables the AMRs to do more tasks and further increase safety and productivity on the facility floor. Combining this advanced robotics technology with actionable analytics will help businesses fine-tune material handling strategies, empowering companies to achieve Industry 4.0 goals with greater precision and at a faster pace.
About Jim Rock
Jim Rock is Seegrid's Chief Executive Officer. A progressive leader of growth-stage technology companies, Jim's expertise spans 25+ years in hi-tech industries, including artificial intelligence software, voice recognition technology, acoustic semiconductors for mobile devices, and enterprise-grade software. Prior to joining Seegrid, Jim served as President of Vocollect Healthcare, Inc. (acquired by Honeywell), Co-Founder and CEO of Akustica, Inc. (acquired by Bosch), SVP at Cambridge Technology Partners, Inc. (acquired by Novell), and VP at Carnegie Group. Jim holds a BS in Industrial and Manufacturing Engineering from Penn State University.
The content & opinions in this article are the author's and do not necessarily represent the views of RoboticsTomorrow
---
Comments (0)
This post does not have any comments. Be the first to leave a comment below.
---
Post A Comment
You must be logged in before you can post a comment. Login now.
Featured Product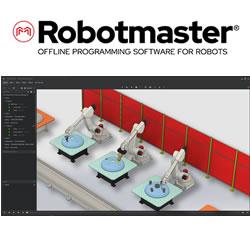 Program multi-robot cells and automatically solve robotic errors with ease. Hypertherm Associates announces a new version to its robotic programming software. Robotmaster 2024 addresses key market trends including the support for programming multiple robots in a single work cell and the demand for automatic trajectory optimization and robotic error correction.