There's a misconception that industrial robots are reserved for manufacturing giants. But, according to the Robotics Industries Association (RIA), more enterprises with fewer than 100 employees now own up to ten robots — and this is a growing trend.
You're Never Too Small for Industrial Robots
Claudia Jarrett, US Country Manager | EU Automation
Here, Claudia Jarrett, US country manager at automation parts supplier EU Automation, explains why robots are more than affordable for small and mid-sized enterprises (SMEs).
SMEs are the economic backbone of some of the most industrialized countries in the world. In the United States, for example, over 90 per cent of the business population represents small and medium-sized businesses — in fact, there are 30.7 million small businesses in the US, which account for 64 per cent of the country's job creation.
So, it's no challenge to argue that SMEs represent an extremely attractive market for the US economy. However, the case should also be made for SME manufacturers adopting robots; especially in light of RIA's finding that more SMEs are getting in on the act. Industrial robots can be a real asset for smaller businesses, especially those adding flexible, user-friendly and cost-effective solutions to their portfolios.
But, for SMEs seeking to branch out into robotics for the first time, choosing the best robot for their needs is no simple task. Manufacturers need to ask themselves the right questions if they want to optimize their return on investment (ROI). After all, robots are still an expensive investment — particularly for businesses that don't have the deep pockets of manufacturing giants.
Start with a plan
The first mistake that manufacturers can make is digitalizing without a specific strategy in mind. Instead, assessing a plant's real needs is a crucial first step before investing in any machine — especially a robot.
If a task does not require thinking on the spot, creativity or human dexterity, then it can probably be automated. Questions to assess a plant's needs might include: what kind of challenges is your company experiencing, and can they can be tackled by industrial robotics? Are you struggling to fill positions for repetitive manual tasks? Are dangerous operations affecting workers' safety? And, do you wish to add night and weekend shifts without increasing labor costs?
All of these issues can be successfully tackled with robotics.
For example, last year, the US apparel chain Gap Inc sped-up its rollout of warehouse robots. Not only do these machines play a crucial role in assembling online orders, they also limit human contact during the coronavirus pandemic.
Gap needed to triple the number of item-picking robots it uses to 106 by the fall, while adhering to the safety measures relating to COVID-19. Now, robots are used to handle its web orders — but this doesn't mean workers are replaced. In fact, in Gap's case, it aims for the technology to complement workers rather than replacing them.
As a result, Gap has seen a rising number of orders. It's on the lookout for new human hires at its warehouses, as well as new machines.
Worth the investment?
SMEs usually deal with by smaller production runs. Thanks to the latest innovations in collaborative robotics, manufacturers need no longer boast huge production volumes to justify investing in robotics.
According to the robot supplier RobotWorx, an industrial robot typically costs between $50,000 to $80,000. Yet, smaller and more flexible alternatives are now available at a fraction of that price, and are also ideal for low-volume production.
For example, Automata, a US automation provider, recently launched a robot called Eva that is priced at just $8,000 and is programmable in under 30 minutes. Designed for SME manufacturers, Eva can automate a variety of repetitive tasks such as pick and place, machine tending, sorting and dispensing.
Another low-cost option for pick and place applications is Delta Robot, developed by Igus, a worldwide motion plastics provider. The cost of a Delta Robot ranges from $10,000 to $15,000 including integration costs, while its typical ROI period is estimated at just six months.
These smaller, flexible robotic arms are accessible to most businesses with smaller-to-medium budgets. What's more, they add substantial value by freeing up human workers from tedious, repetitive tasks, allowing them to instead focus on jobs that require decision making and problem solving.
Necessary skills
Many SMEs are put-off investing in robots because they think it will be necessary to employ a technical specialist to programme the machine, or fix technical issues. This idea is increasingly a thing of the past, as robot manufacturers release more user-friendly machines to market that don't require specific technical expertise
Eva, for instance, is already the star of several YouTube unboxing videos where users explain how they assembled the robot and trained it to perform several tasks, in as little as 20 minutes. Other robots, like Delta, come pre-assembled and are ready to be programmed within a few easy steps.
In addition, all robot manufacturers and integrators offer training to their customers. This includes the Universal Robots Academy, a free platform that teaches core programming skills. With its online modules, Universal Robots Academy offers core programming training to cobot users, regardless of their robotic experience.
That said, expertise is necessary when replacing robotic parts. This is where establishing a good relationship with a reliable automation supplier, such as EU Automation, is essential. EU Automation can also ensure manufacturers can get delivery of the parts they need in as little as 24 hours — even during the pandemic.
SMEs needn't feel they need to match the big players. Instead, robotics is becoming just like any other affordable service. As well as getting over the outmoded misconception they too expensive, SEMs can also turn to an automated workforce to futureproof their operations and, increasingly, prove you don't need to be a manufacturing giant to invest in robots.
The content & opinions in this article are the author's and do not necessarily represent the views of RoboticsTomorrow
---
Comments (0)
This post does not have any comments. Be the first to leave a comment below.
---
Post A Comment
You must be logged in before you can post a comment. Login now.
Featured Product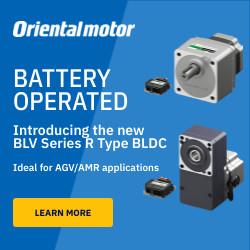 The BLV Series R Type brushless DC motor (BLDC motor) speed control system offers the design of motor and driver significantly reduced in size and weight, yet high-power, and contributes to the battery driven automation. The BLV Series R Type is compatible with the two interfaces of Modbus (RTU) and CANopen communication.