Our recent discussions with key players in the field confirm that MRO's operations will increase significantly in late 2021 or 2022. How will maintenance centres efficiently restart their operations? What impact can technology have in this recovery?
Robotics and the Resumption of MRO Activities
Article from | AV&R
How Will Robotics Support the Resumption of MRO Activities?
Viewpoint of specialists in the field for 20 years
As specialists in robotic systems for gas turbines for more than 20 years, we are closely observing the changing situation in the aerospace industry. Over the past year, the global pandemic has brought a sudden halt to aircraft engine maintenance and repair (MRO). However, maintenance centres are planning a gradual resumption of production from the second half of 2021. Our recent discussions with key players in the field confirm that MRO's operations will increase significantly in late 2021 or 2022. How will maintenance centres efficiently restart their operations? What impact can technology have in this recovery?
A Heavily Affected Aerospace Industry
2020 was the worst year for the aerospace industry. Compared to 2019, airlines worldwide experienced an average 66% decrease in air traffic, resulting in massive revenue declines of 60.9%. These figures vary by region. China's domestic market has returned to its 2019 level of traffic, but international flights are still very limited.
In order to survive, airlines have drastically reduced their costs, particularly those related to aircraft maintenance. One of the strategies used was to postpone aircraft maintenance and use those not in service due to the pandemic. Airlines are thus trying to maximize the use of their aircraft's pre-maintenance lifespan. The number of aircraft requiring repairs, which are currently grounded, is therefore on the rise.
This crisis has had a direct impact on the MRO sector, with a decrease of about 40% in activities in 2020. As a result, companies have had to close their maintenance and repair plants temporarily or permanently. As a result, many qualified operators in the field have been laid off.
Another consequence was the early retirement of older aircraft and the recovery of still valid parts. In the short term, this could have a negative impact on the parts repair and replacement market.
Assumptions for the Resumption of Operations
Two scenarios are foreseen by specialists regarding the resumption of activities: a sudden resumption of flights or a more gradual resumption. As MRO's capabilities were greatly reduced during the crisis and the number of aircraft to be repaired has increased, a sudden recovery would cause significant congestion and delays. A more gradual recovery would minimize this problem, but the challenge of rebuilding the expertise lost over the past year would be present.
We believe that a sudden recovery is likely, given the vaccines now available, the economic pressures to reopen borders and the eagerness of people to resume travel.
According to Oliver Wyman report, Global Fleet and MRO Forecast 2021‑2031, the resumption of MRO operations is undeniable. Beginning in 2021, growth in MRO operations is expected to be more notable as of 2022, with an estimated average annual increase of 3.7%, and will vary by geographic area.
Technological Investments to Support the Recovery
Experts predict a new reality for MRO companies in the coming years. Being able to adapt to current low volumes and the rapid increase to come is the key to success for MRO operators. The loss of skilled labour and personnel management is a hindrance to this adaptability. The use of robotic systems in order to increase the pace rapidly, and avoid the costs of recruitment and manpower training, will therefore help to address these difficulties.
It should be noted that the robotic technology will also meet the requirements of tighter tolerances for the repair of the latest generation engines (e.g.: LEAP, GTF, etc.). Indeed, when the repair of blade profiles reaches tolerances of only a few microns, only the use of robotic systems and artificial intelligence will meet the requirements of aircraft engine manufacturers.
Finally, MRO companies that will be able to offer a reduced repair time will be partners sought by airlines that will need to control their costs in order to get out of the current crisis.
The COVID-19 crisis has profoundly redefined the aerospace sector we knew. Experts discuss the various recovery scenarios, more or less optimistic, but all agree on a gradual rebound in MRO activities in the coming years. Businesses are turning more to technology to help them through the crisis. Robotics will be one of the keys to the post-crisis, especially for the MRO sector.
The content & opinions in this article are the author's and do not necessarily represent the views of RoboticsTomorrow
---
Comments (0)
This post does not have any comments. Be the first to leave a comment below.
---
Post A Comment
You must be logged in before you can post a comment. Login now.
Featured Product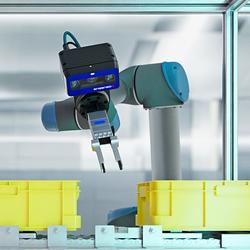 Combining the ease of use of a webcam with the performance and reliability of an industrial camera? The uEye XC autofocus camera from IDS Imaging Development Systems proves that this is possible. Its high-resolution imaging, simple setup and adaptability make it an invaluable tool for improving quality control and streamlining workflows in industrial settings - especially for cases where users would normally employ a webcam. The uEye XC autofocus camera features a 13 MP onsemi sensor and supports two different protocols: USB3 Vision, which enables programmability and customization, and UVC (USB Video Class). The UVC functionality enables a single cable connection for easy setup and commissioning, while delivering high-resolution images and video. This makes the uEye XC camera an ideal option for applications that require quick setup and need to manage variable object distances. Additional features such as digital zoom, automatic white balance and color correction ensure precise detail capture, which is essential for quality control.