Choosing the right automation partners led Greene Tweed to quickly develop, integrate and install a more flexible automated material removal cell.
ArtiMinds and ATI Accelerate Technology Implementation with Greene Tweed
Case Study from | ArtiMinds Robotics
When it comes to automation, it is easy to deliver value to a customer who knows what they want. For Greene Tweed, understanding which parameters of their automated deburring process needed to be optimized set them on the path to a successful integration project. By partnering with ArtiMinds and ATI Industrial Automation, Greene Tweed was able to confidently design, install, and program a new robotic cell that can perform a variety of material removal tasks.
Figure 1: The manual deburring process was inconsistent and very time-consuming, so that Greene Tweed was looking for a flexible robot-based automation solution.
As an engineering-based company, Greene Tweed is laser-focused on continuous improvement, especially when it comes to their own methods and processes. They produce a wide range of engineered thermoplastic and composite components in relatively small batches and value solutions that are adaptable. When an opportunity arose to enhance the manufacturing process for one of their thermoplastic composites, they knew they had to see it through.
Figure 5: With ArtiMinds RPS it is possible to prepare robot programs offline, integrate peripheral devices without much effort and to simulate and validate robot programs easily before transferring them to the real robot.
Robot-assisted deburring processes
Greene Tweed's Xycomp® is an extremely durable and lightweight thermoplastic composite material. It can be molded into a variety of complex shapes, which makes it a desirable replacement for metal in aerospace and similar applications. While the durability and moldability of Xycomp® makes it an ideal fit for the target market, this combination also creates geometrically complex flash lines that are difficult to remove consistently.
Greene Tweed initially removed the flash from small molded Xycomp® parts using a combination of man and machine power; a UR cobot grips the part and a wire brush attached to a compliance mechanism removed the flash, then the part was finished with a manual deburring process. This worked well, and is still in use, but was not scalable to the larger components in the product range. As a result, larger parts were still deburred manually. This process was inconsistent and took 15-25 minutes to complete depending on the component and amount of flash produced from the molding step.
As demand for Xycomp® parts increased, Greene Tweed started looking for opportunities to increase throughput. What if they could reduce the time needed for manual deflashing? What if they could automate the process of loading the parts into the cell? What if they needed to use more than one deburring tool to get the job done? Their in-house integration team identified a handful of key issues they wanted to address in an upgrade and then began to look for partners to bring their vision online.
ArtiMinds & Greene Tweed: two-way-street partnership
After becoming familiar with ArtiMinds at a trade fair, Greene Tweed reached out for assistance with their robotic deflashing process. The Automation Engineering team from ArtiMinds supported Greene Tweed by preparing, reviewing and optimizing robot programs remotely. Andrew Laich, Engineering Supervisor at Greene Tweed, summarizes "It was a two-way-street partnership with ArtiMinds. That made it possible for us to realize such a complex robot application."
In their early attempts on small components, Greene Tweed tried to deflash parts using custom tooling and simple robotic programming by teaching individual waypoints. Due to the geometric complexity of their products, it became clear very quickly that a specialized solution would be needed. Using ArtiMinds RPS, Greene Tweed was able to quickly program the robot paths using the CAD model of the part.
Figure 4: Thanks to the CAD2Path function, robot paths based on CAD models can be generated automatically and thus more quickly.
The next task was sourcing material removal equipment that would better suit their application. For assistance with this, Greene Tweed called on ATI Industrial Automation and their team of Material Removal Experts. After an initial review of the application and recommendations, Greene Tweed sent samples of their Xycomp® parts for a full investigation in the ATI Material Removal Testing Lab. Great communication between ATI and Greene Tweed helped ensure a successful trial; their testing expert carefully reviewed the end-stage criteria for the part, evaluated the sample, and began trials of different ATI Material Removal Tools and process parameters.
Upon arriving at a few viable solutions, the testing expert connected with Greene Tweed to review the results, obtain feedback, and assess next steps. Ultimately, ATI recommended a configuration with two ATI Material Removal Tools that when used would be able to eliminate the manual deflashing step and produce a finished part. Now, it was time to put the pieces together.
ArtiMinds and ATI have a shared purpose – making automation solutions more accessible and easier to integrate for manufacturers of all sizes and industries. Both companies prioritize simple and flexible solutions that can be applied broadly. Their products are particularly helpful for small and medium sized manufacturers who wish to focus on their core competencies and eliminate the guesswork in system development and deployment.
Easy and intuitive robot programming
The intuitive software, ArtiMinds RPS, gives the user an open platform to easily design and implement new robot programs. With it, users can prepare programs offline, set up the communication between off-the-shelf automation equipment, integrate logical conditions, and validate programs through simulations before they are transferred on the real system. The coaching and support ArtiMinds provided Greene Tweed shortened their development timeline and gave them a software framework to grow into. Andrew Laich shared that, "Artiminds RPS allowed us to easily create complex motion paths that could be used between multiple material removal tools, as well as simplifying the communication between the robot and PLC, and HMI to cycle through different tooling in the cell. In my experience there is no comparable software solution available in the market."
Figure 2: ArtiMinds RPS allows Greene Tweed to easily generate complex motion paths. Since different tools were used to remove material, it was important that the paths were also transferable to the respective scenarios.
Figure 3: The geometric complexity required a programming solution specialized to the requirements.
ATI End Effectors are designed specifically for use with robots. Their Material Removal Products feature integrated compliance that makes programming material removal applications much easier. The two tools Greene Tweed selected for their application, ATI's Compliant Reciprocating Tool (CRT), and Radially Compliant Tool (RC151), feature built-in radial compliance that helps maintain contact forces despite variation from part to part. The CRT produces a filing motion which is ideal for tight interior corners and deep grooves while the light and robust RC151 is a rotary spindle that removed the flash and produced a quality finish. According to Laich, "The Material Removal Testing Services provided by ATI gave us the confidence to move forward as well as a baseline for several process parameters."
Complex shaped composite parts, like the components made from Xycomp®, typically have flash lines that are mechanically tough, complex in shape, and are therefore difficult to remove consistently and efficiently. The built-in compliance of the ATI tools made it much easier to address this issue in combination with ArtiMinds RPS. Greene Tweed worked with software experts at ArtiMinds to develop CAD paths and navigate programming the cell. Since the operation would require two different tools, Greene Tweed integrated ATI Robotic Tool Changers into the cell to facilitate seamless, automatic tool changeover. The forgiveness i.e. compliance of the RC151 and CRT coupled with the repeatability and precision of the QC22 Robotic Tool Changer simplified the programming process. Using the ArtiMinds RPS Wizards and step-by-step instructions, the team was able to dial-in the process parameters for the robot and end-effectors to arrive at the ideal configuration quickly.
Once deployed, the updated robotic material removal cell more than halved the overall processing time for Greene Tweed's parts and eliminated all but the most minor post-process finishing by hand. The manual operators from the old deburring cell now support a new press line; their current positions are safer and more relevant to their experience and skills. In addition to eliminating a repetitive and potentially dangerous task, Greene Tweed also significantly increased their overall production capacity without adding more staff.
Flexible robotic deburring cell
The best part of this new solution for Greene Tweed is that their new cell can adapt easily to new processes; ArtiMinds RPS makes modifying paths and programming parameters a breeze. The ATI equipment features pneumatically-actuated adjustable compliance that can be tuned specifically for different applications, plus both tools are compatible with a variety of off-the-shelf cutting bits to suit a variety of surface conditions. They can reprogram the cell and repurpose the equipment to achieve different finishes or treat different parts. Should they decide to increase the number of end-effectors in the cell, it's as simple as updating the programming and adding another tool changer, all of which can be done in-house. This was a critical factor in choosing both ArtiMinds and ATI as Greene Tweed intends to use this cell for a wide variety of XyComp® products
By partnering with automation experts, Greene Tweed was able to significantly reduce their timeline to develop and deploy a fully automated deburring cell. With ATI's Material Removal Trials, they were able to test, program, and run their equipment with confidence. The choice to involve ArtiMinds and ATI early enabled the Greene Tweed team to build a program for their cell that meets their needs exactly; it is also easy to maintain and can adapt for future projects. Greene Tweed maintains complete ownership of their new robotic deburring cell, and the process also afforded them an opportunity to further develop their own integration expertise. Andrew Laich says the Greene Tweed integration team will apply what they've learned to cobot-driven manufacturing solutions in the future.
About Greene Tweed
Since 1863, Greene Tweed has been a leading developer of engineered, high-performance materials and solutions for industries such as aerospace, defense, energy, life sciences, oil and gas, semiconductor manufacturing and more. Their broad portfolio of elastomer and thermoplastic products – sealing solutions, structural components, wear and abrasion solutions, connectors and more, enhance safety and performance in critical applications. Greene Tweed capabilities also include manufacturing, testing, quality as well as design and application engineering.
About ArtiMinds
ArtiMinds Robotics is convinced that the flexible usage of robots is the essential part of future production and wants to make it manageable for everyone. Their hardware-independent software technologies enable companies to simplify robot deployment and operation. In addition to software development, they offer tailored services to support customers in all phases of automation.
About ATI Industrial Automation
ATI Industrial Automation is the world-leading engineering-based developer of robotic accessories and robot arm tooling. Our robot end-effector products like Robotic Tool Changers, Material Removal Tools, Force/Torque Sensors, and more are found in thousands of successful applications around the world. Since 1989, our team of mechanical, electrical, and software engineers has been developing cost-effective, state-of-the-art end-effector products and solutions that improve robotic productivity.
The content & opinions in this article are the author's and do not necessarily represent the views of RoboticsTomorrow
---
Comments (0)
This post does not have any comments. Be the first to leave a comment below.
---
Post A Comment
You must be logged in before you can post a comment. Login now.
Featured Product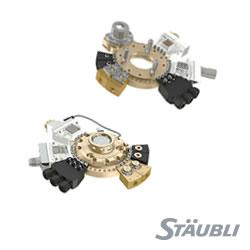 Stäubli is a pioneer in the construction and development of robotic tool changing systems. Our customers benefit from our many years of expertise in all industry sectors, as well as our modular product concept, which offers three efficient solution paths: MPS COMPLETE offers preconfigured robotic tool changers for immediate use. MPS MODULAR allows the user to determine the configuration, while MPS CUSTOMIZED allows the construction of special, application-specific systems.