We are currently focused on two main solutions - human presence detection with depth for autonomous mobile robots and UV-C disinfection robots. We also focus on obstacle detection and avoidance as well as localization and mapping for AMRs.
Handling Omnidirectional 3D Vision Data in Mobile Robots
Q&A with Rajat Aggarwal, CEO & Co-Founder | DreamVu
Tell us about yourself and DreamVu.
After completing my MS at IIIT Hyderabad, India in 2017 with a specialization in computer vision and computational photography, I co-founded and am now the CEO of DreamVu Inc. At DreamVu, we are the leaders in omnidirectional 3D vision -- because of our focus and our unique ability to combine innovative optics with the best computer vision software to create the largest field-of-view stereo depth camera-based solutions. We have been focusing on autonomous robotics for the warehouse, logistics, retail, and service sectors as our primary target market.
What is DreamVu known for and why was the company formed?
DreamVu is an omnidirectional 3-D vision solution company that utilizes patented optics to solve some of the toughest challenges in automation. We are currently focused on two main solutions - human presence detection with depth for autonomous mobile robots and UV-C disinfection robots. We also focus on obstacle detection and avoidance as well as localization and mapping for AMRs. The company was formed with a vision to revolutionize sensing and perception for the next generation of autonomous machines. With a significant improvement in the field of view and an efficient solutions design, we are bringing an exponential performance increment. We were in the news most recently for receiving a 2021 Innovator Award from Vision Systems Design which recognized the excellent design of our products.
What is Vision Intelligence Software?
Vision intelligence software is a suite of software products designed to handle omnidirectional 3D vision data. Each module was developed to maximize the benefits of DreamVu's cameras. So not only can your robots perform better, but you'll get them deployed faster. Currently, the modules include person detection with depth and Obstacle Detection Obstacle Avoidance (ODOA). We have vSLAM in development with a couple of partners, as well as other functions that will make it much easier for our customers to get their systems to market much faster.
Share with us some best use-cases for DreamVu products and solutions?
We recently released an interesting case study about the use case of our cameras on a UVC disinfection robot called Violet from a company called prescient X. They use PAL Mini on their robot to do human presence detection, which is one of our solutions, and they went from evaluating to integrating to launching in just two months. We have several active evaluations in the warehouse AMR and commercial cleaning robot space. Our ODOA solution is a hit among these customers as it not only delivers better capability but is also compatible with their current 2D data pipelines.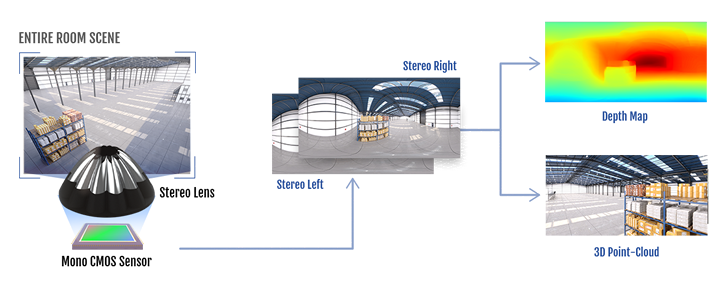 How would a company determine which camera is best suited to their needs?
It all depends on the necessities of their application and what exactly they're looking for in their sensor stack. From a feature standpoint, the field of view, the depth range, resolution, frame rate, and deployment environment play a crucial role. The difference between our cameras is the form factor and performance at distance. We've seen companies that have smaller AMR's utilize our PAL Mini obstacle detection solution. Consequently, we've seen companies who require performance at a long-range to implement ALIA on some of their larger autonomous robots.
What do you feel sets DreamVu apart from other computer vision companies?
DreamVu is able to support the premise of a large field of view in a way that's very cost and power-efficient. This is referred to as the DreamVu Difference. What makes DreamVu cameras unique to any other stereo cameras is intelligent optics in a solid-state body that generates multi-vantage point stereo perspectives onto a single CMOS sensor. Most stereo cameras would have two camera sensors, DreamVu does it with one. This means our cameras have no near-field blind spots or any blindspots within the industry-leading fields of view.
With the mobile robot industry exploding, what new opportunities do you see moving forward?
The covid pandemic has created urgency for automation in many areas. We see the warehouse as one such area. Another area is commercial cleaning robots and UV-C disinfection robots in hospitals, public spaces like airports and schools, and the workplace. With the mobile robot industry moving forward, we see a great deal of competition amongst the robot manufacturers, where innovative new approaches to improve navigation while consuming less power with lower costs must be achieved. These trends represent our sweet spot to deliver value to a market that is growing fast. We see ourselves as becoming an integral part of the value chain for the mobile robot industry.
Where do you see computer vision and vision intelligence 3 to 5 years down the road?
There's no limit to what computer vision and vision intelligence can accomplish just three years from now, with advancements made every day. Adding 3D information to computer vision improves robot navigation of course, but there are a number of other areas which will benefit. Warehouse traffic management, improved analytics within security & surveillance, improved 3D mapping are just a few examples. There's no telling how massively this can assist society, the future is bright.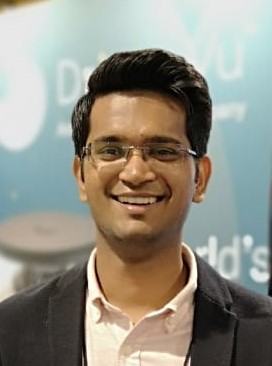 About Rajat Aggarwal
Rajat completed his BS and MS at IIIT Hyderabad in 2017 with a specialization in computer vision and computational photography. His path-breaking research on computational cameras led to several publications and patents starting from his early undergraduate days. His publication in CVPR'16 was a breakthrough in the field of computational photography and eventually became the seed for DreamVu. A hardcore inventor at heart, Rajat is a true believer in the power of optics to solve some of the most trickiest challenges in sensing and perception for humans and machines.
The content & opinions in this article are the author's and do not necessarily represent the views of RoboticsTomorrow
---
Comments (0)
This post does not have any comments. Be the first to leave a comment below.
---
Post A Comment
You must be logged in before you can post a comment. Login now.
Featured Product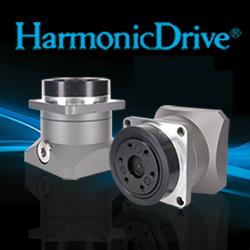 The SHA-IDT Series is a family of compact actuators that deliver high torque with exceptional accuracy and repeatability. These hollow shaft servo actuators feature Harmonic Drive® precision strain wave gears combined with a brushless servomotor, a brake, two magnetic absolute encoders and an integrated servo drive with CANopen® communication. This revolutionary product eliminates the need for an external drive and greatly simplifies wiring yet delivers high-positional accuracy and torsional stiffness in a compact housing.