Offline Robot Programming (OLP) takes the programming "offline" – away from the teach pendent / robot cell – allowing the user to generate the robotic code from their computer without having to take the robot out of production to generate it.
10 Things to Consider When Exploring Offline Robot Programming Software Solutions
Article from | Robotmaster
If you are reading this blog, you've likely realized that programing your industrial robot arm via teach pendent can be very time consuming and inefficient, constraining profitability and business growth. Offline Robot Programming (OLP) takes the programming "offline" – away from the teach pendent / robot cell – allowing the user to generate the robotic code from their computer without having to take the robot out of production to generate it. It maximizes productivity and reduces cycle time and downtime.
Here are 10 things to consider when exploring OLP solutions.
OLP dramatically reduces programming time and effort in high-mix low-volume settings, providing significant savings especially for complex path programming which is typically very labor intensive and time consuming via teach pendent.
OLP software provides increased productivity and profitability with a proven ROI.
OLP users can be trained more easily, providing advancement opportunities for employees, who are more likely to adopt new technology that is simple and straightforward to learn and operate. Selecting a brand agnostic OLP leads to a single tool to "rule them all."
OLP can identify potential issues before any programs are uploaded to the robot controller.
OLP can provide new opportunities for existing robot operations, especially in high-mix, low-volume operations. OLP allows the robot programmer to transition from one application to another seamlessly, because programming takes place away from the robot.
OLP can help prove profitability and efficacy of a potential project during the quotation phase.
For some industries, such as aerospace, nuclear, automotive, better software is the bar of entry.
Investing in superior software tools attracts and retains high quality technical staff.
OLP can provide engineering tools to perform workspace analysis to identify whether a process can be done using a robot cell design and allows the user test modifications prior to making any physical changes.
OLP can make programming a lot more flexible as you can reuse your programmed path on different robots and make modifications as needed rather than starting over. With a few edits the program can be changed to work with a different robot brand, then output code in a different programming language that can be easily uploaded to the robot ready for use.
Want to learn more about OLP? Read our previous article: Why use Offline Robot Programming Software and how to get started. Schedule a demo
At Robotmaster, since 2001 we have been taking great pride in creating intuitive, easy to use Offline Robot Programming software with a team of professionals that understands manufacturing and design, kinematics, mathematics optimization, simulation, and CAD/CAM. Hypertherm is 100% employee owned, with over 1,800 associates.
The content & opinions in this article are the author's and do not necessarily represent the views of RoboticsTomorrow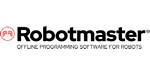 Robotmaster (Hypertherm Inc.)
Robotmaster, a Hypertherm brand, is an offline robot programming software that helps manufacturers maximize their robot's productivity with easy and efficient robot programming for a variety of applications such as cutting, trimming, milling, welding, spraying, polishing, sanding, grinding, deburring, and more. Robotmaster uses integrated CAD/CAM functionality to make robotic programming easy and intuitive for everyone, even first-time users.
Other Articles
Robots were first introduced to manufacturing assembly lines in 1978. Since then, the hardware (mechanics and control systems) has improved significantly. Yet the way these robots are programmed has not changed very much.
Successful manufacturing companies are combatting the skilled labor shortage by investing in automation and software to complement their existing workforce, meet production requirements, and attract new talent.
In the world of robotics, Offline Programming (OLP) has come a long way in a short time, and the global pandemic has jumpstarted more innovation. Industrial robots have evolved to collaborative robots ("cobots") that work side by side with their human counterparts.
---
Comments (0)
This post does not have any comments. Be the first to leave a comment below.
---
Post A Comment
You must be logged in before you can post a comment. Login now.
Featured Product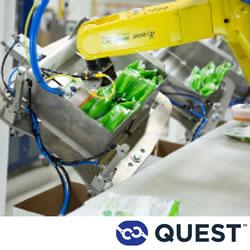 Quest is a leading manufacturer of industrial automation equipment focusing on robotics and vision-guidance. With expertise in the food, beverage, and dairy, Quest optimizes floor space for customers experiencing growing demand and helps improve their overall production line flexibility and efficiency. Quest offers application-specific software on their robotic products, including pick and place, case packing, and palletizing systems to simplify system setup and streamline configurability. Quest is a product brand of ProMach, a global leader in packaging line solutions.