There is no doubt that technology will become a critical component of our everyday food experiences within the next five years. Robotics and AI will facilitate better access to healthy food, while also reducing food waste to help our planet.
Solving Worker Shortages in Food Service With Automation
Q&A with Vipin Jain, founder and CEO | Blendid
Since we last spoke in June, what's been going on in the food service marketplace? (View previous interview here)
The last time we spoke, we touched on the staffing challenges this industry was facing. Since then, the issue has become pervasive and impossible to ignore. Quickservice and fast food restaurants are facing several headwinds when it comes to solving their labor problems. As cited in the National Restaurant Association survey from July, 78 percent of restaurant operators will tell you that recruiting and retaining employees is their top challenge. When the year started, only 8 percent were saying that.
How are these conditions impacting Blendid?
More than ever before, food service operators are looking to technology solutions to help solve staffing challenges. As one of the only food automation solutions with significant in-market operating experience, Blendid is in high demand from operators.
What are you hearing from large food service companies about the difficulties in staffing currently?
As the CEO of Dominos was recently quoted saying, "there are a staggering number of open job positions across the US right now, and a good chunk of those are related to the food service industry." Everyone has looked to attract and retain workers in a variety of ways, from cutting operating hours to offering better benefits. Still, many operators have struggled to hire and retain workers in a sector that already has a reputation for high levels of turnover.
Executives across the board are citing dialed back hours which in turn affects speed of service, higher cost with wage inflation, and generally low labor participation rates in light of a pandemic. There is a lot of business to be had, but the labor market is not going to snap back overnight.
What are some of the challenges to moving food service automation forward?
The demand for automated food service is there, but delivering on the solution is hard. It requires a diverse team of skilled cross-functional leaders in technology, food, and business operations, building the right product that consumers desire, a robust go-to-market strategy, field experience to ensure the product can sustain the stress and reliability needed in commercial food service, and a sustainable business model. Over the course of the last 6 years, Blendid has navigated all of these and has 10 patents granted or in-process to protect various aspects of our intellectual property.
Can you summarize what you have been seeing on overall costs to implement automation now compared to several years ago?
Costs are certainly coming down on the robotics equipment front. Costs are also coming down on manufacturing for us as we scale. Supply chain challenges remain an issue for industries globally, but we have navigated this very well with careful planning and risk management.
I see you've done some crowdfunding - why did you choose that route for fundraising?
A majority of what we've raised to date, which is over $20M, has been through traditional venture capital. But, crowdfunding was something we chose to try as a way to connect directly with individual investors and also help build our brand. We are fortunate to be in a segment that lends itself well to visual images and videos. You can't help but smile when you see a robot preparing your food - it still seems like magic and is quite captivating even to us, and we've been doing this a long time. Crowdfunding enabled us to get the word out about our offering broadly and directly engage with individuals who are often also either our potential consumers or operators. It's powerful to have that one-on-one engagement for learning and growth, while also having the benefit of raising money while we're spreading the word on Blendid. We now have over 3000 individual investors in Blendid through crowdfunding, who are champions for our mission of making healthy food accessible and are helping us spread the word on our mission and growth as we scale our offering in various markets across the country.
Where do you see the food service market in 5 years?
There is no doubt that technology will become a critical component of our everyday food experiences within the next five years. Robotics and AI will facilitate better access to healthy food, while also reducing food waste to help our planet.
At Blendid we can't wait for this future to become a reality for everyone around the globe and are proud to be helping to lead the charge with Blendid's food automation solutions.
The content & opinions in this article are the author's and do not necessarily represent the views of RoboticsTomorrow
---
Comments (0)
This post does not have any comments. Be the first to leave a comment below.
---
Post A Comment
You must be logged in before you can post a comment. Login now.
Featured Product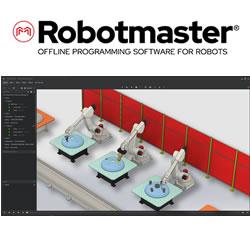 Program multi-robot cells and automatically solve robotic errors with ease. Hypertherm Associates announces a new version to its robotic programming software. Robotmaster 2024 addresses key market trends including the support for programming multiple robots in a single work cell and the demand for automatic trajectory optimization and robotic error correction.