Robots are better suited to the harsh temperatures and repetitive work than humans are, and with the right programming and end-of-arm-tools, they can provide more repeatable results.
Frontmatec Food Handling with Stainless Steel ATI Tool Changers
Case Study from | ATI Industrial Automation
Frontmatec provides customized automation solutions for a variety of applications in industries such as food, utility, and other hygiene sensitive environments. Most widely known for meat processing systems, Frontmatec has developed automation solutions for the red meat industry's primary and secondary operations.
Pork rib removal by hand is difficult work that takes practice and skill. Output quality is variable, even under the best of circumstances, and for most people using sharp handheld tools for long hours in a refrigerated environment is not an enticing opportunity. This aspect of meat processing is expensive and troublesome for many manufacturers. Yet the work has to be done so that food supply chains continue running.
There are many industries, for example foundry work, chemical processing, press tending, etc. where work is critical and abundant but not desirable due to safety risks, low wages or both. These situations can benefit exponentially from automated solutions and bring opportunities for end users and integrators who get involved sooner than later. Frontmatec recognized this and was motivated to identify problems that plague food-processing suppliers and develop solutions that can be implemented broadly.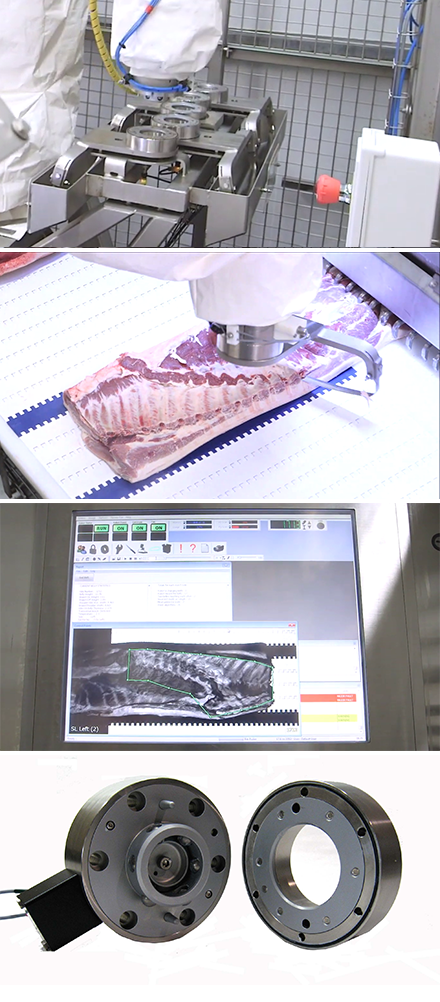 They saw an opportunity for pork suppliers to improve profitability through standardizing the removal of pork side ribs using robots. Robots are better suited to the harsh temperatures and repetitive work than humans are, and with the right programming and end-of-arm-tools, they can provide more repeatable results. Frontmatec envisioned a solution that would not just replace the workers in this difficult process, but also bring new value to the manufacturer. Frontmatec's Automatic Rib Puller (ARP) is the result of several years of development.
First, the ARP uses vision technology to locate the pork parts and compute the optimal cut path, which maximizes the side ribs and belly. The 6-axis robot accurately performs the cutting motion synchronously with the conveyor. Programming ensures the blade is switched out before the 1500th cut to eliminate extra wear on components and maintain processing consistency.
The fully automated process allows Frontmatec's customers to eliminate safety hazards, improve process quality, and reallocate labor for supporting tasks. The ARP system is also able to withstand full wash down, a daily cleaning with hot water and chemical disinfectants used to sanitize the work surfaces and equipment, and provide an efficient, hands-free method for changing blades during production. To tackle the challenge of multi-tasking with their robot, Frontmatec turned to ATI Industrial Automation for their tool changing expertise.
Frontmatec realized automatic blade changing with ATI's Stainless Steel QC-77 Food Handling Tool Changer. The QC-77 is a custom solution for food and pharmaceutical applications that includes a corrosion-resistant finish and integrated sensing to confirm the tool changer's Lock/Unlock status. High precision and repeatability of the robotic tool changer minimizes waste and processing errors. The ability to change cutting blades automatically and monitor the lock status without entering the cell eliminates many of the safety hazards in the traditional process.
The automated rib pulling system Frontmatec developed integrates safety, minimizes waste, and includes automatic blade changing and cut path maximization. The solution delivers benefits of increased uptime, process consistency, and productivity to elevate the value of pork rib removal.

For more information about the Automatic Rib Puller from Frontmatec, click here.

To learn more about the QC-77 Food Handling Tool Changer, click here!

For information about product pricing and availability, click here.
The content & opinions in this article are the author's and do not necessarily represent the views of RoboticsTomorrow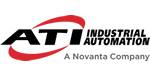 ATI Industrial Automation
ATI INDUSTRIAL AUTOMATION is the world-leading engineering-based developer of robotic accessories and robot arm tooling, including Automatic Tool Changers, Multi-Axis Force/Torque Sensing Systems, Utility Couplers, Material Removal Tools, Robotic Collision Sensors, Manual Tool Changers, and Compliance Devices. Their robot end-effector products are found in thousands of successful applications around the world. Since 1989, their team of mechanical, electrical, and software engineers has been developing cost-effective, state-of-the-art end-effector products and solutions that improve robotic productivity.
Other Articles
We will have a large variety of robotic demonstrations featuring the latest ATI Tool Changers, Material Removal Tools and Force/Torque (F/T) Sensors as well as technologies from our automation partners.
Producing the world's most advanced air defense missile requires technological innovation, especially when annual production is set to increase to 500 by 2024.
ATI has pulled out all the stops for our IMTS 2022 exhibit, with our largest booth, largest show staff and most robotic demonstrations ever! In addition, we have a variety of newly-released Force/Torque Sensors, Material Removal Tools, and Robotic Tool Changers
---
Comments (0)
This post does not have any comments. Be the first to leave a comment below.
---
Post A Comment
You must be logged in before you can post a comment. Login now.
Featured Product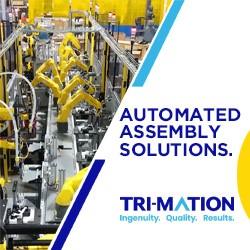 Tri-Mation reduces labor costs, improves accuracy, and production speed. Our integrators specialize in building automated assembly manufacturing systems for part production in any required volume or level of complexity.