Even if you don't have immediate plans to add robotic automation to your order picking process, you can still leverage the benefits with pallet moving robots. These robots improve the workflow at the transport dock - improving the speed to unload and load trucks.
Pallet Moving Robots Are Game Changers – And Easy to Implement Fast
Article from | Prime Robotics
Pallet moving robots are a powerful addition to a warehouse operation. When using robots, the efficiency gains are indisputable. Even if you don't have immediate plans to add robotic automation to your order picking process, you can still leverage the benefits with pallet moving robots. These robots improve the workflow at the transport dock – dramatically improving the speed to unload and load trucks.
Pallet moving robots are a game-changer for e-commerce warehouses, as well as grocery and convenience store distribution centers. Any business that requires a complex orchestration of pallets in and out of the center multiple times a day can benefit from the use of robots. Robots can easily move pallets up to 2,200 pounds without supervision.
Robot Pallet Movers Dramatically Reduce the Need for Forklifts
The time and cost savings from robotic pallet movers come from the speed at which palleted goods are moved from the docking area to inventory aisles. Most notably, the time savings comes from reducing the need for forklift drivers who take pallets from the dock and navigate the warehouse aisles to drop off the pallet in its storage location. Using a robot pallet mover, forklift drivers need only to unload a pallet from a truck to the staging area for another robot to take away.
For example, with our Prime Robotics pallet moving system, a forklift operator loads a pallet onto a platform carried by a MobilePallet robot. Now the pallet has become highly mobile – with the robot taking instruction from the Robot Control System (RCS). Then, the pallet can move autonomously (without supervision or instruction from a worker) through the warehouse.
An Example of the Benefits of the MobilePallet in Action
MobilePallet can move its load to a storage location or any other desired location in the warehouse. The RCS communicates with the WMS (warehouse management system), always knowing the exact location of the pallet.
Sophisticated location and safety technology enable the MobilePallet to detect obstacles or pause for a person to cross its path. Once a MobilePallet robot has arrived at its destination, the robot sets down the platform. Next, it holds the pallet load at its storage location. When ready for it's next mission, it departs. Now part of the inventory, when the pallet is needed next, a MobilePallet robot knows where it is stored because the RCS communicates directly with the WMS. The robot retrieves the pallet and brings it to a pick station, staging area, or other destination. Finally, MobilePallet robots automatically go to a recharge station when their battery is low and can operate 24-hour shifts.
Quickly moving heavy, cumbersome pallets unsupervised throughout the warehouse increases efficiency and reduces the labor required. As a result, fewer forklifts are needed and workflows become streamlined.
Pallet Moving Robots Assist in Many Warehouse Tasks
Cross-docking

Full-pallet putaway

Dock-to-aisle

Staging loads for shipping

Delivery and replenishment of empty pallets

Order fulfillment

Case picking

Completed case pick to pallet wrap

Movement of packed pallets to shipping
Create a Seamlessly Automated Warehouse That Combines Pallet Moving and Picking Robots
MobilePallet and MobileShelf, our warehouse robot that makes inventory shelves mobile, work in concert to create an automated warehouse environment that is more efficient and less physically taxing on workers. They are controlled by our RCS which integrates with virtually any WMS to improve productivity at every stage — from inventory inbounding to order picking.
Make 2021 the Year to Automate
Automating is now within reach of virtually every warehouse. Our $9K per month lease package makes this possible. Included in this package is 10 robots and all the accessories and customer support you need. As a result, this saves up to $80K every month the system is in place! To learn more about the benefits, you can read about our $9K Robot Lease Use Case and see the math detailing how warehouse labor costs are cut nearly in half.
To see all of our fully functional robots in action, I invite you to plan a visit to our Denver headquarters demo warehouse where our robots are operating today. This will enable you to see how our robots create top picking speed and higher productivity among all AMR's on the market. We build all of our robots right here in the U.S. at our headquarters. Come take a peek at our entire robot-building process.
The content & opinions in this article are the author's and do not necessarily represent the views of RoboticsTomorrow
---
Comments (0)
This post does not have any comments. Be the first to leave a comment below.
---
Post A Comment
You must be logged in before you can post a comment. Login now.
Featured Product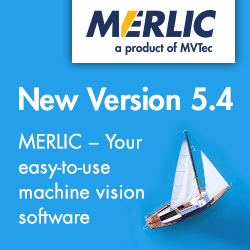 MVTec has launched the newest version 5.4 of its easy-to-use machine vision software MERLIC on Oct. 25. Its focus is on easier process integration. MVTec MERLIC 5.4 includes state-of-the-art machine vision technologies, plug-ins for direct communication with different PLCs and can be used to create complete machine vision applications. Try the new MERLIC 5.4 now!