Because it is very costly and time-consuming to develop and implement customized robotic solutions, many small and medium-sized companies shy away from the investment. Not only in production, but also in intralogistics.
Computer-on-Modules For Autonomous Intralogistics Vehicles
Case Study from | Congatec
Germany's largest distributor of pharmaceuticals – Transpharm Logistik, part of Teva Pharmaceutical Industries – relies on application-specific modular autonomous robots from Toolify Robotics, a start-up from Ulm University of Technology, to pick promotional materials. The robots Transpharm uses are based on Computer-on-Modules from embedded computing specialist congatec.
The solution at a glance
Industrial robots are a key cornerstone of Industry 4.0. But because it is very costly and time-consuming to develop and implement customized robotic solutions, many small and medium-sized companies shy away from the investment. Not only in production, but also in intralogistics. This is why start-up Toolify Robotics has developed Xito (www.xito.one), an open, manufacturer-independent modular system for autonomous intralogistics vehicles and mobile pick-and-place robots. In combination with Computer-on-Modules from congatec, this paves the way to flexible and low-cost development of customized automation solutions.
The automation of materials handling processes has long been a driver of innovation and investment in the intralogistics sector. In many areas, processes can be automated using a wide variety of materials handling solutions to accelerate material and goods flows, and to shorten work processes. But there are also areas that cannot easily be automated by installing fixed conveyor technology. So, not every warehouse can become an automated high-bay warehouse. This is only viable if the comparatively steep investment is justified by the throughput, and the storage bays are highly standardized.
At Transpharm Logistik, however, the promotional products change frequently and come in different shapes, sizes and weights. Staff therefore have to pick them individually per recipient. Nevertheless, Transpharm Supply Chain Analyst Martin Zwiebel was tasked to optimize the pick and delivery process further. "Staff were using heavy, bulky carts to pick promotional products," recounts Zwiebel. Equipped with tablets and supported in some cases by pick-by-light systems, they gathered the individual items from across the entire warehouse and then wheeled the cart with the complete pick to the packing department, where the promotional products were made ready for dispatch. "When looking for a faster and easier solution, it became apparent that a driverless transport system promised significant advantages," the analyst continued. So, what was needed was an affordable robotic trolley that could autonomously find its way to the next storage bay following a predefined optimized route, and that would prove a constant and helpful companion to staff.
© Transpharm
Transpharm has replaced conventional order picking carts with self-driving carts.
Compatibility is the key
Martin Zwiebel decided to test the open, vendor-independent platform Xito (www.xito.one). Xito is a modular building block system and software ecosystem from Toolify Robotics for the design, interface management, implementation and operation of customized autonomous intralogistics vehicles and robots. It grew out of a joint project between several universities. The start-up Toolify went on to develop the concept into a market-ready solution as a spin-off of Ulm University of Technology. Martin Zwiebel used it to easily assemble a customized autonomous picking cart in line with his own ideas and requirements.
"I was able to pick the most suitable components from the Xito marketplace and connect them together," enthuses Zwiebel. The Xito marketplace today offers more than 50 hardware building blocks for various autonomous transport logistics and mobile pick-and-place robotics applications: navigation, augmented or virtual reality, localization, intelligent obstacle avoidance, speech and object recognition, RFID readers, etc. Even grasping and positioning would be possible.
Dr. Dennis Stampfer, CEO and co-founder of Toolify Robotics, developed the necessary software for the modular system with his team. "We offer easy-to-use tools to create plug-and-play components that make it comparatively simple to realize quite complex robotics applications," says Dr. Stampfer. Xito drastically simplifies and accelerates the programming of robotic applications, requiring no expert knowledge. "The overall system consists of many different subsystems and devices. We act as the interpreters with our manufacturer-independent platform."
© Toolify
Xito from Toolify is a development platform to easily build mission specific autonomous robots such as logistics vehicle and transport robots, with optional pick-and-place functionality.
Robotics and automation for all
Transpharm now has a collaborative mobile robot that autonomously follows the pickers to the next relevant location. A pilot project with several robots went down extremely well with staff: Since then, they have been enjoying the robotic assistance as it means they no longer have to push the heavy picking carts by hand.
Just like before, picking begins at a specific starting point, but instead of a picking cart that is pushed like a shopping trolley, there is now a self-driving robotic cart with tote waiting to accompany pickers. When all picks have been made, they send the robot with the picked items to the packing department. To take itself there, as well as when driving around in the warehouse, the robotic cart follows route-optimized pre-defined paths. And a new empty robot waits at the starting point, ready for the next picking task.
"Xito made it easy, quick and affordable to configure an autonomous logistics vehicle that perfectly fits our specific picking task," confirms Martin Zwiebel. "Everything worked flawlessly. That is not a given. Without a development kit like Xito's, the individual components often lack the required compatibility, necessitating immensely costly efforts to develop a working software and hardware solution – costs that often exceed the financial means of small and medium-sized companies."
Depending on the requirements, Xito saves users up to 75% of the development and implementation time of conventional solutions. This is because they can use simple, less expensive standard components that would not be able to communicate with each other without the Xito development kit. Another advantage: The individual building blocks of the kit are reusable and can also be assembled differently. This makes solutions viable that would previously have needed extremely high throughput and scaling to offset the costs. At Transpharm's warehouse, three such autonomous picking carts are fully sufficient for handling the promotional products.
Modular kit needs modular processor
"The integration capabilities and advanced modularity of Xito needed a similarly modular and flexible hardware architecture as one of the core components," explains Dr. Stampfer. After all, the required computing performance of the individual Xito solutions varies depending on how the modular components are assembled. The platform therefore deploys Computer-on-Modules as they allow flexible scaling of computing power. Next to task-specific load balancing, this also enables application-specific price and performance balancing.
© congatec
To be able to adapt the intelligence to the specific tasks, the Toolify development kit leverages flexibly scalable Computer-on-Modules from embedded computing specialist congatec.
The latest Computer-on-Modules to be supported are based on the COM Express compact form factor and feature the new 11th generation Intel Core processors (Tiger Lake). They scale in performance up to the Intel Core i7. For low-power or cost-sensitive applications, there are modules based on the Intel x6000 Intel Atom Celeron and Pentium processors (Elkhart Lake). Developers can scale their applications across 15 different performance levels based on this new processor technology alone. Many further variants can be created using other processor platforms, as they are quasi pin-compatible thanks to the COM Express module standard and can therefore be scaled across all processor architectures. For robotic applications in particularly harsh environments, there are modules that are specifically designed for the extended temperature range of -40°C to 85°C. This expands the field of robotics for logistics applications from cold storage right across to large bakeries, where robots are for instance deployed to move trolleys with racks of freshly baked goods in the immediate vicinity of the ovens.
The new conga-TCA7 modules based on Intel® Atom® x6000E, Intel® Pentium® and Celeron® J processors come in 8 scalable variants and are specially designed for energy-saving and/or cost-optimized applications.
These options can be expanded still further by using real-time capable hypervisor technology. In fact, support for hypervisors from Real-Time Systems is standard on all x86 Computer-on-Modules from congatec. These innovative hypervisors enable multiple operating systems – both real-time operating systems (RTOS) and standard operating systems (GPOS) such as Microsoft™ Windows® or Linux – to run in parallel on x86 multicore processors while retaining their hard real-time characteristics. This makes the modular congatec systems at the heart of the Xito robots highly configurable for a wide variety of tasks and subsystems.
Great prices, huge improvements
Robotics is booming, but for many small and medium-sized companies the investment is too high. "We help to make the development of robotic solutions simpler and more sustainable so that small companies can also reap the benefits of this technology," explains Dennis Stampfer. Without congatec's Computer-on-Modules, however, such flexibility and modularity would be hard to imagine.
congatec modules featuring the latest Intel Core processors of the 11th generation (Tiger Lake) are also available for the extended temperature range of -40°C to 85°C
Martin Zwiebel estimates that Transpharm increased its productivity by 20% to 25% thanks to the new robotic solution. Now he is already planning what next projects to tackle with Xito. "Refrigerated picking faces similar challenges: a constantly growing portfolio and more agile processes. Besides, the prevalent space constraints do not allow automation with conventional conveyor technology." He also sees potential for Xito systems in production and quality assurance, and maybe picking itself can also be realized automatically with a robotic transport system in the future.
About congatec
bcongatec is a rapidly growing technology company focusing on embedded and edge computing products and services. The high-performance computer modules are used in a wide range of applications and devices in industrial automation, medical technology, transportation, telecommunications and many other verticals. Backed by controlling shareholder DBAG Fund VIII, a German midmarket fund focusing on growing industrial businesses, congatec has the financing and M&A experience to take advantage of these expanding market opportunities. congatec is the global market leader in the computer-on-modules segment with an excellent customer base from start-ups to international blue chip companies. Founded in 2004 and headquartered in Deggendorf, Germany, the company reached sales of 127.5 million US dollars in 2020.
The content & opinions in this article are the author's and do not necessarily represent the views of RoboticsTomorrow
---
Comments (0)
This post does not have any comments. Be the first to leave a comment below.
---
Post A Comment
You must be logged in before you can post a comment. Login now.
Featured Product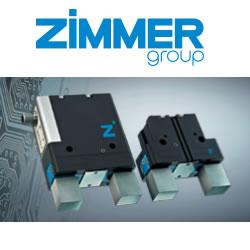 IO-Link is the first standardized IO technology worldwide for communication from the control system to the lowest level of automation.