As electronics get smaller and manufacturers come under greater pressure to improve efficiency and throughput, the traditional hand soldering method is no longer up to scratch.
Three Reasons to Robotize Soldering Operations
Nigel Smith | TM Robotics
In 1896, a patent for electric heating apparatus, now commonly known as a soldering iron, was granted. The process of soldering has remained much the same since then. But, that's about to change. In this article, Nigel Smith, CEO of TM Robotics, international distributor of Shibaura Machine, formerly Toshiba Machine, industrial and soldering robots, explains three reasons why you should automate the soldering process.
As electronics get smaller and manufacturers come under greater pressure to improve efficiency and throughput, the traditional hand soldering method is no longer up to scratch. While soldering is performed by skilled, highly trained workers, the ability to simultaneously improve speed, accuracy and consistency is an almost impossible task for humans — not, however for industrial robots.
As the fourth industrial revolution sweeps the manufacturing industry, industrial robots are bringing a whole host of benefits to the factory floor, increasing productivity and profitability whether machine tending, assembling, picking and placing or even soldering.
As well as off-the-shelf industrial robots, TM Robotics offers a wide range of other automation manufacturing equipment — including soldering systems. TM Robotics works in partnership with ELMOTEC, a family-owned Swiss company, with more than thirty years' experience in the soldering industry.
Soldering robots for speed
A major benefit of automating soldering process is improving speed and efficiency. Not only are soldering robots fast when completing tasks, they don't require breaks, annual leave, or slow down due to eye strain or fatigue. Soldering robots can operate 24/7 if needs be, vastly increasing production.
Plus, it's relatively quicker, easier and cheaper to train robot operators than highly skilled manual solderers. Combine this with the fact that one operator can load, unload and oversee several robot stations and the savings in terms of training costs and manpower begin to add up.
Soldering robots for accuracy
Not only are soldering robots faster than manual soldering, they're also much more accurate. Year on year, electronics are getting smaller, and the demand for smaller, more lightweight electronics is only expected to grow. Nowadays, many printed circuit boards (PCBs) are densely packed with components, making it easy for solder joints to be incorrectly soldered or missed altogether. To make matters worse, errors when soldering manually are inconsistent and difficult to detect.
On the other hand, once a robot has been programmed to a certain path and quality level, it will repeat it exactly, soldering each join precisely and never missing one. Any errors that do occur can easily be corrected through reprogramming. With human error eliminated, fewer defects will be found — decreasing the amount of rework needed and increasing throughput.
Soldering robots for versatility
The third reason to robotize your soldering operations is versatility. Whatever the soldering application, from single pins to battery cables, there's a soldering robot to match. TM Robotics and ELMOTEC offer a range of fully automated soldering systems, combining Shibaura Machine's accurate and reliable SCARA and 6-axis robots, with soldering heads and peripherals designed by ELMOTEC.
These soldering heads are simple to mount onto SCARA robots from Shibaura Machine, and cover a range of soldering types, including laser soldering heads for heat-sensitive electrical components, high-frequency soldering heads for compact induction heating and flame soldering heads for maximum energy when micro-flame soldering. These heads can be combined with nozzles designed for a variety of applications.

Soldering robots in action
One TM Robotics customer to take advantage of the power of soldering robots is MIG-O-MAT, a company that makes plasma welding and microflame soldering machines, before this point for manual use. MIG-O-MAT approached Elmotec to find a robot that was extremely accurate, consistent and flexible — able to be installed in multiple configurations.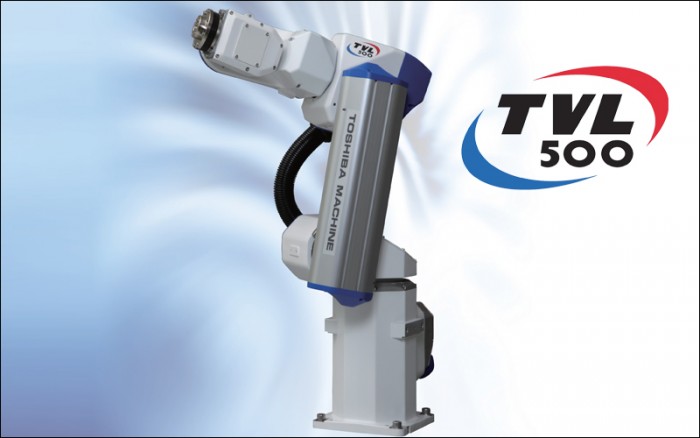 To satisfy this brief, TM Robotics suggested the TVL500. This compact, light-weight six-axis robot is the smallest robot in the TVL range, offering a maximum payload of 3kg and a reach of 602mm. Thanks to a standard cycle time of less than 0.4 seconds, the TVL500 offers the high speed and accuracy necessary for soldering applications.
"Integrating the TVL500 improved the overall process time of a general soldering operation, but an unexpected advantage was the increased ease in which an operator can detect possible errors during soldering," explained Burak Maltepe, sales engineer at MIG-O-MAT. "With manual soldering, any errors that do occur are inconsistent and almost impossible to detect. Using automated technology means errors — which have already been drastically reduced — can be identified easily. More importantly, end users can reprogram the robot to the correct adjustments and ensure the error does not occur again."
With over 30 years' experience in the robotics industry, TM Robotics prides itself on having the expertise to adapt the ideal robot to a customers' application, not just offering an off the shelf solution. Not only does the TVL500 make an ideal soldering robot, it also appeals to a broad range of end-users of MIG-O-MAT's technology, thanks to its small footprint and extra tap holes which allow for the addition of peripheral devices and multiple installation options.
The pressures of today's electronics production lines make the accuracy, efficiency and consistency offered by industrial robots invaluable. While handheld electric soldering irons may have been the best solution for the past 125 years, soldering robots are the future.
For more information on soldering robots, go to www.tmrobotics.com
The content & opinions in this article are the author's and do not necessarily represent the views of RoboticsTomorrow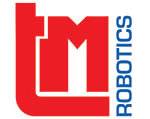 TM Robotics (Americas) Inc
TM Robotics, in partnership with Shibaura Machine, formerly known as Toshiba Machine until 1st April 2020, offers a comprehensive range of industrial robots ideally suited for high-precision assembly, machine loading/unloading and material-handling applications that can be dust proof, clean room, or IP65/67. The company's extensive product line starts with a Cartesian solution available in thousands of combinations from single actuators to four-axis solutions; six-axis solutions that can include precise vision-control; and a complete range of SCARAs from low cost to the industry-leading SCARA with 1200-mm reach that can carry up to 20 kgs. TM Robotics sells and services robots throughout Europe, the Middle East, India, Russia, and Africa, as well as North, Central, and South America, from headquarters in Hertfordshire, England and Elk Grove Village, IL, USA. For more information, visit www.tmrobotics.com or follow us on Twitter, LinkedIn and YouTube.
Other Articles
At the booth, visitors can see the TH650A robot perform a live screw feeding demonstration, developed by ASG. This is just one of many solutions TM Robotics is involved with.
You have lots of cartons coming into a typical warehouse, let's say 600 boxes per hour, and razor blades are used to cut these boxes while keeping up with intake speeds. This invites risks and employees still get injured, despite safety precautions.
Automate marks the US launch of Shibaura Machine's latest robot models — the THE800 and THE1000. These high-performance robots have been designed to meet demand for fast paced assembly applications with higher loads.
---
Comments (0)
This post does not have any comments. Be the first to leave a comment below.
---
Post A Comment
You must be logged in before you can post a comment. Login now.
Featured Product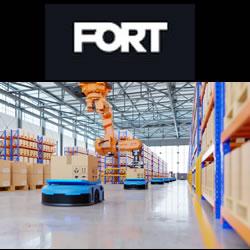 Machine safety and security are two critical components of any industrial operation. Our latest video explores this question and provides insights into how security measures can enhance machine safety. Nivedita Ojha, VP of Product at FORT, breaks down the key considerations when it comes to securing your machines and keeping your workers safe, explaining why there is no safety without security.