Universal Robots sought a partner to help transform their traditional, ad hoc, check-the-box user testing program into an efficient source of actionable product feedback to give them a significant edge on their competition.
Universal Robots - Centercode Case Study
Case Study from | Universal Robots
Founded in 2005 by three Danish engineers, Universal Robots' mission is to make industrial robot technology accessible to small and medium sized businesses throughout the world. With over 700 employees globally and annual revenue of over $200 million USD (as of 2020), Universal Robots (UR) is the leader in delivering versatile collaborative robotics hardware and a platform for businesses seeking to increase their productivity through automation.
Within the last five years, over fifty new robotics companies have appeared seeking to challenge UR's vanguard status. In order to maintain their dominance, UR leadership encouraged the organization to incorporate the voice of the customer more often during the development process. Up until this point, Universal Robots' testing goal was to ensure there were no catastrophic issues in their products prior to launch, but leadership and key individuals recognized that those efforts weren't going to be sufficient as competition increased and the customer base expanded. Seeking to align their products with customer and software partner needs and to capture additional market opportunities, Universal Robots sought a partner to help transform their traditional, ad hoc, check-the-box user testing program into an efficient source of actionable product feedback to give them a significant edge on their competition.
Challenge
With the mandate to include real end-users in earlier stages of development, the Universal Robots team faced some key challenges:
Several consecutive releases were delayed or pulled back due to unexpected issues being discovered with the software causing both customer and partner frustration. New products and R&D drove user testing priorities while waterfall development processes left little opportunity for user testing before releasing to live environments.

Excessive time and resources were being spent on ad-hoc testing due to processes that were not as efficient as possible. While UR's QA process is robust, Product teams had limited bandwidth to focus on user testing which resulted in reduced capacity to improve efficiency. The team was spending nearly 100 hours per month working with partner testers on new software releases only to receive a handful of bugs submitted via email as the result. When testing with their customers, UR would spend an hour with each customer individually to onboard them for a test. The team couldn't invite more than 15 to 20 customers to participate or even encourage those that were onboarded to participate because of this time-consuming onboarding process.

Key insights and opportunities to truly delight customers and partners were missed because test results and feedback weren't formally tracked meaning the feedback loop couldn't be closed properly. For the UR team, the main indicator of a successful test was simply maintaining a positive relationship with the customer. Since formal feedback wasn't being collected, development teams were making broad assumptions about their alignment with partner and customer expectations and requirements.

During an internal meeting, the Universal Robots team was defining business objectives related to the voice of the customer, but they weren't sure how to validate the objectives. "We wanted to make it better," says Ed Chan, Global Project Manager at UR, "but we didn't know what metrics to capture, what strategies to employ, or how best to measure and show the improvement."
Solution
Before his move to Universal Robots, the Global Senior Director for Product Management at Universal Robots had used Centercode for customer testing at a previous organization. The Vice President of Universal Robots' R&D division had also used Centercode in the past and praised their expertise in customer testing. With that, the UR team engaged Centercode to form a partnership with the goal of creating a world class user testing program for their customers.
"The fact that Centercode was designed for both pre and post launch testing was a huge selling point for us. Along with the expansive library of best practices and processes for testing, an area where we were still learning, Centercode's platform maturity and pricing really drove the decision to move forward." - Ed Chan, Global Product Manager at UR
Rapid Deployment
Universal Robots spent 3 days with the Centercode team as part of their onboarding. Throughout the sessions, they discussed existing UR workflows, best practices and ideal processes for being successful with user testing and Centercode, and trained on how to use the platform and implement Centercode's recommendations. "With Centercode's Onboarding services, we were able to stay on track to launch a new product on time," says Israel Nunez-Santiago, Beta Program Manager at UR, "The response time from [our Functional Solutions Consultant] was great, and we never felt patronized for asking something we thought was stupid."
Initial & Ongoing Success
For their first project, Universal Robots invited and onboarded nearly 75 robot software developer partners to test compatibility for a new software release using the Centercode platform. The response was overwhelmingly positive. The team was able to track feedback and tester/partner engagement for the first time ensuring that the issues and ideas that their testers discovered made it to engineering for resolution. Customers and partners alike complimented the new centralized platform for how easy it was to submit feedback and stay up to date on the newest revisions. The team also spent 80% less time onboarding testers than they did prior to Centercode. In addition, Israel and team reduced the time spent managing projects by half, gaining precious time back to focus on supporting partners and perfecting products.
"In the past, I knew there were issues with certain releases or features because I'd hear the complaints directly from partners. But, the feedback was hard to contextualize for the team making it difficult to influence decisions. Centercode helped me to shape a story that I could tell to management along with the data to back it up." - Israel Nunez-Santiago, Beta Program Manager
"Before we were using our customers as our beta testers after our product launched, and now we're trying to test earlier and bring distributors, engineers, and more to the table to get their feedback." - Israel Nunez-Santiago, Beta Program Manager
The content & opinions in this article are the author's and do not necessarily represent the views of RoboticsTomorrow
---
Comments (0)
This post does not have any comments. Be the first to leave a comment below.
---
Post A Comment
You must be logged in before you can post a comment. Login now.
Featured Product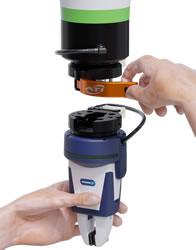 Simpler, stronger, and more precise. ATI Industrial Automation has developed a series of Manual Tool Changers that provides a cost-effective solution for quickly changing tools by hand. They feature a unique design that combines high strength, excellent repeatability, and a patent-pending screw-cam locking mechanism with multiple fail-safe features, which resists vibration and prevents loosening. These robust and compact Manual Tool Changers can handle payloads up to 80 pounds (36 kg) and pass pneumatics and electrical signals.