ATI has pulled out all the stops for our IMTS 2022 exhibit, with our largest booth, largest show staff and most robotic demonstrations ever! In addition, we have a variety of newly-released Force/Torque Sensors, Material Removal Tools, and Robotic Tool Changers

Q&A with | ATI Industrial Automation
Tell us about your company.
ATI Industrial Automation – a Novanta company, is an industry-leading supplier of robotic end-effectors. ATI's Robotic Tool Changers, Material Removal Solutions and Force/Torque Sensors can be found in a variety of robotic and automated applications around the globe, serving a diverse customer base from industries such as aerospace, automotive, food and beverage, general manufacturing, logistics, medical and surgical, packaging and beyond.
Your company will be exhibiting at IMTS, what is it that makes this an important event for your company?
The ATI team is looking forward to attending IMTS – live and in person for the first time since 2018. The IMTS 2022 show and conference are focused broadly on manufacturing technology, which provides an opportunity to meet new people, share ideas, and discover new potential applications and solutions for our customers. We also can't get enough of Chicago and are so happy to be returning to the Windy City during the nicest time of year.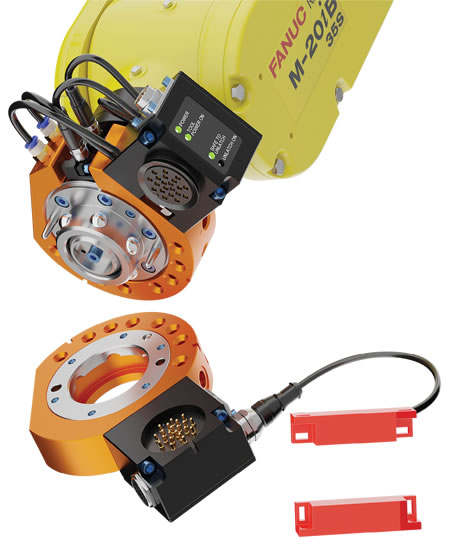 ATI will exhibit new tool changing solutions for smaller robots at IMTS
What makes your booth a must visit for IMTS Attendees?
ATI has pulled out all the stops for our IMTS 2022 exhibit, with our largest booth, largest show staff and most robotic demonstrations ever! In addition, we have a variety of newly-released Force/Torque Sensors, Material Removal Tools, and Robotic Tool Changers that attendees can see and touch. The QC-29 Robotic Tool Changer and CV14 Safety and Control Module offer game-changing capabilities for smaller robots, the AOV-10 Robotic Sander with Auto Media Change allow for a fully-automated sanding solution, plus several new Force/Torque Sensor models. ATI has recently added proof-of-concept testing capabilities for new Material Removal and Force/Torque customer applications, so visiting our booth is a sensible starting point for any automation journey.
IMTS has many educational sessions, forums & Demo's, is your company involved in any of them this year?
Our team always welcome a chance to attend a variety of educational sessions and forums at IMTS, especially the conference sessions on production monitoring for unattended operation and learning how EV production is ramping up with additive manufacturing, and how to consider ROI when embarking on a new project. With the broad experience and knowledge of the presenters, the conferences are sure to illuminate and inspire.
When you get a chance to walk the exhibit hall floor yourself, what is it you will be most interested to see? Any educational sessions, pavilions etc. you plan on attending?
The scale of the show is always so impressive and it will be a fun and slightly daunting challenge to visit everything on the list. AMT's Emerging Technology Center is a must-see attraction that will spark many conversations about what's next for ATI end-effectors. We are excited about the first ever LATAM Night and are delighted to see a focus on diversity at the show. And of course, the Live Lab will provide a chance to explore ways to further optimize robotic technology for manufacturing wins.
The Material Removal and Digital Twin Pavilions are going to be very exciting so we won't miss those. Last but not least, you can probably find a few ATI team members participating in Miles for Manufacturing. Running along the river walk is a great way to start the day.
The factory floor is undertaking rapid advancements, be it automation, robotics, machine vision or data. Automation Technology is a huge part for many manufacturers, give us an idea on how your company and product is being utilized now in the smart factory.
ATI products support robots wherever they go – in more applications and industries today than ever before. At their core, ATI products are intended to make automation more accessible and increase productivity for our customers. Our products are not only compatible with one another, they can be used in a variety of applications and environments.
Flexibility is king as labor shortages, supply chain issues, and growing demand continue to stretch manufacturers' creativity and innovation. ATI solutions are easy to use, simple to integrate and can be reconfigured and deployed for new applications quickly and easily. For anyone in manufacturing interested in flexibility, increased responsiveness, or improved quality, there's a strong chance ATI has a solution.
Give us your thoughts on what the future holds for manufacturers and automation technology.
Manufacturing is a critical industry and automation technology provides a roadmap to success. By integrating automated and robotic processes, manufacturers can overcome labor shortages, thrive under supply chain constraints and remain nimble for the future. The days of doing just one thing are long gone, and automation allows manufacturing businesses to adapt their processes as demand requires. It's the way of the future!
The content & opinions in this article are the author's and do not necessarily represent the views of RoboticsTomorrow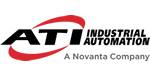 ATI Industrial Automation
ATI INDUSTRIAL AUTOMATION is the world-leading engineering-based developer of robotic accessories and robot arm tooling, including Automatic Tool Changers, Multi-Axis Force/Torque Sensing Systems, Utility Couplers, Material Removal Tools, Robotic Collision Sensors, Manual Tool Changers, and Compliance Devices. Their robot end-effector products are found in thousands of successful applications around the world. Since 1989, their team of mechanical, electrical, and software engineers has been developing cost-effective, state-of-the-art end-effector products and solutions that improve robotic productivity.
Other Articles
We will have a large variety of robotic demonstrations featuring the latest ATI Tool Changers, Material Removal Tools and Force/Torque (F/T) Sensors as well as technologies from our automation partners.
Producing the world's most advanced air defense missile requires technological innovation, especially when annual production is set to increase to 500 by 2024.
We will have a variety of robotic demonstrations featuring the latest ATI Tool Changers, Material Removal Tools and Force/Torque (F/T) Sensors as well as technologies from our automation partners.
---
Comments (0)
This post does not have any comments. Be the first to leave a comment below.
---
Post A Comment
You must be logged in before you can post a comment. Login now.
Featured Product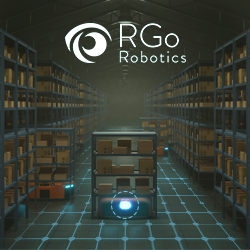 RGo's intelligent vision and AI system, Perception Engine™, provides mobile robots with 3D perception capabilities, enabling them to understand complex surroundings and operate autonomously just like humans. Its camera-based system operates is able to localize, map, and perceive in even the most robust environments including indoor/outdoor and dynamic or unstructured environments.