Action plastics maximizes OB7's flexibility to automate several different tasks within their high mix/low to mid volume production, freeing up operators and enabling a more flexible work environment.
Automating Labor Dependent Tasks in High Mix/Low Volume Production
Case Study from | Productive Robotics
ABOUT ACTION PLASTICS
​Action Plastics Inc. was established in 1981 with emphasis on customer service in the custom injection molding industry. Entering their 33rd year of operations, the emphasis remains the same. Action Plastics molds products based on customer designs, primarily in the powersports and recreation, medical, and food and beverage sectors.
CHALLENGE
AUTOMATE LABOR DEPENDENT TASKS IN HIGH MIX/LOW VOLUME PRODUCTION
As a high mix/low-to-mid-volume custom injection molder, Action Plastics saw opportunities within their facility to automate the mid-volume assembly/production processes that had been dependent on manual labor.​
They focused on automating jobs that were repetitive, time-critical, flexible, or with a critical characteristic. They needed a cobot solution that would facilitate a minimal setup time and change over. That way, they could easily relocate the cobot within their facility to change from one job to another.
DISCOVERING OB7
7-AXIS FLEXIBILITY AND EASE OF USE
​While researching collaborative robots, Action Plastics attended the Automate 2019 Tradeshow in Chicago, where they discovered Productive Robotics.
At the show, they got a live demo of OB7 and saw how flexible it was due to its 7 axes (or joints). They experienced how to move the robot and teach it basic tasks in minutes. Seeing how flexible, smooth user friendly it was, Action Plastics determined that OB7 was the best fit cobot solution for their production.
ROLLING OUT OB7
SIMPLE "OUT OF THE BOX" SET UP AND HANDS ON TEACHING APPROACH
​Action Plastics rolled out OB7 on the production floor so operators could see it come to life, from the uncrating process through to the first simple tasks. After going through trials, playing around with it, and seeing that it would work safely alongside production team members, employees gained trust in OB7 and its capabilities.
"Many were a little standoffish and not sure what to think at first. But as we started to roll it out and see it do new jobs, they become more excited about what it can do. Team members are starting to come to us with new ideas and opportunities to do jobs that are boring or repetitive," shares Tad Orstad, Action Plastics director of operations.
Setting up OB7 out of the box was straightforward. Action Plastics referred to the instruction manual and recalled what they learned at the tradeshow to teach it basic movements. OB7's "No Programming" interface made job teaching simple and fast. They also designed their own custom table to set up jobs, making the changeover between jobs take only a couple of minutes.
SOLUTION # 1 TURNKEY SOLUTION
DISPENSING, FINAL ASSEMBLY, AND QUALITY CONTROL
​One of Action Plastics customers designed and market a novel combination plunger and drain snake. The customer would handle the assembly of its product after it was molded. They faced a quality issue in the adhesive dispensing and final assembly processes. The issues involved adhesive getting into inner locations, resulting in bonding components that shouldn't be bonded, finished assemblies being rejected because of excessive adhesive, embedded fingerprints on the outside finished surfaces, and insufficient adhesive in the many lip and pin joints.
Partnering together with their customer to find a solution, Action Plastics utilized OB7 to automate processes and perform the adhesive application at the molding press. Shortly after, they quickly discovered that OB7 could automate other processes within the job to cut time, increase efficiency, and optimize productivity.
"The flexibility really showed when we got OB7, set it up, and started playing around with it. Our initial idea took a quick evolution and we ended up using OB7 for something else – a new turnkey solution, actually," explains Orstad.
OB7 automated the bonding process by tracking the lip joint profile while dispensing adhesive to the lip joint, and into 12 pin joint bosses on the interior of the product. Sensors were installed into fixtures to ensure the internal components were properly located and aligned prior to the adhesive dispensing. OB7 provided consistent repeatable positioning and precise dispensing in its positions, volumes and dispense rates. OB7 also performed the final assembly of the product by bringing the two halves together using a vacuum pump and suction cup on the end of arm.
By maximizing the benefit of OB7's flexibility and 7-axis maneuverability, Action Plastics was able to teach it to automate several different processes for one job. OB7 also freed up the operator to focus on the critical molding processes. Simply giving OB7 a "love tap," OB7 would start dispensing and bring the two halves together.
Automating these processes with OB7 allowed Action Plastics to successfully address their customers' issues. They provided them with a complete finished product at a much more competitive finished good price than could have been achieved with other methodologies.
SOLUTION # 2
VISUAL INSPECTION AND PACKAGING FOR MEDICAL APPLICATION
​Action Plastics saw another opportunity for OB7 in a medical application for a translucent filter housing. This process required an operator to perform a 100% visual inspection, checking for bubbles or impurities within the molded component. Running three shifts five days a week, there were inherently inconsistencies between the different operators and shifts.
To address this, Action Plastics utilized OB7 to automate the process for consistency. By interfacing OB7 with an infeed conveyor and a vision system, OB7 did the visual inspection and final packaging.
OB7 would pull a part from the infeed conveyor tied to the molding press, then place the part onto a turntable on the rotating part, allowing for a rapid inspection in six different orientations. Finally, OB7 placed the inspected part into either the approved finished goods packaging or into a nonconforming bin.
Utilizing OB7 to automate the visual inspection and packaging process allowed Action Plastics to increase inspection consistency and throughput and opened up labor availability for the operator.
SOLUTION # 3
MATERIAL HANDLING AND MOLDING PROCESS CONTROL
​Action Plastics found other ways to use OB7 to handle jobs in time sensitive non-ideal environments as well. In one application, a touch free hand soap or sanitizer dispenser, parts are molded with a short cycle time and high number of cavities, then go through a cooling water bath to chill. Historically, an operator would perform the time-critical cooling and transfer process.
Action Plastics used OB7 to automate the material handling and send the product through the cool water bath. By doing so, the operator no longer had to go through the water tanks, and instead could focus on other more critical tasks associated with this complex and tight tolerance molded component.
THE FUTURE
A DYNAMIC WORKFORCE
​Action Plastics utilized collaborative robots as a way to create a more dynamic workplace. Freeing up operators from monotonous tasks opened the door to more cross-training and flexibility in production. Operators could now go beyond the restrictions of a particular job or a range of jobs and focus on handling other jobs that require more skill and knowledge.
"We see areas where we are either struggling quality-wise or in retaining talented team members because some jobs are quite monotonous, or in some cases really hot or noisy. It allows us to put operators in more challenging jobs and build their skill sets, " says Orstad.
Looking ahead, Action Plastics has plans for OB7 to handle other repetitive tasks like packaging, kitting, and processes that do not require connecting to outside equipment. They also see potential for machine tending with their injection molding presses to handle opening and closing doors and pulling parts from the mold.
The content & opinions in this article are the author's and do not necessarily represent the views of RoboticsTomorrow
---
Comments (0)
This post does not have any comments. Be the first to leave a comment below.
---
Post A Comment
You must be logged in before you can post a comment. Login now.
Featured Product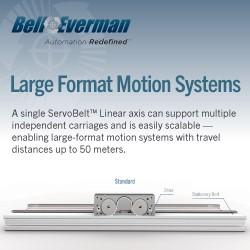 Manufacturing and packaging operations that still depend on manual material or parts handling operations can reap immediate benefits from a type of automation based on long-travel Cartesian robots with custom end-of-arm tooling (EOAT) and advanced sensing capabilities. These robots can support a variety of machines - performing otherwise manual tasks such as machine tending or transferring in-process parts - making long-travel Cartesian transfer robots a major upgrade to processes and operations. Download the White Paper from Bell-Everman