One of the key considerations while choosing the perfect set of sensors for your robotic designs include their resistance to ambient situations such as temperature, lights, interferences and obstructions.
How to Choose the Right Sensor in Ambient Conditions
Article from | HOKUYO
Robots and automated machines are being extensively used for indoor as well as outdoor applications. Autonomous machines need to navigate through various conditions, including construction sites, farms or even factory environments. Sensor technology allows them to react to their surroundings and execute the task at hand. However, robots often work in harsh environments while conducting operations like mining and excavations, rescue missions or geo-analytics. In these environments, there are certain conditions where sensor accuracy gets compromised, and so are the robot's navigation capabilities.
One of the key considerations while choosing the perfect set of sensors for your robotic designs include their resistance to ambient situations such as temperature, lights, interferences and obstructions. This ensures that the robot navigates through its surroundings without sustaining any damage and that processes go on uninterrupted.
Here are some essential factors that you need to consider while designing a robot to function in rough conditions.
Key Factors for Choosing a Sensor for Ambient Conditions
Electromagnetic Interference
Electrical noise from the surroundings can interfere with a robot's navigation system and cause miscalculations or meltdowns. Electromagnetic Interference (EMI) or Radio Frequency Interference (RFI) excites the sensor or circuits and causes the robot to go haywire. It is also possible for someone to maliciously manipulate the sensor outputs by emitting electromagnetic waves. When productivity and safety depend on robots, choosing a sensor that is resistant to electromagnetic interference is imperative. Developers can ensure that their sensor is immune to such interferences by checking if it meets electromagnetic compatibility standards.
Noise and Distortion
Due to certain environmental factors, robots may have trouble assessing their surroundings, detecting obstacles and navigating through their surroundings. For example, fog, precipitation, dust and other translucent objects distort the sensor's perception and ability to picture the location accurately. In addition, when a laser sensor emits a beam to detect objects and comes in contact with a transparent object, two beams return to the sensor. This causes false judgment and indecision. LiDAR sensors with a multi-echo feature help the robot process data from both feedbacks and make better sense of its surroundings.
Temperature Variability
Robots working for manufacturing, mining or research purposes must go through intense or varying temperature conditions. If the wrong sensors are deployed in extremely hot or cold temperatures, they quickly get damaged. Therefore, it is better to use sensors with a wide temperature range and preferably a built-in temperature control system to prevent damage. Automatic temperature control systems trigger when ambient temperatures and humidity exceed a certain threshold. In cold and frosty conditions, an inbuilt heater could help keep the navigation system intact by preventing it from freezing.
Ambient Light
Ambient light is a significant challenge for robots that depend on laser sensors for precise navigation. These sensors release light streams in a particular direction and estimate the distance from an object by calculating the time that the ray of light takes to return to the sensor. However, when robots function in an outdoor environment, the sensor data is adversely affected by scattered sunlight. This noise caused by ambient light interrupts this process and prevents the scanner from reading the returning beam. In order to avoid this inconsistency, it is advisable to integrate sensors with high sunlight resistance.
Prepare Your Robots for Extreme Conditions with Hokuyo
There are several reasons we use robots pertaining to productivity or consistency. However, one key reason is also that they enable us to do things and get to places that are out of reach for human beings. We can prevent accidents and save multiple lives by employing robots in the front. For instance, in order to add to the efforts to prevent an ecological crisis, there are concepts today that talk about cleaning robots diving into the depths of the ocean. In order for automation robotics to mature and bring about a positive change in our lives, we need better technologies.
At Hokuyo, we stand with this cause and commit to designing state-of-the-art sensor technologies to cater for better robotic navigation systems. We equip your robots with the sensors they need to make their way in the harshest environments.
The content & opinions in this article are the author's and do not necessarily represent the views of RoboticsTomorrow
---
Comments (0)
This post does not have any comments. Be the first to leave a comment below.
---
Post A Comment
You must be logged in before you can post a comment. Login now.
Featured Product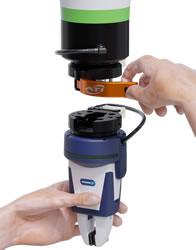 Simpler, stronger, and more precise. ATI Industrial Automation has developed a series of Manual Tool Changers that provides a cost-effective solution for quickly changing tools by hand. They feature a unique design that combines high strength, excellent repeatability, and a patent-pending screw-cam locking mechanism with multiple fail-safe features, which resists vibration and prevents loosening. These robust and compact Manual Tool Changers can handle payloads up to 80 pounds (36 kg) and pass pneumatics and electrical signals.