Material logistics plays a crucial role in manufacturing processes and warehouses, but should a company choose an autonomous guided vehicle (AGV) or a conveyor system? Leaders in intralogistics solutions give their opinions on when and why each technology can make sense.
AGV or Conveyor — Which System Should You Choose?
Article from | BlueBotics
The choice between an AGV and a conveyor system depends on multiple factors. Key questions to consider include: What throughput of material is required? What is the project site layout? Do other machines and people need to operate in the area? And what level of overall flexibility is required?
A question of volume
A fixed conveyor offers a much greater capacity to move individual goods quickly. So, if materials need to be transported to and from fixed locations in high volumes, a conveyor is an ideal solution. AGVs, on the other hand, offer much greater flexibility and can be more easily adapted to changing manufacturing requirements.
"One of the main factors in choosing an AGV or conveyor is whether the customer wants to block the space with a conveyor or have the flexibility of an AGV," says Bernd Krebs, AGV Product Manager at Stöcklin Logistik. "However, the quantity to be conveyed will determine whether an AGV will offer a viable solution. For example, at one airport site, our customer needed to move approximately 200 pallets every hour, which needed to be picked up immediately. It was simply not feasible for an AGV to handle this."
When flexibility is required
AGVs come into their own when greater flexibility is required or when a site needs to remain open and accessible to people and other traffic.
Niels Buylinckx, Business Development Manager at F3-Design, says, "Production processes in general change. With Nipper AGVs our customers have the highest degree of flexibility. All our customers receive training on how to create or change pallet positions themselves, providing them with real flexibility."
A flexible vehicle solution can be easily modified, for example, to change as a site or operation evolves. At the simplest level, a straightforward software change is all that is needed to adapt or add vehicle routes In line with shifting requirements. AGVs can also integrate well into shared spaces., whereas conveyors largely cut areas off, taking over a space and blocking traffic flows.
"Compact and flexible AGVs are perfectly suited for manned spaces," adds Buylinckx. This sentiment is shared by Tim Mark, Sales Engineer at Creform Technik, , who adds, "In production environments, the AGV is favored, since it can be integrated into the environment and flexibly adapted due to a low construction effort."
Krebs summarizes this need for flexibility, explaining: "The trend is moving more and more towards automation and flexibility. AGVs are much more flexible and usually quicker and easier to implement, and depending on the size of the system, also cheaper. Any changes to a conveyor system involve much more effort."
Upgrading existing warehouses
Do the pros and cons of AGV and conveyor systems change if warehouse managers are looking to upgrade existing 'brownfield' facilities? The experts don't think so, however AGV solutions are better able to adapt to spaces where there is other machinery already in place.
"When it comes to automating an existing warehouse, there is no clear favorite," comments Mark, "It depends on the requirements for the target state and how automation is to be implemented during ongoing operations. The main factors in the selection are flexibility, throughput performance, scalability, resilience, and cost efficiency."
One of the advantages of AGVs in existing facilities is the compact form factor of many smaller vehicles, and the flexibility of their installation. If these vehicles employ natural or free navigation technologies to get around, minimal infrastructure changes are required, so choosing an AGV approach should mean less disruption to day-to-day operations. By contrast, installing a conveyor system may mean not only significant investment but more major changes to a site's existing layout.
The design and installation difference
Another factor in any solution decision involves understanding how the system is designed and installed on-site.
A conveyor system requires custom design and needs heavily adapting to a site's layout, which may incur significant effort, time, and expense. However, an AGV installation can be designed, set up, and commissioned quickly since the design of the vehicle itself is usually already complete. Therefore an AGV installation is largely about creating the site map it will use to get around and programming the vehicle's missions and different actions using configuration software.
"Conveyors are designed according to the customer's place of use. In many cases, the design, manufacturing, and installation require time. Of course, it costs a lot," says Otsuji Yuichi, R&D Group Team Manager at Nakanishi Metal Works Co (NKC), a leading supplier of conveyor systems to the automotive industry.
Krebs confirms this, saying: "An AGV is designed, set up, and commissioned more quickly than a conveyor system."
Trending towards flexibility
The flexibility provided by AGVs is attracting more and more interest. According to the experts, increasing numbers of warehouse and plant automation customers are investigating AGVs, and, as such, the mobile robotics market is experiencing a consistent upward trend.
Krebs confirms, "The trend is increasingly moving towards automation and flexibility. AGVs are much more flexible and usually quicker and easier to implement, and depending on the size of the system, also cheaper."
Yuichi agrees, saying, "More and more customers are choosing AGVs. Customers without technology in place choose AGVs, which allows easy course changes, rather than fixed equipment such as conveyors."
However, no one realistically expects AGVs to fully replace conveyors, as when it comes to moving large volumes of materials, quickly, conveyors clearly remain the stronger choice. "We cannot imagine a complete replacement of conveyor belts by AGVs," Mark says. "There are too many applications that rule out the use of AGVs simply because of the high conveying capacity needed."
Cost & ROI
The return on investment of conveyor or AGV solution will always depend on its usage. Broadly speaking, high conveyance over short distances will favor a conveyor system, whereas large plants that need to move larger materials over long distances will find AGVs a more appealing option.
Summary
The world of intralogistics is evolving as automation takes hold.
When goods need to move short distances quickly, and there is no need for floor space to be shared, conveyor systems are the obvious choice and will continue to remain so.
However, many businesses need more flexibility in their automation choices. They need to adjust their operations fairly regularly, move different payloads, and transport these materials in open or shared spaces. For these reasons and more, they are increasingly looking to AGVs to harness the flexibility benefits these systems can bring.
The content & opinions in this article are the author's and do not necessarily represent the views of RoboticsTomorrow
---
Comments (0)
This post does not have any comments. Be the first to leave a comment below.
---
Post A Comment
You must be logged in before you can post a comment. Login now.
Featured Product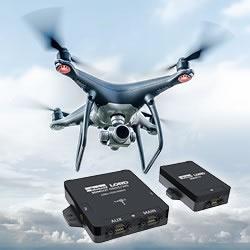 The new complete inertial navigation solution comes with GNSS/INS 3DMGQ7 sensor, 3DMRTK correction modem and real time SensorCloud RTK correction network. The sensor comes with Dual antenna GNSS, tactical grade IMU with centimeter-level accuracy with RTK. Low profile and light weight at 78 grams, this sensor is The sensor is optimized for size and weight in Unmanned Ground Vehicles, mobile robots and autonomous vehicles. The network interface 3DMRTK modem is seamlessly integrated into the 3DMGQ7 sensor supports industry-standard NMEA and RTCM 3.1 protocols. The network RTK support comes with cellular data plan. The SensorCloud RTK is a cloud-based RTK correction system with private encrypted data stream. Check out our G Series and C Series OEM products.