You have lots of cartons coming into a typical warehouse, let's say 600 boxes per hour, and razor blades are used to cut these boxes while keeping up with intake speeds. This invites risks and employees still get injured, despite safety precautions.
Intelligent Box Opening Device (IBOD)
Q&A with Ryan Guthrie, Executive Vice President | TM Robotics
First, tell us about yourself and your role with TM Robotics.
I have been working with TM Robotics since 2008. My background includes a degree in automated manufacturing with an emphasis on robotics. I have been in just about every role within TM Robotics, starting as an intern all the way up to service manager and, latterly, vice president (VP). I've always been driven by a passion for the technical side of robots, I've been leading TM Robotics' technical team for some years now and have worked with robotics in one capacity or another for about 15 years.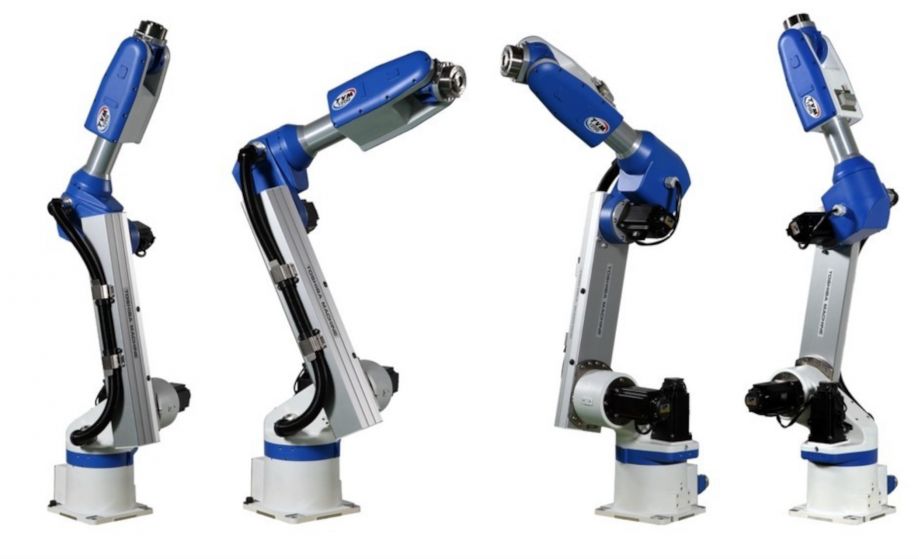 PwC's Digital Factories 2020: Shaping the Future of Manufacturing report predicts that "Robots and other digital technologies will make workers' lives in the factory easier, safer and more efficient." Have you seen TM Robotics' and Shibaura Machine's offerings benefit worker safety on the factory floor, and how?
Absolutely, robots do a number of things from a safety perspective. One of our customers uses robots for opening boxes so workers no longer have to sit and perform repetitive manual cutting tasks and risk cuts, scratches or injuries from handling a potentially-dangerous cutting tool. Instead, this task can be assigned to a robot like the Intelligent Box Opening Device (IBOD). Developed by Cornerstone Automation Systems, LLC (CASI), a specialist machine builder of automation systems, the IBOD is used for automating manual box cutting operations. It has a rigid, 18 mm thick acrylic front side panel and access door to keep workers out of harm's way.
Tasks that are repetitive or boring for humans also create the chance of slip-ups or mistakes. Robots can eliminate these errors while also freeing humans to perform roles with more critical thinking. Workers can avoid repetitive strain injuries (RSI) from performing the same physical actions all-day-long.

Cobots and 6-axis robots each benefit worker safety, but what about the IBOD? Can we go more in-depth on discussing this machine's safety benefits?
The IBOD is a very unique use case. You have lots of cartons coming into a typical warehouse, let's say 600 boxes per hour, and razor blades are used to cut these boxes while keeping up with intake speeds. This invites risks and employees still get injured, despite safety precautions like Kevlar gloves or blade changes. These accidents can sometimes be pretty serious, like sliced tendons or lacerations. Because robots and automation make these applications safer, they are justifiable from a workers' compensation perspective. And an ROI perspective, because humans are freed to bring more value to organizations rather than being asked to simply 'perform tasks'.
Are Shibaura Machine's systems easy to integrate, and how do you support the customer with this?
Products from Shibaura Machine — formerly known as Toshiba Machine — are very uniquely set-up to work well with OEM-style applications like the IBOD. The systems are in place to keep the integration very simple from the OEM's perspective. We are able to create unique part numbers for that customer. So, when they order a product for their assembly process we can do factory customization to the point that we load their program on the robot in Shibaura Machine's factory in Japan. When the robot reaches the customer's facility, they can literally unpack the robot, bolt it onto their production line and press 'play'.
Do you lend any support or advice to customers for implementing automation within their safety strategies?
At TM Robotics, we pride ourselves on being very personal and hands-on with customer support so they benefit from our decades of experience in robotic applications ꟷ particularly first-time customers. This includes in-person training with the customers' robot in their facility. All of our new customers, who've never used Shibaura Machine products before, automatically get two days of free training to hit the ground running. Typically by the end of the second day, we'll have already written the core of the code for the customer's robot, and considered some of the pitfalls and 'what-if' scenarios, so the customer can really create their final application.
We also do remote log-in sessions with customers in the US and around the world. For instance, I have a four-hour webinar scheduled with our first European customer to have bought Shibaura Machine's new robot system. TM Robotics has invested in a dedicated web broadcasting rig with special cameras for training. The robot is already set-up in the European customer's facility. I have an identical set-up here, so I can demonstrate the robot remotely and do personal customer training ꟷ even when we are thousands of miles apart.
Some solutions for improving safety ꟷ like slowing-down robots or keeping them away from humans ꟷ don't make sense from a productivity, output or collaboration perspective. Is there a better answer?
In these cases, six-axis robots are a better option. Take, for instance, a loading application where you're moving a product from a conveyor to a box, you might have to move six or seven feet to do that. For a collaborative robot to be truly collaborative as standard, the robot can't move more than 250 mm/second at the working end where the suction cup, or the gripper, is located. This is less than a foot per second so, in our loading example you're looking at up-to eight seconds just to move a part from A to B. A human can do that a lot faster from a productivity standpoint ꟷ but what about issues like repetitive strain, twisting and lifting from a safety perspective?
This is where a traditional six-axis robot could prove essential. Some Shibaura Machine six-axis robots have an up-to 9000 mm/second compositive speed. So, at 250 mm/second, you start to see there are significant advantages, in terms of productivity, by opting instead for a traditional six-axis robot.
Are there any particular sectors where robots and automation are seeing exciting growth?
At TM Robotics we're seeing a lot of growth in the pharmaceutical sector. This is largely due to pandemic and supply chain growth, driven by the need for the rapid testing of little components like test tubes and medical vials for storing samples. Production has increased ten-fold or more. To keep up with demand, expanded automation and injection molding using robots like the TVM range, will be essential for manufacturing these medical devices cost-effectively, and to the highest quality.
Other developments include the United States Food and Drug Administration (FDA)'s Food Traceability Final Rule, while demands faster identification and rapid removal of inferior quality foods. Industrial robots and advanced vision inspection technologies, like Shibaura Machine's TSVision3D system, can help manufacturers quickly eliminate contaminated foods from production lines in these cases.
Additionally, agriculture is really the next frontier for automation. It is an industry that's currently very manpower-heavy, and the cost of labor is increasing. There is a drive to bring agricultural activities back to North America and Europe, from places like China, and automation and robotics will be key to achieving that.
Do you have any US customer-specific examples where Shibaura Machine's products have had a positive impact on worker safety?
A great example is TM Robotics' partnership with CASI. Our customers had been asking for safer, more streamlined box-cutting solutions for a long time. Existing box-opening options available on the market have limitations: line workers run the risk of severe hand strains due to repetitive box-opening motions, while using knives on conveyor belts can lead to injuries that result in blood on the manufacturing floor. That's why TM Robotics and CASI partnered to create the IBOD.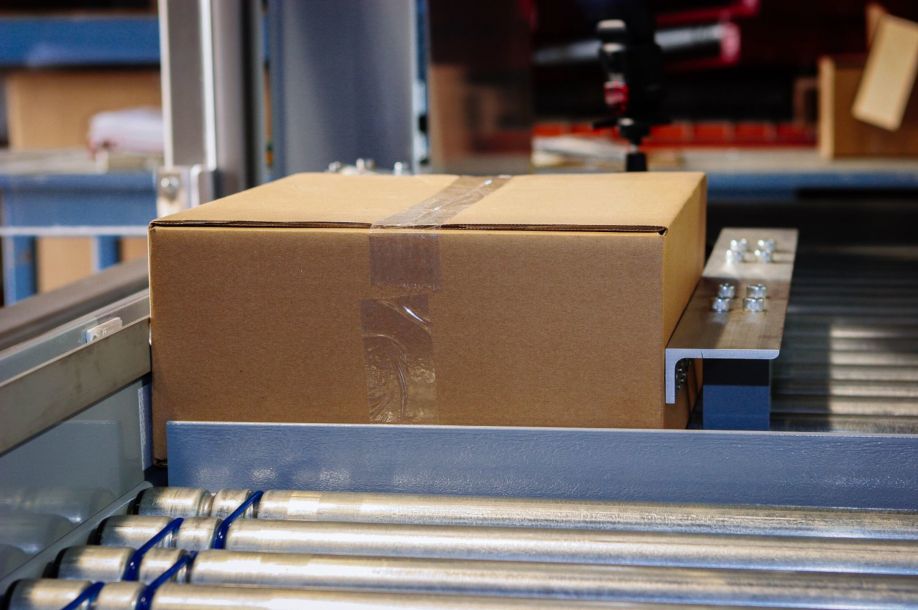 CASI chose the Shibaura Machine TH1050A SCARA robot for the IBOD, citing it as arguably the strongest and one of the most rigid arms on the market. Aside from eliminating accidents and injuries, the IBOD also supports significant boosts in productivity, quality and throughput. With support from TM Robotics' engineering team, CASI can custom-build algorithms in the Shibaura Machine internal programmable logic controller (PLC), built as-standard into the SCARA controller, which enables the robot to cut boxes or other packaging, like cartons, more efficiently. As a result, the IBOD is shown to cut the top cases off cartons at rates of up to 500 cartons per hour. Another advantage is reduced damage to products.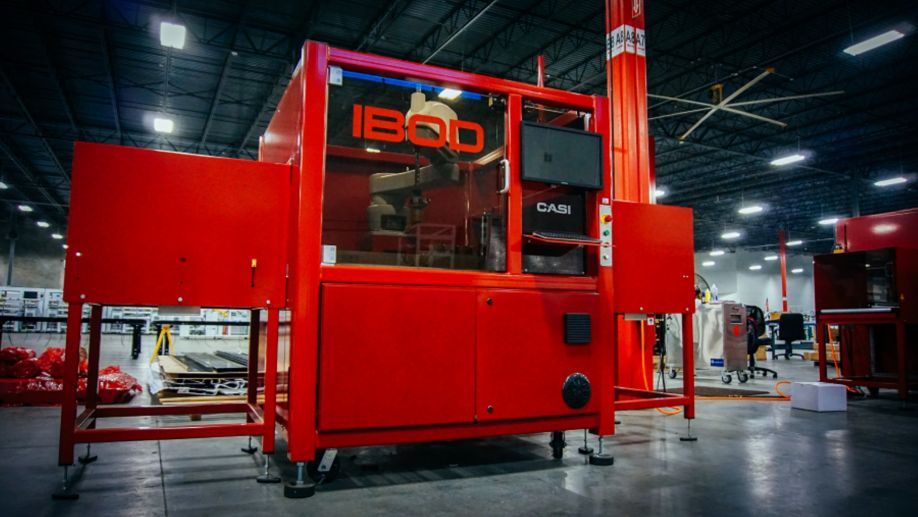 How are control systems benefiting worker safety?
Following several years of development, Shibaura Machine has released the new TS5000 robot controller, a launch pad for the next generation of industrial robots from Shibaura Machine. Compared to previous controllers, the TS5000 provides improved synchronization and control. Its position cycle is three times faster than previous models, allowing more control during fast movements. Combined with an automatic adjustment function for acceleration, these features reduce vibration and stress.
Moreover, the communication functions of the TS5000 have also been enhanced. The controller enables real-time data transmission between the robot and control system, allowing manufacturers to integrate the system into a smart factory environment. This improved communication also enables vibration analysis for predictive and preventative maintenance. The result is more precise and safer operations, all round.
In terms of supporting workplace safety, how do you see the role of robotics and automation evolving over the next five-to-ten years?
If we look historically at the last five to 10 years, how rapidly collaborative robots have emerged and how quickly industry has adapted, I see that extending to periphery equipment as well. We'll start seeing more collaborative end-of-arm tooling where safety is being integrated. I see the growth of using vision systems adding extra layers of safety. Robots can feel and see the environments around them thanks to advancements in artificial intelligence (AI) and realize 'that is a person, this is a box'. And I also see the industry starting to bring on standards to help and standardize that level of safety over the coming decade.
The content & opinions in this article are the author's and do not necessarily represent the views of RoboticsTomorrow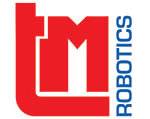 TM Robotics (Americas) Inc
TM Robotics, in partnership with Shibaura Machine, formerly known as Toshiba Machine until 1st April 2020, offers a comprehensive range of industrial robots ideally suited for high-precision assembly, machine loading/unloading and material-handling applications that can be dust proof, clean room, or IP65/67. The company's extensive product line starts with a Cartesian solution available in thousands of combinations from single actuators to four-axis solutions; six-axis solutions that can include precise vision-control; and a complete range of SCARAs from low cost to the industry-leading SCARA with 1200-mm reach that can carry up to 20 kgs. TM Robotics sells and services robots throughout Europe, the Middle East, India, Russia, and Africa, as well as North, Central, and South America, from headquarters in Hertfordshire, England and Elk Grove Village, IL, USA. For more information, visit www.tmrobotics.com or follow us on Twitter, LinkedIn and YouTube.
Other Articles
At the booth, visitors can see the TH650A robot perform a live screw feeding demonstration, developed by ASG. This is just one of many solutions TM Robotics is involved with.
Automate marks the US launch of Shibaura Machine's latest robot models — the THE800 and THE1000. These high-performance robots have been designed to meet demand for fast paced assembly applications with higher loads.
As electronics get smaller and manufacturers come under greater pressure to improve efficiency and throughput, the traditional hand soldering method is no longer up to scratch.
---
Comments (0)
This post does not have any comments. Be the first to leave a comment below.
---
Post A Comment
You must be logged in before you can post a comment. Login now.
Featured Product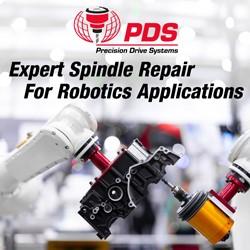 Precision components machined by CNC robot machining systems require compact, lightweight, and high-speed motorized spindles capable of delivering higher efficiency, performance, and reliability than those used in many other industries. That's why manufacturers of milling, cutting, trimming, grinding, polishing, and deburring trust Precision Drive Systems (PDS) to provide accurate and dependable spindle repair to perform to the most exacting standards.