The software is where the real magic is, though, at ForwardX. Our f(x) Fleet Manager is constantly improving using deep learning AI that analyzes every input and creates the most efficient process when dispatching AMRs for large orders or multiple orders.
Innovation in Mobile Robots for Warehouse Automation
Q&A with Nicolas Chee, Founder and CEO | ForwardX Robotics
Tell us about yourself and your role with ForwardX Robotics.
Ever since I can remember, I've always enjoyed challenging myself and pushing limits. In my free time, you'll find me training for the next triathlon or marathon. I have found that the focus and determination required to complete a triathlon or marathon has taught me invaluable lessons in life and business.
I also enjoy sailing, which to me is a great reflection or analogy to entrepreneurship. Only when all the parts are working together towards a common goal can you navigate the unpredictable currents and winds to your destination.
In school, robotics has always been my passion. At Beihang University, I was, and still am, very proud to win the first-place prize at China's prestigious national Robocon Competition during my senior year. From there I knew I would do something in this field but couldn't have imagined at the time that I'd be where I am today.
Before founding ForwardX Robotics in 2016, I was keeping a close eye on the development of AI algorithms and autonomous driving technology. As the technology matured, I knew that the time for technological breakthroughs that would bring about disruptive innovations was coming. So, I left my previous position at Oracle to go all in on ForwardX.

Autonomous mobile robots (AMRs) have been in development for many years now. As the technology has matured, how important is innovation for the industry moving forward?
Innovation is always going to be important in any industry. As new forms of technology develop people find new, and previously unimagined, ways of applying new technology to their businesses or even personal lives. While AMRs and many of their applications have proven their worth and matured over the past few years, I believe their potential has only begun to scratch the surface. At ForwardX, we are always striving to take things to the next level to deliver the best products and service to our customers.

What has ForwardX done to stay innovative and competitive in the industry?
Since the inception of ForwardX, we have been very focused on self-driving technology. We use a combination of cameras and sensors to paint a complete picture for our robots. By using LiDAR, our robots are very good at understanding the depth of each object in its surrounding environment in real-time. But LiDAR alone, doesn't do a good enough job in evaluating its environment. For this we use deep learning computer vision that enhance the ability of our LiDAR and other sensors to give the robots accurate information about everything around them. Our AMRs can identify objects or obstacles as people, forklifts, racks, etc. This leads to a much safer process and increases each robot's efficiency at determining routes.
The software is where the real magic is, though, at ForwardX. Our f(x) Fleet Manager is constantly improving using deep learning AI that analyzes every input and creates the most efficient process when dispatching AMRs for large orders or multiple orders. The fleet manager works a lot like how Uber or Uber Eats dispatches their drivers. One AMR might be in charge of multiple orders and work with multiple people and areas of a warehouse. If the robot were to arbitrarily go to each picking location or organize itself in a simple alphabetical, SKU #, or chronological approach, efficiency levels wouldn't come close to an AMR's potential. f(x) and deep learning AI are key to making sure that each user maximizes their robots' potential by using complex algorithms and analysis to dispatch the AMRs in the best way possible. Our fleet manager also allows for 100s of robots to work together as one unified fleet and connects with any warehouse's existing warehouse management or control systems (WMS & WCS).
We're always working on our R&D and employ over 80 of the most talented software engineers to stay ahead of the curve and solve new customer pain points. For example, we collaborated with TCL in 2021 to deploy the first ever 5G project with our Flex series at TCL's plant. Most recently we've developed our Apex autonomous forklifts that work in tandem with other AMRs to achieve fully unmanned pallet movement workflows from receiving to outbound and everything in between. And soon you'll be seeing our announcements of brand-new versions of Apex with higher payload capacities that support both GMA and Euro pallet sizes.

Where do you think AMRs might find more use cases outside of manufacturing and warehousing that either hasn't been realized yet or seems to be slow in adopting the technology?
It's hard to predict every use case, but most recently we've received more interest from the healthcare space. Hospitals are finding that by automating material movement for their pharmaceuticals, equipment, and even clothing can free up the busy medical and nursing staff to focus on what really matters. In a facility that needs to run 24/7 at high stakes, accuracy and efficiency is incredibly important.
Only time will tell where AMRs might find their next big application. As the technology improves, they might be more commonly used outdoors in agriculture or, as we've already seen to some extent, last mile delivery. In any case, ForwardX is here for it, and we're excited to see where our journey takes us.
From the perspective of a client looking to adopt an AMR solution, how important do you think it is for them to consider a solution provider's dedication to innovation?
I believe that a provider's dedication to innovation should be very important when evaluating AMR solutions. Without it, a client looking to sign a contract with a provider may find themselves falling behind in a year if their provider isn't looking for new ways to improve their software or overall solutions. A product or service that works today doesn't guarantee it will be the best solution in the future. That's why we're always listening to our customers' pain points and continuously developing our AI software and other products. We believe it's the only way forward, not just for us, but for our users as well.

Currently, what do you see as the most important technology in the development in AMRs?
Interoperability is going to be the most important for AMRs in the immediate future. Customers looking to improve operations that already have some form of automation in place need to be able to incorporate AMRs without restructuring everything, especially for brownfield sites. We've already deployed projects where our AMRs work with robotic arms, AS/RS systems, conveyor belts, and put walls or pick-to-light systems. We expect these collaborations to continue and become more common moving forward for us and the industry at large.

Where do you picture the AMR industry to be in 5 years in terms of capabilities and use cases?
I believe AMRs will become the norm for warehouses and manufacturing facilities in the next 5 years or so. We'll also start to see more use cases and applications, some of which are slowly cropping up and some that may have not yet been realized. As younger generations, that have grown up around robotics and new technologies, move into the labor force, things like AMRs will be natural to them and they'll wonder how we ever did things without AMRs.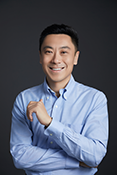 About Nicolas Chee
Nicolas Chee is the Founder and CEO of ForwardX Robotics, a global autonomous mobile robot (AMR) and warehouse solutions provider. Before beginning his postgraduate degree in Integrated Circuits from Beihang University, Nicolas competed in and won China's prestigious Robocon Competition, an international robotics competition that attracts the most talented students from programming, mechanical design, and electronic circuit design majors across Asia. After completing his master's degree, Nicolas joined SAP as a Project Manager and Senior Business Consultant, working there for close to 5 years before moving to Oracle to head up its SaaS division as a Regional VP. While at Oracle, Nicolas's hard work resulted in a number of honors, from being recognized as a Global Top 100 Performer, and China's Top 10, to being awarded a Global President's Club membership. After six successful years at Oracle, Nicolas conceived his vision of the future and, in April 2016, founded ForwardX Robotics committing himself to his vision. Since its early beginnings, ForwardX has devoted itself to pushing the envelope technologically and putting new technologies to test. As a company with a clear technological advantage, Nicolas saw ForwardX as a pioneer of the automation industry with a responsibility to deliver mature solutions that could provide tangible benefits.
The content & opinions in this article are the author's and do not necessarily represent the views of RoboticsTomorrow
---
Comments (0)
This post does not have any comments. Be the first to leave a comment below.
---
Post A Comment
You must be logged in before you can post a comment. Login now.
Featured Product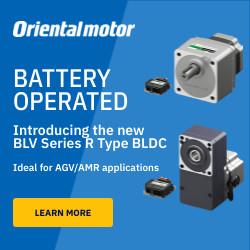 The BLV Series R Type brushless DC motor (BLDC motor) speed control system offers the design of motor and driver significantly reduced in size and weight, yet high-power, and contributes to the battery driven automation. The BLV Series R Type is compatible with the two interfaces of Modbus (RTU) and CANopen communication.