Fully Automated Packaging Systems Use Reliable, Durable Cameras to Ensure Sufficient Resolution and Speed for Flawless Sorting and Packaging
Kibele-PIMS Shows How Imaging Ensures Food is Reliably Sorted and Packaged
Patrick Menge, | Teledyne DALSA
In their facilities in Istanbul, Kibele-PIMS has developed and commissioned two state-of-the-art, fully automated systems for the Unilever companies Knorr and Lipton, where food is identified, sorted and then stacked on pallets by robots. The larger of the two systems was built for Knorr. Its task is to classify the types of soup, sauces and other company products, packaged in small batches, that are delivered from production via a 27-meter-long feeding conveyor, and then to transfer the identified product types to the respective packing station. In this way, the cartons are sorted according to type across 17 stations, where three Kuka robots installed on linear axes place them on pallets and wrap them with adhesive film as soon as a pallet is fully loaded. Finished pallets are then made available on conveyor belts for collection by trucks.
Sorting by Image Processing Systems
"Image processing systems play a decisive role in this application. Without them a reliable solution would not have been possible," emphasizes Erdal Başaraner, who played a key role in the development of the two systems at Kibele-PIMS. "In the version for Knorr, a total of 19 cameras are in use. At the beginning of each packaging station, a camera reads bar- codes on the boxes, which are used to classify the product type and assign it to the correct conveyor belt. At the same time, the incoming boxes are checked for possible damage to the packaging. Defective cardboard boxes just stay on the feeding conveyor belt until the end where they are collected and manually assessed and repacked, if possible."
After the robots have loaded undamaged boxes onto the pallets, the completed pallets are transported past two additional cameras, which are used to record the number of pallets, the expiry dates and again the type of product. This information is then sent to a labeling machine that prints the associated transport labels, attaches them to the pallets and thus releases them for shipment.
When choosing the right cameras for this application, Başaraner and his colleagues decided to use Teledyne DALSA's Genie Nano M1920 area cameras. This model met all of the resolution and speed requirements that Kibele-PIMS had previously specified. "In addition to that, we knew from our previous experiences with the Genie Nano series that these products have the reliability and durability to perform well even under harsh industrial conditions," says Başaraner.
With four GEVA 312T industrial image processing PCs, equipped with the image processing software Inspect, all images are evaluated with the help of products from the Canadian manufacturer. Three of these GEVA PCs evaluate the images from the 17 cameras in the feeding conveyor area, the fourth one calculates the data from the two cameras at the end of the Knorr line. "A big advantage of the GEVA 312T workstations is their integrated touchscreen," Başaraner explains his choice. "We can therefore also use them as the graphical user interface. In addition, we save the complete data of the products and the pallets on the GEVA PCs and have the opportunity to generate a wide variety of reports at this point and, if necessary, to pass them on to our customers' servers."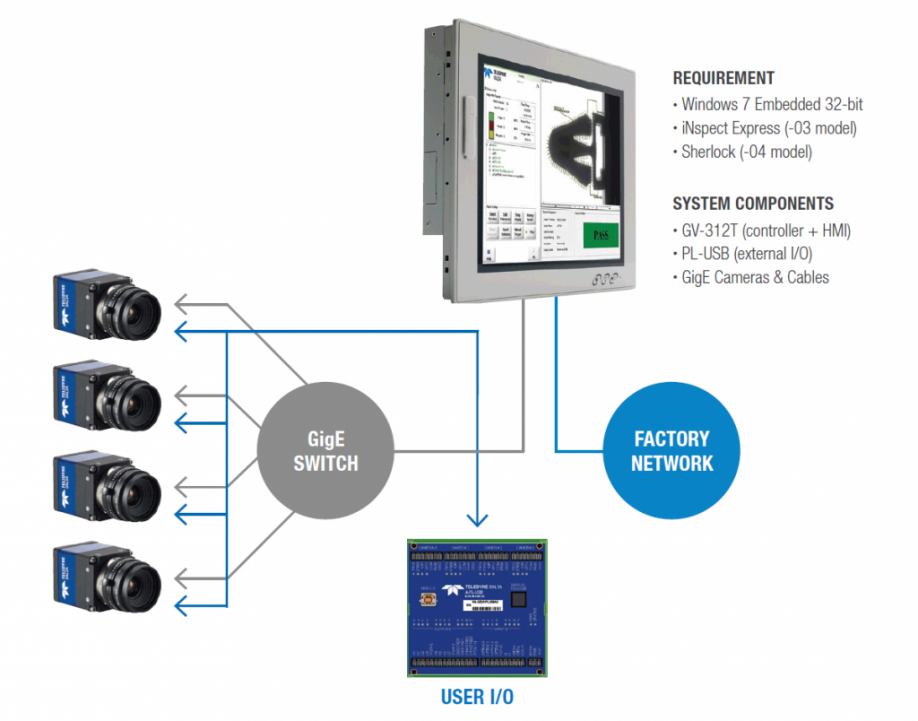 Long-Term Partnership
According to Başaraner, the trust that Kibele-PIMS has in Teledyne DALSA as a permanent partner for the entire image processing equipment is based on a long history: "In the past, we had different requirements for the vision systems that we wanted to integrate in order to implement various systems. Depending on the type of inspection process, we have implemented area and line scan cameras or even X-ray cameras to optimally solve the respective tasks. This is where one of Teledyne DALSA's major strengths has been evident for years: They can supply practically any vision technology we need to accomplish our applications with the required reliability. In addition to the cameras, our partner also carries high-quality image processing boards, specially optimized industrial PCs such as the GEVA series, or powerful software packages such as Inspect and Sherlock, which are successfully used by our customers and in numerous applications worldwide. Teledyne DALSA transfers their many years of experience from this large number of applications into the development of new products, and this is something where we and our customers benefit a lot."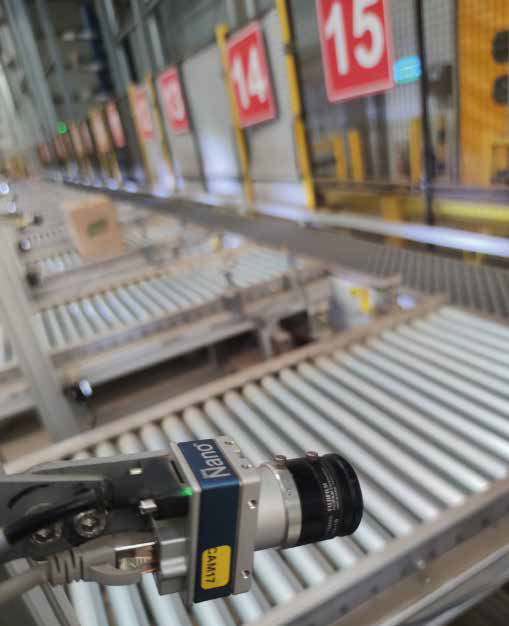 Reliable Solutions
About a year before the Knorr system, Kibele-PIMS had already developed and commissioned another system where ten different types of tea from the manufacturer Lipton are pre-sorted and packaged. This variation is very similar to the Knorr system, even if it is a little smaller, incorporating ten lines, five robots from Universal Robots, 12 Genie Nano cameras, and three GEVA 312T workstations. Başaraner is very satisfied with the results of both sorting lines: "Before switching to the fully automated solutions, the food packages were manually sorted, which was a very exhausting task. In the new setup, the boxes arrive every 1.5 seconds on average on the Knorr line and every 2 seconds on the Lipton line. Compared to manual sorting, this means a significant increase in profitability and considerably fewer errors in the correct pack- aging of the food. Teledyne DALSA's imaging components used in these fully automated sorting and packaging lines have been an essential guarantee for the achieved success."
The current systems are designed for large dealers who usually order complete pallets of a single type of food. Kibele-PIMS is currently working on systems that allow different types of food to be packaged on one pallet. This concept is more effective for smaller retailers, as the order quantities can be smaller that way. "For this next generation of systems, we will surely trust in image processing from Teledyne DALSA again," says Erdal Başaraner with certainty based on the positive experience with Kibele-PIMS' Canadian partner.
The content & opinions in this article are the author's and do not necessarily represent the views of RoboticsTomorrow
---
Comments (0)
This post does not have any comments. Be the first to leave a comment below.
---
Post A Comment
You must be logged in before you can post a comment. Login now.
Featured Product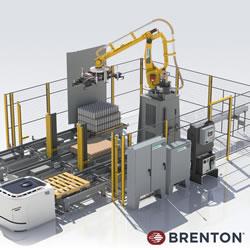 Brenton is a leader in robotic solutions with standard product offerings including palletizing and depalletizing for efficient an option for carrying hard-to-handle products, as well as larger scale systems with an optimized footprint; and case and carton loading solutions for numerous industries. In addition, Brenton works with customers on integrated solutions, offering robotics in a broad spectrum of robotics to fully integrate end of line systems. Brenton helps packaging customers protect their reputation and grow the trust of their consumers.