As we will discuss in this article, cobots can add tremendous value to your operations, but you should be sure to pay attention to risk assessments and safeguarding requirements.
Maximizing the Value of Collaborative Robots
Article from | Omron Automation
Strategies for ensuring operator safety in the collaborative workspace
The collaborative robot (cobot) market is constantly growing as manufacturers search for solutions with more advanced technologies that can help overcome evolving internal and external pressures. These pressures include labor shortages, improving overall equipment effectiveness (OEE), customization, and job satisfaction improvement.
Cobots are one of the most popular robotic applications that help manufacturers fill gaps in automation and improve production. They offer several trending solutions, such as higher payloads that provide flexibility in handling complex production requests, mobile manipulators for material handling, compact solutions with a smaller footprint and safety features, and production management with Edge computing and artificial intelligence (AI) to improve machine efficiency and anticipate failures.
As we will discuss in this article, cobots can add tremendous value to your operations, but you should be sure to pay attention to risk assessments and safeguarding requirements.
Integrating, programming, and connecting the cobots to the rest of the plant
When determining how to make a collaborative robot add value within a wider automated system, manufacturers should complete the following steps:
Establish goals

Identify areas of human interaction or isolated robot work

Find a risk assessor to assess the collaborative workspace

Ensure that the cobot's safety circuit is integrated into the larger system/solution
Collaborative robots provide different network communication options that allow them to be integrated with machine controllers, PLCs, or industrial PCs. Through the network, an operator can access a cobot's parameters to exchange data. This makes it possible to access to the position, speed, and torque information from PLC and also send commands to the cobot from an external controller.
Easy programming is one of the great benefits of working with cobots. The programming language is significantly more intuitive compared to the traditional robots, which dramatically reduces the development time of the project. The programming is done in a flow chart, and we can access the software through the robot controller, pendant, or an external computer.
Safety considerations for collaborative robots
Although cobots are safe when working in isolation, integrating them into a dynamic environment of an assembly line with hundreds of variables can make the scenario much more complex in terms of safety. Operator exposure varies depending on the application itself as well as the production setting, so different safety distances and components need to be evaluated. The cobot is prepared to identify collisions, and we can reduce the torque of the joints in the collaborative mode. However, we cannot prevent what happens at the end of arm tooling (EOAT).
Another important aspect is the position installation and trajectory of the cobot in relation to the operator. Depending on the height at which the operator's body interacts with the cobot, different speed and toque parameters may be set, or perhaps it may be necessary to prohibit a specific path of the cobot or even change its position installation. In the case of a collision, some parts of the human body can be more sensitive than others.
Most of the hazards in collaborative applications are related to physical contact with the cobot, tool, or any other material being manipulated. To understand the hazard, it is necessary to evaluate all the aspects that we just mentioned, such as the type of application, tool being used, torque, speed, interaction between humans and cobots, and safety distance. A poorly executed project can expose the operators to risks of collision, cutting, or squeezing. However, there are many safety measures that make collaborative applications safer.
The integration of safety sensors can be required for many applications where the operator and cobot share the same workspace. One of the functions of the safety sensors is to enable the cobot's collaborative mode, which involves reducing the torque and speed of the joints. A good example of such an application is palletizing, where the cobot is allowed to work at its standard speed in the operator's absence. When the operator comes close, a safety scanner will trigger a switch to collaborative mode.
Why is it important to have a risk assessment when installing a cobot?
A risk assessment is important when integrating any kind of machine, from small devices to robotic cells. It is a powerful documentation that brings more confidence to the companies and their employees. This document is provided by certified risk assessors and safety engineers who analyze machine hazards and their probability of failure. Upon quantifying the risks and identifying the limits of operation, risk assessors define the safety category that is necessary for the protection and what measures must be taken to minimize risks.
In the case of having a cobot installed, the risk assessment will provide all required information regarding operation limits, speed and torque of each joint, position of installation, and safety distance. There are many safety standards available to support the risk assessment, and these can vary by country or even regionally within the same country. The use of ISO standards has been more and more common to support risk assessments once they have been used globally and accepted in many countries.
Training is an important part of a machine safety risk assessment. Everyone who interacts with the cobot and other equipment in any way needs to be trained on the manufacturing process, operation, and safety procedures. The people who are most frequently involved in the operation are the manufacturing operators and maintenance technicians. Both teams must know how to operate the cobot — especially in emergency cases — and understand the function of each integrated component. In addition, they must be trained on the limits of the workspace and tasks during the operation (those delegated to cobots and to operators) to follow the correct process and minimize the risk of accidents.
Which safety features are important for choosing a cobot?
In general, a cobot needs to have a mechanical structure capable to avoid crush points during its movement. Also, it should have safety sensors and circuits capable of identifying any type of collision in all its joints. Typically, the cobot has an external controller where it is possible to integrate other components using the safety inputs and outputs. It is important to analyze the safety category that each circuit and operation mode reaches to ensure that the cobot will meet the requirements of the safety project.
The cobot needs to offer a sufficient number of safety I/Os, safety zones, inputs to change the operation mode of the cobot, and indicators to show which mode the cobot is currently functioning in. Additionally, the cobot needs to have features to be easy to use and quickly re-configurable in case of changes in the manufacturing process. In terms of tools and accessories, some applications require a safety sensor in the gripper, which means that the gripper should be capable to identify the opening/closing position to avoid squeezing of operators' hands and fingers. Additional forcing sensors can also be integrated to identify collision in the tool, especially in applications of machine tending where the cobot is responsible to fit parts in the machine tool.
Summary
Collaborative robots can be a game-changing investment for many companies, and they do contain design elements that make them much less dangerous than traditional industrial robots. That said, safety measures are still very important to protect any operator who must enter the collaborative workspace. A thorough machine safety risk assessment will help you determine the cobot's safety category and implement the correct safety I/Os, safety zones, and indicators.
The content & opinions in this article are the author's and do not necessarily represent the views of RoboticsTomorrow

Omron Automation
Omron is an industrial automation partner that creates, sells and services fully integrated automation solutions that include robotics, sensing, motion, logic, safety, and more for manufacturers in the automotive, semiconductor, food and beverage packaging and other industries. Established in 1933, Omron helps businesses solve problems with creativity worldwide, with more than 37,000 employees serving over 110 countries. Adept Technologies is now a valued part of the Omron family.
Other Articles
Successful AMR implementation requires careful consideration of several key factors: space analysis, floor conditions, and environmental factors, among others.
One of the key advantages of AMRs lies in their adaptability. Manufacturing processes often require frequent changes, reconfigurations, or repositioning of equipment and materials. AMRs can quickly and easily adapt to these changing requirements.
End users are looking to machine builders to provide innovative solutions that improve upon the speed and accuracy of manual-based applications while maintaining the same level of flexibility.
---
Comments (0)
This post does not have any comments. Be the first to leave a comment below.
---
Post A Comment
You must be logged in before you can post a comment. Login now.
Featured Product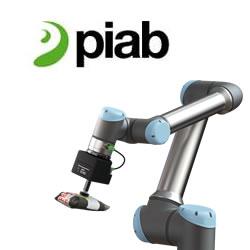 Piab's Kenos KCS gripper enables a collaborative robot to handle just about anything at any time. Combining Piab's proprietary air-driven COAX vacuum technology with an easily replaceable technical foam that molds itself around any surface or shape, the gripper can be used to safely grip, lift and handle any object. Standard interface (ISO) adapters enable the whole unit to be attached to any cobot type on the market with a body made in a lightweight 3D printed material. Approved by Universal Robots as a UR+ end effector.