Collaborative robots can bring significant benefits through closer interactions with humans – but they need high-quality parts replacement to ensure safety and productivity
Welcome to the Age of the Cobot
Article from | EU Automation
Heavy-duty industrial robots have been vital equipment in factories for many years, enabling manufacturers to deliver high levels of consistency and repeatability to improve productivity.
However, changing consumer behaviours are driving increased demand for more customisation in production, and smart manufacturing and high levels of automation are becoming the norm. This in turn is generating a need for smaller, more lightweight and agile machines that can be used in a closer relationship with workers. Enter the collaborative robot, or 'cobot'.
Cobots can take on repetitive tasks requiring precision, and they are becoming big business. Between 2017 and 2020, cobot installations worldwide doubled, from approximately 11,000 to 22,000. And a study by BIS Research shows the global market for cobots is expected to grow from $580 million in 2018 to a staggering $9 billion by 2024.
While more human-machine collaboration is desirable, the wider adoption of cobots does present some challenges - not least in the area of safety. Success depends on any number of factors: from adequate training (for humans and machines) to access to reliable components such as sensors that will help the cobots understand their environment and respond accordingly.
So, let us look at the role of cobots in modern industrial settings, and explain how you can keep them operating at an optimal level.
Challenges with traditional industrial robots
Industrial robots have a proven ability to simplify and optimise production, but traditionally they have required high investment costs, are more difficult to teach than humans and present some safety issues. Below are some of the factors that need to be considered:
Counting the cost
When it comes to costs, industrial robots are by no means an insignificant purchase. While they provide a good return on investment, they do require a dedicated and considered approach involving large sums of money. They typically require a high upfront investment plus additional installation and configuration costs. There are also future maintenance costs to consider.
Tricky to teach
Programming industrial robots and training them to carry out their specific tasks takes work and requires experienced technicians with specialist skills. This activity comes at a higher price to the manufacturer, who needs to employ these experts in-house. And it is not a one-off: when changes are required, or software needs upgrading, additional costs can be incurred.
Caution also needs to be taken when programming a robot. If not done correctly, it has the potential to malfunction or operate inefficiently.
Staying safe
Industrial robots are far from discreet: they are large and bulky machines that make rapid and repeated movements that can pose a danger and risk to workers. This requires the additional expense of adding robust safety cages around the robots to separate and protect human co-workers.
While the latest industrial robots have many safety features, older machines that have been in place for some time may lack the sensory ability to detect objects including humans nearby, making them prone to collisions and potential accidents.
Introducing cobots
Industrial robots evolved in heavy engineering applications such as automotive assembly and are strong enough to lift objects weighing several hundred kilograms. In contrast, cobots are specifically designed to interact directly with humans and perform tasks in cooperation with them, working with much smaller payloads.
For example, cobots typically sit on a tabletop. They are ideal for performing complex and delicate assembly work, precise holding or repetitive pick-and-place operations with the highest levels of consistency and reliability. Specific functions in a manufacturing environment can include sanding and polishing, gluing and sealing, screwing, and quality testing and inspection.
Typically, cobots cost a fraction of the investment of the larger industrial robots. Rather than requiring specialist programming, they can be easily taught movements for their task by the direct interaction with their human counterpart.
The concept of cobots was first introduced in the mid-90s, and the first major manufacturer to launch a cobot was KUKA in 2004. Since then, many robot manufacturers have entered the market, and cobots' capability has grown rapidly. Initial machines would generally weigh approximately 10 kgs and operate a payload of just a few kgs. Over time, cobots have evolved to become larger and more powerful. FANUC launched its first cobot in 2015 with a heavy payload of 35 kg, and ABB also launched its first dual-arm cobot the same year.
Maintaining factory security with recent regulations
Rather than being separated in cages like their bulky industrial counterparts, cobots are frequently situated on the desktop next to the human worker. As they are positioned in such close proximity to humans, safety is vitally important and global industrial robotic manufacturers such as Fanuc, Siemens, Omron and ABB are building cobots with employee protection front of mind.
Cobots need the ability to react to the presence of a worker in split seconds to prevent what could otherwise be a potentially devastating and fatal situation. As such, they are designed with inherent safety measures rather than relying on physical safeguards. For example, the arms are installed with positional sensors and advanced safety features such as collision avoidance to make them safe to work in the same space as humans on production lines.
To ensure workforce safety and maintain factory security, it is vital to ensure that cobots operate as intended. The safety standard ISO 10218 and technical specification RIA TS 15066 define the safety functions and performance of the collaborative robot.
Many cobots have direct-teach functionality whereby the user holds the arm and moves it to each required position. ISO 10218 and ISO/TS 15066 provide standards and guidance for collaborative robot teaching, an essential aspect as workers' hands come into direct contact with the robot.
For example, Omron's TM Series cobot uses intuitive hand-guiding mechanisms for teaching the robot new tasks without needing to program the robotic arm's movements. Functions such as 'Hand-guiding mode' monitor the speed and force to ensure the teaching process adheres to the latest safety standards.
Regardless of the inherent safety features, relevant standards still require cobots to undergo a full risk assessment before deployment and that manufacturers consider all possible hazards and outcomes in cases involving an emergency stop.

Sustaining safety and productivity
Since cobots are moving machines, they feature many wearing parts, and regular maintenance is vital to ensure they are kept in good condition. In addition to the sensors and other sophisticated electro-mechanical components, cobots also require cables, cabling harnesses, lubrication systems, seals, flanges, screws, bolts and O-rings. They must all be regularly checked and maintained to operate safely and to their full potential.
In that regard, it is essential to partner with an automation supplier that can access the full range of parts and spares needed to keep cobots operational. At EU Automation, our experience with robots and cobots is rooted in a long-term history of stocking automation and control components from leading OEMs such as Siemens, ABB and Mitsubishi, offering traceable and verifiable parts. The components are shipped in robust packaging to arrive in top condition. This commitment to parts quality is critical for human-in-the-loop applications such as cobots, where safety is a given.
Cobots are here to stay
To conclude, the advantages of industrial robots are well known within industry, and they have been a critical component in factories during the transition to Industry 4.0. But as manufacturers look to optimise their operations and introduce new levels of customisation, they are increasingly turning towards the flexibility and efficiency of cobots.
Integrated safety features, reinforced by rapidly evolving safety standards, enable cobots to work in harmony with humans - allowing manufacturers to push the boundaries of productivity and ultimately boost their bottom line. Therefore, cobots are firmly establishing themselves as essential elements in the more intelligent factories of the future.
The content & opinions in this article are the author's and do not necessarily represent the views of RoboticsTomorrow
---
Comments (0)
This post does not have any comments. Be the first to leave a comment below.
---
Post A Comment
You must be logged in before you can post a comment. Login now.
Featured Product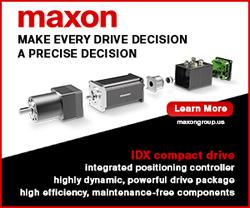 The compact brushless EC-i motor combined with an EPOS4 positioning controller delivers a highly dynamic, powerful drive package with field-oriented control (FOC), high efficiency, and maintenance-free components in a high-quality industrial housing. The maxon IDX drives are suitable for use across the entire speed range (from standstill to maximum speed) and have an extremely high overload capability. Together with a positioning controller, the integrated sensor (single turn) enables absolute positioning.