Labor shortages, demand fluctuations, and tighter budgets have more companies looking to automation to safeguard operations from this variability. However, human workers play a vital part in keeping order fulfillment cycle times low.
Doing More with Less in the Rapidly Evolving Fulfillment Industry
Q&A with Lance VandenBrook, CEO | IAM Robotics
Tell us about yourself and your role with IAM Robotics.
I joined IAM Robotics as CEO in 2021 after being a strategic advisor to the company. For the last two years, I've guided the organization as we've gone through a strategic pivot in which we pulled old products out of the market and went into stealth, used our decades of work in mobile robotics to develop an innovative new robotic solution, and then finally announced it last month.
Our new Meet Me™️ solution coordinates humans and robots as a cohesive system – we truly believe our unique approach is going to revolutionize the fulfillment industry. We come to work every day to help warehousing, logistics, and manufacturing operations across the supply chain increase productivity, mitigate operational risk, and scale their operations. My job is to lead the company by aligning our bold and gritty team around that singular vision.
You recently came out of stealth mode and launched your new Meet Me solution. What did you see in the industry that led you to pivot to this new solution?
Looking at the industry, we recognized there was an opportunity to optimize how humans collaborate with robots to make the order picking process easier and more efficient. Current approaches in the industry didn't utilize both the human and the robot to their full potential. Downtime in order fulfillment means wasted time and money: two things no warehouse can afford.
Tell us about the Meet Me solution and how it is different from other person-to-goods solutions in the market?
Compared to other solutions on the market, our Meet Me approach orchestrates the work of autonomous mobile robots (AMRs) and human pickers as independent workflows that form a cohesive system. Our proprietary algorithm is continuously optimizing and allocating tasks across zones and across the robotic fleet so warehouse resources are fully utilized. Instead of the human worker relying on the robot for their pick information, they always know where to go and what to pick when they get there, eliminating wasted travel or downtime. We also have a significant advantage with Lumabot AMRs that can support over 500 lb payloads, accommodating various weight and sized payloads for multiple industries.
What customer benefits does your solution provide? What problems are you solving for the market?
Fulfillment warehouses continue to feel the pressure to do more with less. Targets to shorten the order fulfillment cycle and increase productivity while supporting operations with uncertain labor availability can seem like an impossible task. Our Meet Me solution efficiently coordinates warehouse resources with easy and engaging technology. With more companies using temporary labor, the training and usability of robotic automation needs to be fast and simple without sacrificing accuracy. Our interactive put-to-light AMR shelving and mobile app keeps human workers engaged and on task.
How do workers integrate and work with the rapidly evolving fulfillment industry?
The fulfillment industry workforce has seen dramatic change over the past few years. Labor shortages, demand fluctuations, and tighter budgets have more companies looking to automation to safeguard operations from this variability. However, human workers play a vital part in keeping order fulfillment cycle times low. From the tenured full-time worker to the brand new temporary worker, keeping humans happy and empowered using automation that is easy and engaging will result in better productivity and employee satisfaction.
You offer Robots as a Service (RaaS), why do you believe this is such an important option to help companies integrate robotics.
Investment in robotics automation requires flexibility. Ongoing fluctuations in demand and labor require pricing models that align with business needs- enabling companies to scale as needs change. IAM Robotics offers purchases as a capital expenditure or as Robots as a Service (RaaS) to provide the agility and scale needed to support growth and a quick ROI.
Where do you see order fulfillment a few years down the road and how will IAM Robotics continue to innovate in the industry?
IAM Robotics will continue to use agile and flexible technology to help the fulfillment industry overcome the challenges of today and tomorrow. Our team's grit and expertise, coupled with our innovative and proprietary technology, make us uniquely poised to revolutionize the order fulfillment industry. We are helping to solve a critical piece of the global supply chain puzzle. We're moving onward and upward together, and we're just getting started.
The content & opinions in this article are the author's and do not necessarily represent the views of RoboticsTomorrow
---
Comments (0)
This post does not have any comments. Be the first to leave a comment below.
---
Post A Comment
You must be logged in before you can post a comment. Login now.
Featured Product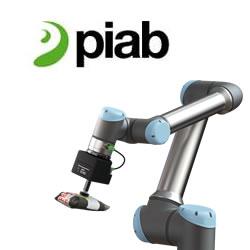 Piab's Kenos KCS gripper enables a collaborative robot to handle just about anything at any time. Combining Piab's proprietary air-driven COAX vacuum technology with an easily replaceable technical foam that molds itself around any surface or shape, the gripper can be used to safely grip, lift and handle any object. Standard interface (ISO) adapters enable the whole unit to be attached to any cobot type on the market with a body made in a lightweight 3D printed material. Approved by Universal Robots as a UR+ end effector.