An instance of reshoring within a wider policy of genuine corporate social responsibility, and one which paid off. This is a story about robots, to be sure, but one in which humans are never far away...
Logistics Robots in the Ready-to-wear Fashion
Case Study from | maxon precision motors inc.
A subsidiary of the Beaumanoir Group, C-Log is a company that specializes in retail & e-commerce logistics. Its nine established warehouses, located throughout France, not only supply stock to the stores of Bonobo, Bréal, Cache-Cache, La Halle, Caroll, and Morgan, all part of the Beaumanoir Group, but also provide logistics for other garment brands. When e-commerce really took off in 2019, C-Log decided to create a specific process to handle online orders. The result was an automated warehouse with 18,000 m2 of floor space, entirely dedicated to e-commerce, situated at Poupry, between Paris and Orléans. Built in 2022, this "Digital Hub" relies on a fleet of 240 autonomous mobile robots (AMR), capable of ensuring deliveries within 24 hours of an online purchase. Rather than procuring its robots from another country, the Beaumanoir Group took the somewhat daring risk of manufacturing them themselves, at Saint-Malo in Brittany. An instance of reshoring within a wider policy of genuine corporate social responsibility, and one which paid off. This is a story about robots, to be sure, but one in which humans are never far away...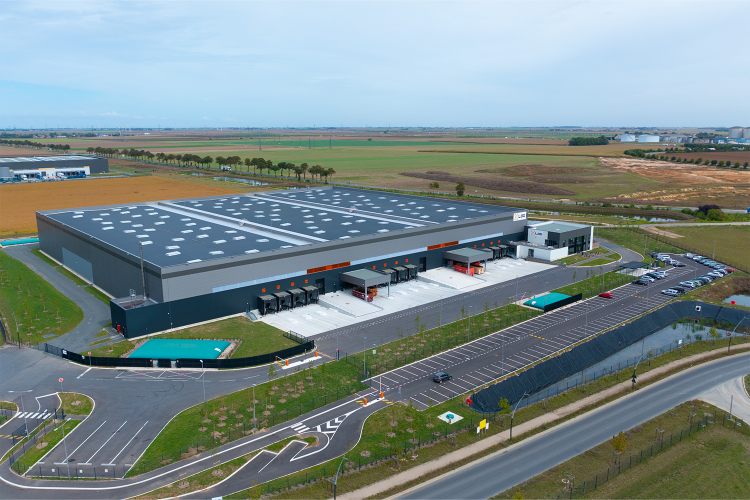 Reshoring rather than offshoring: an unusual gamble with a great impact
The story began in 2019. Faced with rapid growth in its e-commerce business, C-Log was looking for a way to keep up and to get its rising costs under control. "The logistical costs of e-commerce are four times higher than those of in-store sales. The challenge was to break that four-to-one ratio for our customer brands,", explained Benoît Garçon, CEO of C-Log. A request for proposals was sent out, with the Beaumanoir Group thinking of purchasing robots seen during earlier visits to other countries.
Julien Le Flohic and Georges Pagis, both with PhDs in robotics, had a different idea in mind. "We went to see Mr. Beaumanoir and suggested that he should manufacture the necessary robots for his warehouses in-house instead. It took a short PowerPoint to persuade him to invest in us, even though he didn't know us! After an hour, his response was, 'It's awesome, I love it, where do I sign?' As a well-informed entrepreneur deeply attached to his local region, he immediately took to the idea of robots made in Saint-Malo," recalled Georges Pagis, now technical director of C-Log's robotics design department.
For the project to become a reality, a robotics design department was set up at C-Log, with an entrepreneurial outlook. Its mission? To manufacture mobile robots for use within the Digital Hub, before moving on to the automation and robotization of all the C-Log warehouses, with a view to reducing the risks of musculoskeletal disorders inherent in repetitive tasks.
Robotization to stay competitive
"The Beaumanoir Group has always invested in logistics resources that can ensure availability of a product in the right store at the right time," said Georges Pagis.
Three years later, in 2022, the Digital Hub was operational. This huge automated warehouse has the capacity to handle 40,000 items a day, with the most thorough system of automation possible. Enough to meet the many challenges of fashion retail logistics.
Digital Hub: ambitious goals
As well as decarbonizing and optimizing transport to limit its environmental impact, the ready-to-wear logistics industry faces various economic and human challenges. The Digital Hub was designed to meet these challenges.
Ensuring delivery in 24 hours. The first challenge concerns speed. No more than 24 hours should pass from the moment when a customer confirms their order online to the moment when they receive their order in the mail. To achieve that, it was critical that the Digital Hub be located near the hubs of the shipping carriers, to allow collection as late as possible.
Dealing with the proliferation of shipping carriers. Colis Relais, Mondial Relay, Colissimo, UPS, Fedex… There was once a time when only the postal service was tasked with delivering packages, but the number of carriers has since multiplied. This situation means that packages have to be sorted very carefully when they leave the warehouse, so that each is assigned to the right carrier.
Limiting manual handling of the garments by the human workers. In conventional warehouses, workers may be required to move more than one garment per second. Because such an intense pace can cause musculoskeletal disorders, one of the goals of the Digital Hub was to limit this kind of handling as much as possible.
"The usual practice in the past was to buy machines and then adapt their ergonomics to limit their impact. Now, people think about the process in advance, and about how everything is going to be done, so that everything is ergonomic. This allows arduous tasks to be minimized, thanks to automation and robotization. As a result, jobs are being displaced to positions of greater added value," explained the C-Log robotics design technical director.
To address all of these challenges, C-Log has devised an innovative logistics process, based on a French and European registered patent.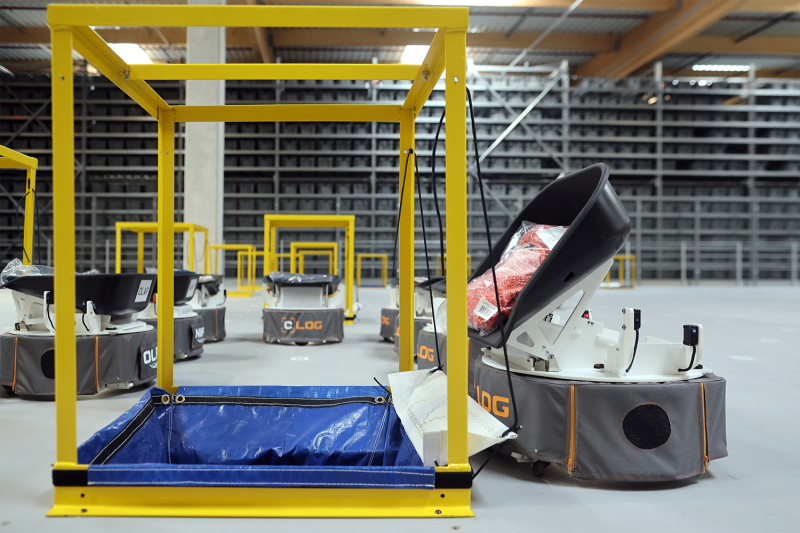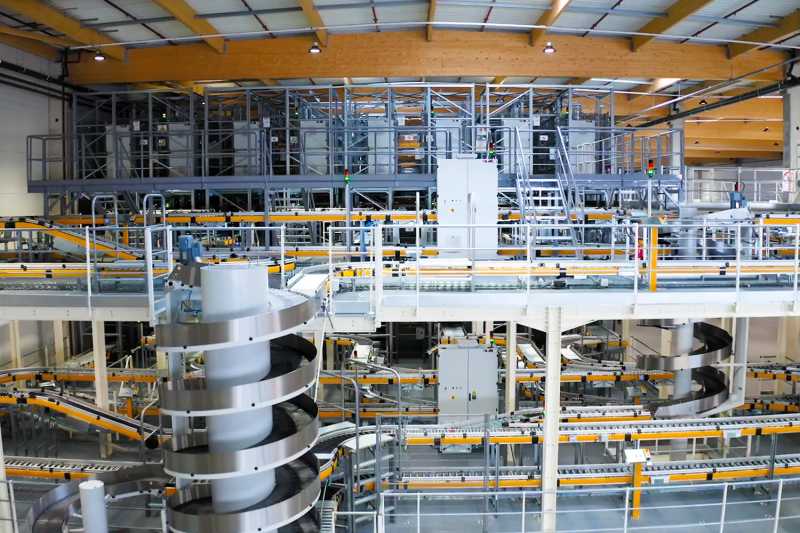 Mobile robots and a gravity system: a world-first logistics system
Currently most robotics engineers working in logistics use the "goods to man" method, patented by Amazon. This method involves making the items in an order come to the pickers, who can then assemble the order. Robots bring the different components of the order to the stationary worker, so that the worker can put the order together.
"We had a different idea about how to put the order together, by using our robots and a gravity system. The logistics process that we have installed is truly the first of its kind in the world, and we are very proud of it!" declared Georges Pagis.
In precise terms, as soon as an order is placed online, the items are removed from storage automatically by means of a network of conveyors on level 2. A stationary worker or a picking robot then picks up the garment and passes it to a mobile robot, which places it in an assembly area. Each robot carries only one garment at a time. In this way, the robots put the orders together and send them to packing and shipping, which have also been automated.
The entire process is managed by the control software, which assigns tasks in real time to the different robots according to the type of order.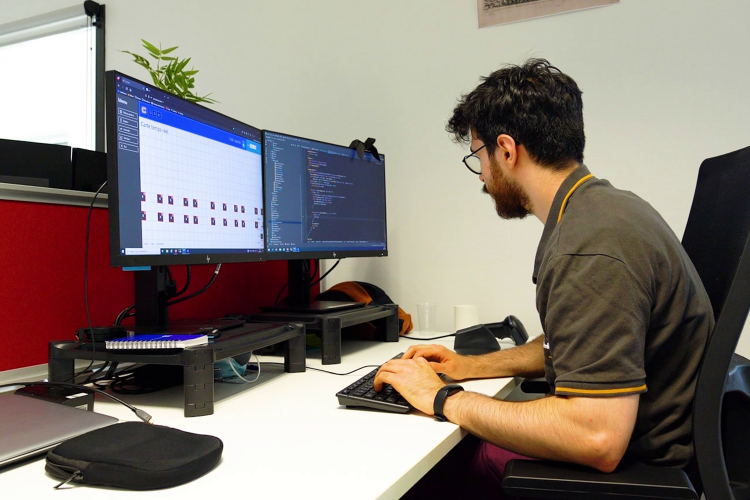 Improving productivity while reducing the pace
"Thanks to the real-time workflow, we are able to send in orders throughout the day, thus distributing and smoothing out the workload. Ultimately, that means the pace can be reduced for the human workers, while also improving productivity," explained the technical director of C-Log robotics design.
Whereas conventional materials handling facilities favor batch picking, in which batches of orders are picked at the same time, the Digital Hub works by picking the orders as they come in: After an order is placed on the website, it is processed in near-real time. "It's the optimization and innovation of the processes that allows this change of model," added Georges Pagis.
Robots costing half as much as those on the market
"The thing about our system is that, on the one hand, we have to move lightweight products, and on the other hand, a lot of robots are needed to make the process work, so there is a real need to minimize their costs," stressed Georges Pagis. For this reason, it was necessary for the robots to cost as little as possible. In addition, the robotics design department at C-Log had to move fast, because the teams had less than two years to manufacture and deploy the robots in the Digital Hub. Two key factors were leveraged to meet these challenges:
Insourcing: Applying an agile methodology, the teams at C-Log did everything in-house, from the software development to the mechanical engineering, using a sprint system. A prototype was quickly constructed in order to collect data and improve the robot. The finished product is the end result of multiple iterations.
Modular design: This allowed each building block to be worked on independently: battery, motor system, intelligence, motherboard… Thanks to the modular nature of the design, as soon as one building block or module was functional, it was possible to go on to the next, without being held up.
"Maximized insourcing and the modular aspect allowed us to keep to very tight deadlines and to produce our first robots very quickly. In just two years, we produced 40 robots, manufactured 100% in-house!" said a satisfied Georges Pagis, whose team of 10 people has produced 200 more robots since.
"We have built robots lighter than what's available on the market, by making modifications to all the components. That allowed us to get greater autonomy and a more attractive cost per robot than what exists on the market," added Gwendal Buzulier, director of product engineering at C-Log. When in the warehouse, the robots move around on a grid pattern equipped with QR codes. Every time a QR code is read, the central control system sends an instruction to the robot to keep it on track.
In the design, significant effort was also made to reduce the noise level of the robots, in order to ensure good working conditions in the warehouse.
maxon: a trusted partner for motor systems
When designing the motor system, the C-Log design department contacted several motor manufacturers, but it was maxon that immediately won them over. "From the first six months, it was clear that we would work with maxon, because they understood, and they helped us understand our needs. They also very quickly provided us with the first prototypes for testing," Georges Pagis recalled. Consequently, the motor module was able to be completed in record time, allowing the C-Log teams to spend their time on other modules. The motor module has remained virtually unchanged since. "The C-Log team has an outstanding capacity for innovation. We've worked with them right from the start of their project, and we're very happy that we can provide them with the technical solutions they need in order to reach their goals fast," explained Christian Lucas, customer application engineer at maxon.
C-Log's robots are fitted with two of maxon's best-sellers: the EC-i 40 motors and the EPOS 4 controllers. Reliable, economical, and proven, these two technologies are available within 48 hours. The EC-i 40 brushless motors are particularly impressive in terms of:
Power density: The ratio of power to size allows the use of a compact motor
Energy efficiency: An important point for robots that run on batteries
Reliability: When used in the correct conditions, no EC-i 40 motor has ever broken down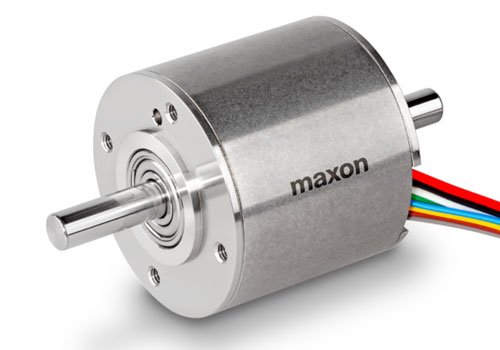 EC-i 40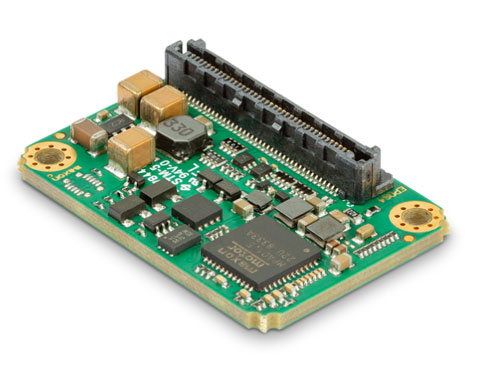 "We've been working with maxon for four years now and we have never had a breakdown, which is quite an amazing bonus. The technical and sales support is equally fantastic – Mr. Lucas and Mr. Tinant have really been very patient and very responsive right from the start, which is great! Beyond the reliability of the products, it's really the human support that maxon provides that makes the difference," stated the C-Log robotics design technical director, adding, "If there's the slightest problem, I get a straightforward technical response within an hour. If only all our suppliers were like that!"
"The C-Log teams have asked us for a lot of technical information over the last four years, and our exchanges have always been fluid and constructive, in the search for solutions. Our relationship with them is very good. I think it must be a nice place to work," confirmed Henri Tinant, automation engineer at maxon.
From now until 2024, C-Log plans to produce 500 more robots. The goal? To duplicate the system put in place at the Digital Hub, in order to use it in other warehouses or for other purposes. At the same time, the design department is working on the design of picking robots and on improving the conveyor system, and is considering installing simple mechanisms to assist with actions likely to cause musculoskeletal disorders. To accommodate its ambitions, the C-Log design department is set to grow further, so as to support C-Log in automating its 10 warehouses. A marvelous endeavor, to which maxon is proud to contribute.
For more information: www.clog.fr
The content & opinions in this article are the author's and do not necessarily represent the views of RoboticsTomorrow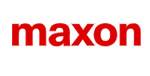 maxon group
maxon is a leading supplier of high-precision DC brush and brushless servo motors and drives. These motors range in size from 4 - 90 mm and are available up to 500 watts. We combine electric motors, gears and DC motor controls into high-precision, intelligent drive systems that can be custom-made to fit the specific needs of customer applications.
Other Articles
Although at present robotic automation forms only a small part of warehouse spending it is predicted that it could grow from $3.6bn in 2021 to $18bn in 2025. As technology and AI's improve, automation systems will grow even faster.
Drone technology continues to advance depending on specific applications. For this article, we'll be looking at compact drones used in a variety of applications that need continuous and autonomous inspection of chimneys, shafts, and tanks.
The teams at Enchanted Tools aim to revolutionize robotics by improving the acceptability of robots to promote their large-scale adoption. We take a look back at the origins of a project that is ambitious in many respects, and one in which maxon is proud to participate.
---
Comments (0)
This post does not have any comments. Be the first to leave a comment below.
---
Post A Comment
You must be logged in before you can post a comment. Login now.
Featured Product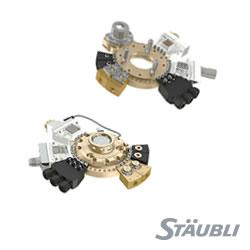 Stäubli is a pioneer in the construction and development of robotic tool changing systems. Our customers benefit from our many years of expertise in all industry sectors, as well as our modular product concept, which offers three efficient solution paths: MPS COMPLETE offers preconfigured robotic tool changers for immediate use. MPS MODULAR allows the user to determine the configuration, while MPS CUSTOMIZED allows the construction of special, application-specific systems.