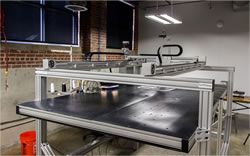 Groundbreaking developments in recent years in the fields of Robotics and AI have allowed the textile industry to progressively adopt automation in their manufacturing processes.
From Sewbo: Sewbo Inc. on Thursday announced that it has achieved the long-sought goal of automated sewing, by using an industrial robot to sew together a T-shirt. This milestone represents the first time that a robot has been used to sew an entire article of clothing. Despite widespread use in other industries, automation has failed to find a place in apparel manufacturing due to robots' inability to handle limp, flexible fabrics. Sewbo avoids these hurdles by temporarily stiffening fabrics, making it easy for conventional robots to build clothes as if they were made from sheet metal. Afterwards, the process is reversed to produce soft, fully assembled garments. "Our technology will allow manufacturers to create higher-quality clothing at lower costs in less time than ever before," said Jonathan Zornow, the technology's inventor. "Avoiding labor issues and shortening supply chains will help reduce the complexity and headaches surrounding today's intricate global supply network. And digital manufacturing will revolutionize fashion, even down to how we buy our clothes by allowing easy and affordable customization for everyone." Sewbo performed their feat using an off-the-shelf industrial robot, which they taught to operate a consumer sewing machine. Having successfully proved its core concept, Sewbo is now expanding its team and working towards commercializing its technology... ( company webpage , MIT article )
Records 1 to 2 of 2
Featured Product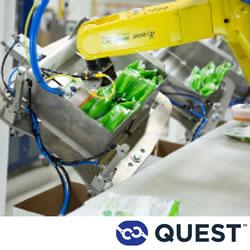 Quest is a leading manufacturer of industrial automation equipment focusing on robotics and vision-guidance. With expertise in the food, beverage, and dairy, Quest optimizes floor space for customers experiencing growing demand and helps improve their overall production line flexibility and efficiency. Quest offers application-specific software on their robotic products, including pick and place, case packing, and palletizing systems to simplify system setup and streamline configurability. Quest is a product brand of ProMach, a global leader in packaging line solutions.