As enterprises transition to 5G wireless networks, which are built specifically to move even more data more quickly and more accurately, AMR performance will make a huge leap, with faster, more precise decisions about the paths they take within the facility.
Important Trends Impacting the AMR Space
Q&A with Jane Heffner, Mobile Industrial Robots | MiR
What are the biggest challenges your team is hearing about from customers? How is this driving their purchase of AMRs or potentially keeping them from purchasing?
The ongoing labor shortage throughout manufacturing and so many other industries is still the biggest pain point for customers. I recently spoke with a company who is currently experiencing a 167% turnover rate, which is very hard to comprehend. This labor shortage is definitely driving the adoption of AMRs. Fortunately, many of our customers have been able to move the human workers they do have into more value-added tasks, including managing the operations of the AMRs. For example, within six months of project launch, automotive supplier Denso was able to cover all lines in the ignition plant with MiR robots and redeploy six workers to add greater value to the company. And Runner in China was able to help the majority of its workers previously moving materials acquire AMR operation skills with a few days of training.
What do you see as the most important trends impacting the AMR space?
As people become more familiar with AMRs and confident in the benefits they provide, they are expanding their use into more applications. Rather than purchasing one or two robots, we now see more customers purchasing dozens or more.
As facilities deploy larger numbers of AMRs, there's a greater need for coordinating, controlling and managing the fleet. Not only do we offer fleet management software, MiR Fleet, but this spring we introduced our MiR Insights, a cloud-based software that empowers customers to make data-driven decisions, allowing them to optimize their MiR robot fleet's performance and minimize downtime. These insights can be leveraged to identify patterns in robot behavior, optimize mission flow, and reduce inefficiencies, ultimately resulting in increased productivity and improved ROI.
Cybersecurity requirements and the transition to 5G are also impacting the AMR space.
Due to the unprecedented scale of supply chain attacks, and the lack of an easy protection strategy, they are becoming a main area of concern in the industrial sector so vendors like MiR are following taking steps to deliver highly secure products by following security standards as well as secure design principles and coding guidelines to help eliminate any possibility of a breach. Also, as enterprises transition to 5G wireless networks, which are built specifically to move even more data more quickly and more accurately, AMR performance will make a huge leap, with faster, more precise decisions about the paths they take within the facility.
MiR was the first mover in AMRs. What do you see as MiR's biggest differentiators in the market today?'
One of MiR's biggest differentiators is our years of experience and base of technical knowledge in this space. We have learned so many lessons from working closely with our customers and partners over the years. We leverage these lessons in each subsequent deployment, helping us grow, improve our quality, and service our customers at a different level.
Another key differentiator is the flexibility we offer, with nearly 200 partners providing out-of-the-box, ready-to-use top models that let our robots be used for many different applications.
What is the best way for manufacturers and other potential customers to work with MiR? Directly through MiR? Through system integrators or distributors?
The best way to work with MiR is through our distribution and integrator channel. We've put this channel in place so that we have capability at the local level to be able to help with implementation and then ongoing service. With MiR being a relatively new company still, we don't have the infrastructure to be able to do that directly and our partners around the world have had a huge impact on the growth of MiR and the AMR industry overall.
How does MiR suggest helping employees feel comfortable working with AMRs?
When deploying any new technology, there are various aspects to get accustomed to, not only for the employees responsible for deploying and operating the robots but for anyone who will be sharing the workspace with the robots.
Taking the time to train the employees with the level of detail needed for them is the best way to start. MiR robots are designed for dynamic environments, and employees should know that MiR safety system makes operation in these environments safe. This means that humans can move freely around the AMRs. When it detects you, it will reroute around you. If you step in front of it, it will stop.
For MiR AMRs, employees should have a general idea of how to behave when they see the different color status lights on the robots such as the green light indicating the robot is in good state and ready to work, the red showing the robot is making an emergency stop or the cyan showing the robot is paused. Those helping to manage the robots will obviously need to know more so in addition to offering some in-person training options, we've developed online portals companies can offer to their employees who are working with AMRs. Our most popular and extensive is MiR Academy, which includes training modules at different levels.
One other thing to remember: Ensure your employees know from the start why these robots are being deployed. In most cases, they are there to supplement labor activities, not replace jobs. As we all know, not many jobs are fully automatable, and if their specific tasks are being automated, there are more value-added jobs for them.
What are the most important lessons you've learned since joining MiR earlier this year?
Listen to your customers. If they have a potential problem, it is best to look at the problems as a treasure. A problem is an opportunity to really delve into a situation and fix it so it doesn't happen again. We don't know everything. We don't know what we don't know until you encounter it. How we resolve any problem is critical and can result in a strong relationship with your customers going forward. Also, I've learned that it's especially important to have the tenacity to not just sell a product, but to really make sure that the solution is successful. That's critical to customer success and happiness.
The content & opinions in this article are the author's and do not necessarily represent the views of RoboticsTomorrow
---
Comments (0)
This post does not have any comments. Be the first to leave a comment below.
---
Post A Comment
You must be logged in before you can post a comment. Login now.
Featured Product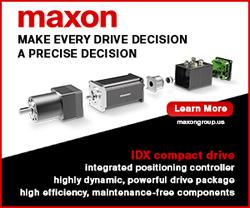 The compact brushless EC-i motor combined with an EPOS4 positioning controller delivers a highly dynamic, powerful drive package with field-oriented control (FOC), high efficiency, and maintenance-free components in a high-quality industrial housing. The maxon IDX drives are suitable for use across the entire speed range (from standstill to maximum speed) and have an extremely high overload capability. Together with a positioning controller, the integrated sensor (single turn) enables absolute positioning.