Manufacturing

Marketing Partner
---

Electrocraft Inc.
ElectroCraft, Inc. is a global provider of dependable, application-engineered fractional-horsepower motor and motion products. Our products are found in thousands of different applications within industrial, commercial, and consumer product markets. While ElectroCraft provides a wide array of standard products with many configurable options, we have built our brand on custom OEM solutions that meet the precise performance, cost and quality our customers require.
---
Mailing Address:
2 Marin Way, Suite 3
Stratham, NH 03885
United States of America
Tel: 844-338-8114
Fax: (603) 742-9080
Email: sales@electrocraft.com
Website: https://www.electrocraft.com/
Company Category: Industrial Robotics
Geographic Region: USA - North East
Company Sector: Manufacturing
Keywords: OEM, brushless, DC, motors, drives, stepper, linear
Partner Status: Marketing Partner
---
Products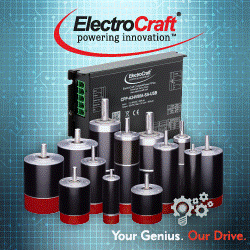 ElectroCraft exhibits its motion control product offer at Robotic related events at trade show and demonstrations across the world. We attend these events and conferences not only to show our motor and drive product offering, but to discuss and learn more about challenges involved with developing commercial robotics across markets.
---
Articles
The ElectroCraft CompletePower™ Plus Universal Drive takes the guesswork out of selecting and configuring a drive and motor combination by incorporating all of the features and functions necessary to provide optimal control of a wide variety of brushless DC motors.
We provide motion control solutions in the form of electric motors, drives and motion control solutions for OEM Customers who are unsatisfied with having to design around inflexible off-the-shelf products.
---
White Papers
Integrating servo drives into motion systems forces engineers to make decisions that will ultimately affect the entire machine build. Specification choices include picking between analog and digital servo drives; torque-mode or linear servo operation; PCB-mount or fully enclosed standalone construction; and partially to fully distributed drive topologies.
---
Press Releases
ElectroCraft, Inc., the global fractional horsepower motor and motion solutions provider, has expanded its DC motor drive lineup for the CompletePower™ Plus Universal Drive and PRO-Series.
The MobilePower™ Wheel-Drive (MPW) features a high torque-density brushless DC motor with an integrated single-stage planetary gearbox and wheel drive assembly.
---