Manufacturing

Marketing Partner
---

Infranor Inc.
For 30 years, Infranor a motion control technology leader has been providing high-performance standard and custom motion control products and integration services. Feature Motor products include the FP series of Slotless Brushless Motors (high efficiency, best in class torque and power density, high speeds up to 30,000 RPM, smooth ZERO cogging motion, and 8 frame sizes). Pancake-style, explosion-proof, radiation-hardened, and kit motors are also available. Feature motor drives include the PAC/EASY series of compact servo drives (Sensorless, EtherCAT, CANopen, and Indexing).
---
Mailing Address:
299 Ballardvale Street Suite 4
Wilmington, MA 01887
United States of America
Tel: 800.237.3786
Fax:
Email: info@infranorusa.com
Website: http://www.infranorusa.com/
Company Category: Factory Automation
Geographic Region: USA - North East
Company Sector: Manufacturing
Keywords: servo, servo motors, servo drives, servo controls, slotless
Partner Status: Marketing Partner
---
Products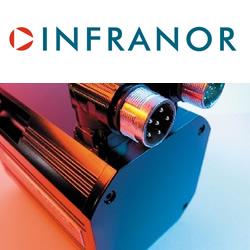 The XtraforsPrime or FP series of slotless brushless servo motors provide improved torque and power density compared to standard brushless servo motors. They are capable of very high speeds (30,000 RPM), smooth ZERO cogging motion, high effiecency and are availble in 8 frame sizes to fit your application needs. To learn more visit our website at www.infranorusa.com/xfprime or contact us at info@infranorusa.com or at (978) 988-9002.
---
Articles
This Company does not currently have any Articles
---
White Papers
NEXT GENERATION OF SERVO MOTORS UTILIZE SLOTLESS TECHNOLOGY!
Brushless servo motors that utilize SLOTLESS technology yield more torque in a smaller package, can run to higher speeds, produce smoother motion and consume less energy. This white paper explains the technology and compares it to traditional slotted construction and discusses the pros and cons of the technology.
---
Press Releases
This Company does not currently have any Press Releases
---