It will Take place on Iran- Tehran - Shahre Aftab International Exhibition Center (EXHIBIRAN) on 31 Oct 2019 to 03 Nov 2019.
we will invite all companies related to robotic industries to join us in this huge and attractive event, connect directly to your huge market of robotic technologies.

That is 4 days planned exhibition (includes 3 days of Seminar & Conferences, 2 Day Professional robotic championships)
Mr.Alireza Gholami, CEO of Tirajeh Sazan Sahar Exhibition Organizing company which are organizer of IIREX 2019 said, in this event for the first time we will connect 2 side of markets, who making the RT technology and RT Products and Different parts of markets Inside IRAN and other Regions, we will Provide special services for companies who will exhibit their products in this exhibition , as he said, through research on requirements of exhibitors, our legal Department (managing by Lawyer Mr.Iman Hashemi)of IIREX will help Exhibitors and Who want to reach to them during exhibition to solve and issue and matters of contracts, investments and other required particulars, and IIREX Tourist Department (managing by Ms.Elahe Golestane) will serve attenders of exhibitors from entering the country by CIP Services in Airport with dedicated Translator, Driver and luxury Car and preparing catering inside exhibition booths and many more dedicated and specialized services.
we will try to connect all of our dear exhibitors to our huge market of RT products in IRAN by huge Local and International media camping which are starting about 6 month before event date.
Featured Product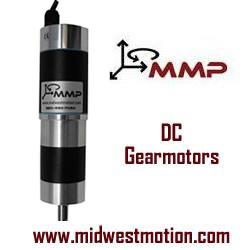 Midwest Motion Products, Inc. (MMP), is a well-established, healthy, & growing Family Owned Business, founded in 2001. MMP specializes in cost-effective standard DC Gearmotors, Motors, Controls, and ancillary equipment. Known world-wide for our "Lightning Fast" delivery capabilities, you can have a Standard Planetary or Right Angled DC Gearmotor BUILT and SHIPPED, often on the very same day you call. Offering Brushed and Brushless designs, with winding voltages ranging from 12 VDC to 120 VDC, we can deliver your "Robust & Reliable" samples within HOURS, instead of weeks, or even months.