Electromate's new partnership with Mecademic will expand its reach to end users and manufacturers needing ultra compact and precise industrial robots across Canada.
TORONTO, Ontario, October 18, 2021 -- Electromate Inc., a leading Canadian Distributor of Precision Robotic & Mechatronic Solutions, today announced a partnership with Mecademic, a Montreal based premier manufacturer of the world's smallest, most compact, and precise industrial robots.

Electromate is expanding its robotics and automation product family with Mecademic's precise line of industrial robot arms.
Mecademic is a Canadian robotics manufacturer that builds the world's smallest, most precise, and easy-to-use industrial robotic arms. Their robots excel in the precise and repetitive manipulation of small parts and tools in a variety of industries.
Mecademic robots are unique in that they are plug-and-work automation components that integrate with any PC or PLC, don't require a proprietary programming language, do not require training, are ultra-easy to integrate, and are compatible with virtually any other automation component. They are designed to maximize space-efficiency and minimize deployment time in labs and factories.
Applications for Mecademic's robots include: Assembly, Pick & Place, Dispensing, Test & Inspection, Machine Tending and Micro-Manipulation.
Additional information on Mecademic can be found at-
https://www.electromate.com/catalog-video-library/mecademic/
For more information, please contact:
Warren Osak
sales@electromate.com
Toll Free Phone: 877-737-8698
Toll Free Fax: 877-737-8699
www.electromate.com
Tags: Mecademic, Meca500, Industrial Robot, Miniature Robot, Electromate
Featured Product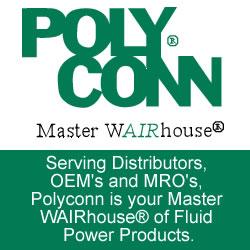 We can produce pneumatic hose and other pneumatic products to match your exact specifications. Our proficient engineering and quality management, coupled with outstanding customer service means Polyconn delivers high quality pneumatic components at competitive prices. Place your order or contact Polyconn for more information on our pneumatic hoses, pneumatic manifolds, Duratec® Pipe or any of our other top quality pneumatic products and components.