At this year's Robotics & Automation Exhibition, battery manufacturer Accutronics will be showcasing its latest battery packs for robots in military, medical and industrial applications, as well as cells for internet-of-things (IoT) devices. During the two-day event, taking place at Coventry's Building Society Arena on November 2 and 3 2021, Accutronics will consult design engineers and robot technicians on how to ensure reliable power in their systems.
Specialists from Accutronics's team will be available on stand 202 with a selection of products from its portfolio of batteries for robotics. The team will also be drawing attention to the latest batteries and cells from Ultralife Corporation, Accutronics's parent company, who has been focused on the robotics and internet-of-things markets in recent years.

"Robots are increasingly being used in critical applications, such as medical," explained Neil Oliver, technical marketing manager at Accutronics. "In addition to the growing demand for surgical robots, in the last few years there has been a rise in the use of disinfection robots. Accutronics and Ultralife manufacture pre-engineered battery packs that are pre-certified to standards applicable to medical devices, including hot-swappable and embeddable rechargeable lithium iron phosphate (LiFePO4) batteries - available in 6V, 12V and 24V. Rechargeable lithium-ion batteries, like the 28.8V CMX series, are also available. These serve robotics applications, such as exoskeletons, that are branching out from their medical roots into logistics and military applications."
"The military are always seeking lightweight, easily transportable equipment (including robots) and the same is true for the components they use, down to robot batteries. At the exhibition, Accutronics will be displaying the 24V URB0023 LiFePO4 stackable battery. Up to ten of these batteries can be stacked together to create power systems to fit demanding robotics applications, the benefit being that they can be transported as separate units."
Also on display will be off-the-shelf batteries from Inspired Energy, of which Accutronics is the sole UK and Europe distributor. In recent years, these lithium-ion batteries have proven popular for use in customer service and telepresence robots.
A wide range of non-rechargeable cells will also be on display, which can be used to power sensors and other components that robots use. This includes Lithium Manganese Dioxide CR123A cells and Lithium Thionyl Chloride ER Generation X cells. In addition to being used in robotics, these cells are also proving popular in IoT devices, such as asset tracking and home automation.
Despite Accutronics and Ultralife offering a wealth of pre-engineered batteries and cells for robots and IoT devices; as the field is so cutting edge and pioneering, there may not always be a suitable off-the-shelf solution. That is why Accutronics also offers a custom battery pack design and manufacturing service called Accupro. With regards to cells, Ultralife's Lithium Manganese Dioxide Thin Cells® are available in custom sizes, to suit the most compact IoT devices.
Original equipment manufacturers and design engineers who are considering battery packs or cells for their latest robotics or internet-of-things project should consult with Accutronics at Robotics and Automation to get expert advice.
Featured Product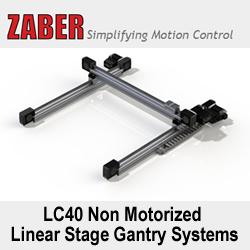 A Zaber gantry kit comes with everything you need to build a customized XY gantry system or XYZ gantry system. These gantry systems feature coordinated multi-axis motion, plug-and-play operation, easy integration with end-effector options, and built-in IO and E-Stop capabilities. An intuitive ASCII interface allows the user to easily communicate with the gantry systems using our free software, either Zaber Motion Library with APIs for several popular languages or Zaber Console. Third party terminal programs that can communicate over a serial port can also be used.