Back in 2019, TE's Hungarian plant was experiencing problems in material handling due to the inefficiency of their existing material handling systems, which had reached the limit of its capabilities.
TE Connectivity – Hungary Case Study
Case Study from | ROEQ
TE Connectivity is a Tier2 supplier to global automotive supply chains with a manufacturing plant in the North-Western Hungarian city of Esztergom. A subsidiary of US-based TE Connectivity, which serves a wide variety of segments within the electronics industry, from aviation and telecommunications through healthcare and smart technologies. In its Hungarian facility, which employs more than a thousand people, passive electrical connectors and connector housings are manufactured by plastic injection moulding. These products can be found in the vehicles of leading auto makers, including the Volkswagen Group, PSA and Mercedes.
AMRs and mobile robotic equipment (MRE)
Autonomous mobile robots (AMRs) have revolutionized intralogistics in just a few years, enabling manufacturers to automate the movement of raw materials and finished products efficiently and safely within production facilities. AMRs are easy to program and, when combined with appropriate Mobile Robotic Equipment (MRE) such as top rollers and top modules, are versatile enough to handle a wide range of applications.
MRE enables companies with intralogistics requirements, like TE Connectivity, to fully harness the capabilities of their AMR. MRE can be connected to an AMR using simple and secure mechanisms, expanding the possibilities of the deployment. Examples of MRE include top roller modules for transferring materials, carts and lifters used to transport crates, bins, packages, and pallets. Using AMRs and appropriate MRE, robots can move up to a ton of goods or create a conveyor logistics system that communicates directly with automated production lines. Additionally, AMRs can be used in virtually any industry with goods and material transport requirements.
Challenges in internal logistics
Back in 2019, TE's Hungarian plant was experiencing problems in material handling due to the inefficiency of their existing material handling systems, which had reached the limit of its capabilities. The situation was made worse by labour shortages, as interest in low skilled warehouse operator positions declined sharply. Industry 4.0-driven transformation is part of TE's corporate goals, so the company made the decision to automate internal logistics using AMRs.
In order to replace the plant's material handling system, the company's employees began to assess the opportunities available on the market. They needed a flexible system that was simple to alter and extend, but at the same time easy to operate. Safety was also an important consideration because of the narrow traffic routes in the plant, frequent changes in internal layout and tasks, and the continuous movement of raw materials, finished products, and people on the factory floor.
Looking for the best
To determine the best AMR for its needs, TE effectively turned its Hungarian plant into an industrial test environment, experimenting with multiple parallel solutions simultaneously. Several AMR and MRE solutions were tried, with the company concluding that the MiR200 AMR combined with a TMC300 top module, cart and docking station from MRE specialists ROEQ, were best suited to its needs.
"Our fleet consists of six MiR200s, most of which carry raw materials and finished products between the warehouse and one of the value streams. What we have is a semi-automatic plant, as missions are launched by the employees who also have to move the carts connected to the robots both in the production area and in the warehouse. Therefore, simple docking and ease of use were placed high among our expectations regarding the modules" – explained Gábor Miszler, Continuous Improvement Analyst at TE.
The ROEQ TMC300 top module, with ROEQ cart and docking station, provided TE with a standardized solution that was made extremely easy to integrate and deploy since both the top module itself and the accompanying ROEQ Assist software are fully compatible with MiR robots. "This is precision technology, it was obvious from the first glance that it has been developed specifically for these devices, and this comes with many benefits" – said Miszler.
Versatile and easy to use
ROEQ Assist software is completely integrated into the robots' fleet management program, so the employees launching the missions do not have to learn how to operate two types of programs. And on top of that, regularly occurring tasks can be pre-programmed, which means that missions can be launched quickly and easily, without any special expertise.
Both capabilities were a major advantage when the technology was introduced. Employees were initially strongly averse to robots. It took a lot of effort to have them accept the technology and understand that it can really make their job easier. It was an important milestone when two warehouse workers per shift learned how to operate the robots at a basic level and how to correct simple errors, such as being stuck or getting lost. As workers became active users and were exposed to the ease of use of both the MiR 200 and ROEQ's Assist software, their perspectives changed, which was a major factor in the successful deployment.
The patented locking mechanism of the carts allows precise and safe connection to both the robot and the docking station. Whilst the ROEQ Assist software provides continuous tracking: one can check at any time which robot or dock a given car is connected to. At the endpoints of the missions – in the production area and in the warehouse – the staff can easily disconnect the carts from the robots and then move them manually.
TE's experience shows that ROEQ carts are remarkably stable and safe. The robots have a proud zero accident-zero property loss record in the two years since they were deployed. Moreover, TE Connectivity found that the ROEQ cart solution can increase the payload of AMRs, which improves the overall efficiency and throughput of the material handling process.
Strength in harmony
"TE Connectivity purchased ROEQ's modules and carts after the outbreak of the Covid19 epidemic. Due to travel restrictions engineers from the Danish plant were unable to travel to Esztergom to assist in the deployment. However, thanks to easy implementation, detailed manuals and remote support from the manufacturer and the distributor, we were able to set up and coordinate the devices and the programs ourselves" – says Gábor Schvamberger, Logistics Analyst at TE.
ROEQ top modules and equipment are extremely reliable and ROEQ is quick to support users in the unlikely event any repair or maintenance is required. "However when we encountered a challenge during the first period, the distributor and ROEQ engineers provided immediate assistance. They discovered the cause and came up with a technical solution that was able to permanently eliminate the phenomenon" – explained Schvamberger.
ROEQ partner in Hungary, VFP Systems, supported TE during the acquisition of robotic solutions. According to András Dobner, Head of Internal Logistics at the company, the multifaceted capabilities of AMRs can only be fully realized when paired with the appropriate MRE. "A huge competitive advantage of ROEQ standardized solutions is that both the hardware and the software fit seamlessly with MiR robots. Thanks to the unity-oriented design, the implementation of the system went very smoothly despite the circumstances, and it has been operating with a high level of reliability ever since. The safety features integrated into ROEQ products also enrich the robots navigating between people in the production area with valuable added skills."
The future belongs to the robots
The TE Esztergom plant currently uses 3 ROEQ TMC300 top modules, 15 ROEQ 300E Easy-Pull-Out carts and 10 easy locking docking stations for material handling tasks. The company is currently building a new production hall optimized for the characteristics of AMRs with the goal of leveraging its AMR fleet's capabilities even more effectively and increasing AMR utilization by procuring the right modules.
The experience so far has been extremely positive. MiR AMRs equipped with ROEQ top modules and equipment dramatically accelerated the pace of internal logistics, and all this is accompanied by favourable return rates. It is estimated that only half of the average payback time in logistics is required, as the payback time for this automation investment is around 2-3 years – despite experimenting with several tools during the automation project before finding the ideal solution.
About TE Connectivity
TE Connectivity is a USD 14 bn technology and manufacturing company striving to create a safer, more sustainable and more productive future that creates higher-level relationships. As a global leader, they are present around the world with their employees, customers, engineering centers and manufacturing units. Their products have been supporting the development of transport, industrial applications and communication industries for more than 75 years.
The content & opinions in this article are the author's and do not necessarily represent the views of RoboticsTomorrow
---
Comments (0)
This post does not have any comments. Be the first to leave a comment below.
---
Post A Comment
You must be logged in before you can post a comment. Login now.
Featured Product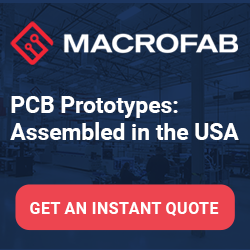 At MacroFab, we understand the challenges engineers face when searching for the perfect partner to bring their visions to life. Traditional overseas prototype factories may offer low-cost solutions but often have hidden compromises. Say goodbye to subpar quality, communication barriers, and frustrating delays - choose MacroFab for a stress-free, reliable, and professional prototyping experience.