Booth S-2100 to host purposeful packaging solutions developed through ongoing dialogue with customers
ST. LOUIS — Oct. 4, 2022 — BW Packaging Systems, Barry-Wehmiller's global team of packaging professionals, will showcase several customer-focused solutions from Accraply, BW Flexible Systems, BW Integrated Systems, Pneumatic Scale Angelus and Synerlink in booth S-2100 at PACK EXPO, held October 23 to 26 in Chicago. This year's booth theme, "Conversations to Innovations," highlights the shared progress BW Packaging Systems and its customers have made solving prominent industry challenges through ongoing dialogue about labor shortages, sustainability commitments, food safety standards and more.

"We understand there is a tremendous amount of value that can be created by listening to customers and embracing their challenges as our own," said Carol O'Neill, Barry-Wehmiller Group President, Packaging. "It's through these conversations that we're able to understand our customers' needs and develop purposeful solutions to optimize their packaging processes."
BW Integrated Systems' Maximus mid-speed case palletizer, which meets increased customer demand for a flexible high-level palletizer, will make its first appearance in the booth. This solution was designed for simple maintenance and includes a unique split-for-ship feature for a quicker vertical startup.
Also appearing at the front of the booth is BW Flexible Systems' Hayssen ISB VFFS bagger, which returns to PACK EXPO after its impressive debut at PACK EXPO Las Vegas in 2021. Leveraging the latest technology in intelligent, sanitary bagging for food, this solution includes several improved features that have been added after a year of productive conversations with end users.
Building on the capabilities of the innovative CB50C counter-pressure canning line, also introduced last year, Pneumatic Scale Angelus will exhibit the new CB100C counter-pressure canning line. This solution allows craft brewers to increase their throughput to more than 100 cans per minute, leveraging a 12-head rotary filling turret design, coupled with a dual-station seamer.
Synerlink team members will guide booth visitors through an immersive 3D view of Versatech, the company's latest filling solution for the food and dairy industry. Versatech's modular design enables customers to continually realign this machine with their evolving business strategy, solving the market need for a filling solution that can outlast the standard 20-to-30-year lifecycle.
Accraply's new MK6 pressure-sensitive/TE band labeling solution will also be on display. With Accraply's SmartLink HMI as a standard feature, the MK6 brings together labeling and tamper-evident sleeving on a single solution. It is specifically designed to meet the modern demands of fast-moving, highly flexible production lines.
"As is the case with all of our solutions, we'll offer lifetime customer support for these innovations," said O'Neill. "This is something that we've always done because, at its core, BW Packaging is a team of people who genuinely care about the success and wellbeing of our customers."
Visitors to booth S-2100 can also explore multiple sustainable packaging solutions with BW Packaging Systems' Global Sustainable Packaging Leader Michelle Bryson via a touchscreen display located in the center of the booth. On the opposing wall, guests can learn how BW Packaging Systems leverages the latest controls and digital technology—including the new FactoryTalk Optix by Rockwell Automation—to innovate more efficient, user-friendly solutions.
In addition to showcasing BW Packaging Systems' innovations in the booth, Hudson-Sharp, part of the newly aligned BW Converting Solutions platform, will exhibit the Ares 400-SUP stand-up pouch machine. BW Converting Solutions brings together five Barry-Wehmiller converting companies under a single solutions-driven platform for customers in the tissue, nonwovens, hygiene, bag-converting, mailing and printing industries.
ABOUT BW PACKAGING SYSTEMS
BW Packaging Systems, part of Barry-Wehmiller, provides a broad range of proven packaging solutions by bringing together some of the industry's most trusted and innovative brands: Accraply, BW Flexible Systems, BW Integrated Systems, Pneumatic Scale Angelus and Synerlink. Collectively, BW Packaging Systems companies offer easy-to-use technology for primary packaging, material handling, secondary packaging, labeling and sleeving, and process and inspection, as well as complete packaging line integration. To learn more, go to bwpackagingsystems.com.
ABOUT BARRY-WEHMILLER
Barry-Wehmiller is a diversified global supplier of engineering consulting and manufacturing technology for the packaging, corrugating, sheeting and paper-converting industries. By blending people-centric leadership with disciplined operational strategies and purpose-driven growth, Barry-Wehmiller has become a $3.3 billion organization with nearly 12,000 team members united by a common belief: to use the power of business to build a better world. CEO Bob Chapman shares the story of the company's transformation in his book, Everybody Matters: The Extraordinary Power of Caring for Your People Like Family. To learn more, go to barrywehmiller.com.
Featured Product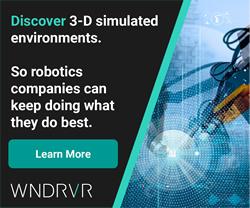 Advances in AI and deep machine learning have ushered in incredible potential for ground-based, aerial, and maritime robotics. Robotics is moving from an opportunity in business and facility operations to a necessity in many industries. As a result, organizations must plan for multi-vendor robots, intelligent traffic flows, storage, and more.