Driven by a joint vision of a world without labor shortages, the workforce solutions company and leading cobot supplier have partnered up to provide North American manufacturers with fast, flexible automation.
SAN FRANCISCO, Calif., February 2, 2023 - Rapid Robotics today announced a new partnership with Universal Robots (UR) in which the Danish collaborative robot (cobot) producer will be supplying collaborative robot arms for Rapid Robotics' deployment of cobot work cells across North America. As a proven manufacturer of high-quality, versatile robots, Universal Robots will enable Rapid Robotics to serve a greater number of customers and maintain the rapid deployment times they've come to expect even as Rapid Robotics continues to expand its national footprint.

"As the number of unfilled, critical manufacturing roles increases and global economic uncertainty continues to impact supply chains, more and more North American manufacturers are turning to automation," said Jordan Kretchmer, CEO and Co-Founder of Rapid Robotics. "This collaboration with UR helps us deploy more cobots, with a wider variety of capabilities, at a faster rate, ultimately helping manufacturers of all shapes and sizes manage and even thrive through the adversity they are facing."
Rapid Robotics is integrated with and can deploy any cobot from the UR product portfolio, allowing for expansion in capabilities such as palletizing, box building and packing, and operations requiring a heavier payload or longer reach. Rapid Robotics will also have greater flexibility in the design of work cells and selection of peripheral equipment. Together, Rapid Robotics and UR also bring new levels of speed to cobot deployments. UR's two-week ship program makes it one of the fastest in the industry and Rapid Robotics' powerful mix of state-of-the-art AI, advanced vision systems and unique software stack means robots can be up and running in customer facilities in a matter of weeks versus the typical months to years.
"Universal Robots has spent the last decade in North America focused on freeing up more manpower by automating a wide range of human-scale tasks with easy-to-deploy cobots," says Bryan Bird, Universal Robots' Regional Sales President. "We're excited to work with Rapid Robotics in a partnership that will enable us to break down more automation barriers, deploying a robotic workforce to address those jobs manufacturers simply can't staff."
A greater variety in how and what can be automated represents a powerful shift for both new and existing Rapid Robotics customers. Existing customers wanting to grow their business or fill empty machine operator roles can see even more of their lines automated due to new capabilities afforded by UR's cobots. For new customers, Rapid Robotics' expanded portfolio makes the automation journey more accessible, and faster, than ever before.
ABOUT RAPID ROBOTICS
Rapid Robotics solves manufacturing labor shortages and helps manufacturers grow by making robotic automation easy and affordable. We deploy a turnkey robotic workforce for up to 80% of common machine operator tasks in a matter of weeks, and deliver ROI from the instant our robots start producing parts. At an equivalent labor rate from $6-$16 per hour, Robotics as a Service from Rapid Robotics eliminates the cost and complexity of robotic automation so that manufacturers can focus on growing their business, not maintaining a robot.
Rapid Robotics' founding team combines robotics and manufacturing expertise with a SaaS business model to deliver affordable solutions to real-world industry problems. Investors include Tiger Global, Kleiner Perkins, NEA, Greycroft, Bee Partners and 468 Capital. Rapid Robotics is based in San Francisco, California.
ABOUT UNIVERSAL ROBOTS
Universal Robots aims to empower change in the way work is done using its leading-edge robotics platform. Since introducing the world's first commercially viable collaborative robot (cobot) in 2008, UR has developed a product portfolio including the UR3e, UR5e, UR10e, UR16e and UR20, reflecting a range of reaches and payloads. Each model is supported by a wide selection of end-effectors, software, accessories and application kits in the UR+ ecosystem. This allows the cobots to be used across a wide range of industries and means that they can be redeployed across diverse tasks. The company, which is part of Teradyne Inc., is headquartered in Odense, Denmark, and has offices in the USA, Germany, France, Spain, Italy, the Czech Republic, Romania, Turkey, China, India, Japan, South Korea, Singapore and Mexico. Universal Robots has installed over 50,000 cobots worldwide.
For more information, please visit www.universal-robots.com or read our blog at blog.universal-robots.com.
Featured Product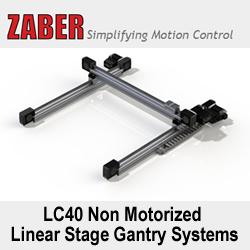 A Zaber gantry kit comes with everything you need to build a customized XY gantry system or XYZ gantry system. These gantry systems feature coordinated multi-axis motion, plug-and-play operation, easy integration with end-effector options, and built-in IO and E-Stop capabilities. An intuitive ASCII interface allows the user to easily communicate with the gantry systems using our free software, either Zaber Motion Library with APIs for several popular languages or Zaber Console. Third party terminal programs that can communicate over a serial port can also be used.