Leading Provider of Autonomous Mobile Robots to Feature Innovative, Fully Integrated and Data Science-driven Automation Platform for Orchestrating Multiple Robot Form Factors in Large Warehouses
Locus Robotics, a global leader in autonomous mobile robots (AMRs) for warehouse automation, is thrilled to announce its participation at Deliver 2023, 6-7 June in Amsterdam. Locus Robotics will display its highly flexible, and innovative Locus Origin AMRs alongside the powerful, data science-driven LocusONE Warehouse Automation Platform at Stand C70.

"We are excited to showcase our latest technology innovations at Deliver 2023 to our global and European customers," said Rick Faulk, CEO of Locus Robotics. "Together, our Locus Origin AMRs and the advanced LocusONE warehouse Automation Platform are transforming the way warehouses operate, increasing productivity and improving worker ergonomics and the overall workplace experience. We invite attendees to visit our stand at Deliver 2023 to experience firsthand the power of Locus Robotics in revolutionizing warehouse automation."
Deliver is a renowned international conference that brings together the most innovative minds in the logistics and e-commerce industries. Locus Robotics, with its state-of-the-art technology and groundbreaking solutions, is set to make a significant impact during the event. Locus's participation underscores its commitment to revolutionizing warehouse automation through the seamless integration of data science, robotic technologies, and intelligent software.
The highlight of Locus Robotics' showcase at Deliver 2023 will be the Locus Origin AMRs. These advanced robots are designed to increase operational efficiency and productivity within large warehouses - both greenfield and brownfield - by automating all aspects of material movement. Using data-driven optimization and robust and worker-safe navigational capabilities to adapt to dynamic environments, Locus Origin AMRs effortlessly work alongside human associates to improve order picking accuracy and fulfillment speed.
Accompanying the Locus Origin AMRs is the game changing LocusONE Warehouse Automation Platform. Built on advanced data science and innovative algorithms, LocusONE allows for the smooth orchestration of enterprise-scale multiple robot form factors within a single warehouse. The platform optimizes task allocation, route planning, and resource utilization, while providing real-time insights into warehouse operations. Leveraging the power of LocusONE, businesses can streamline their operations, reduce costs, and gain a competitive edge in the rapidly evolving e-commerce landscape.
Locus Robotics invites all attendees to visit their booth at Deliver 2023, located at Stand C70. Company representatives will be available for demonstrations, presentations, and in-depth discussions about the Locus Origin AMRs and LocusONE Warehouse Automation Platform.
About Locus Robotics
Locus Robotics is the world leader in revolutionary, enterprise-level, warehouse automation solution, incorporating powerful and intelligent autonomous mobile robots (AMRs) that operate collaboratively with human workers to dramatically improve product movement and productivity 2-3X. Named to the Inc. 500 two years in a row, and winning over 17 industry and technology awards, the Locus solution dramatically increases order fulfillment productivity, lowers operational costs, and improves workplace quality, safety, and ergonomics for workers.
Supporting more than 100+ of the world's top brands and deployed at 250+ sites around the world, Locus Robotics enables retailers, 3PLs and specialty warehouses to efficiently meet and exceed the increasingly complex and demanding requirements of today's fulfillment environments. For more information, visit www.locusrobotics.com.
Featured Product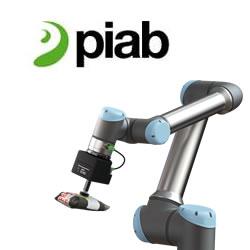 Piab's Kenos KCS gripper enables a collaborative robot to handle just about anything at any time. Combining Piab's proprietary air-driven COAX vacuum technology with an easily replaceable technical foam that molds itself around any surface or shape, the gripper can be used to safely grip, lift and handle any object. Standard interface (ISO) adapters enable the whole unit to be attached to any cobot type on the market with a body made in a lightweight 3D printed material. Approved by Universal Robots as a UR+ end effector.