The modular parcel induction and sorting system powered by Sim2Real AI empowers shippers and ecommerce logistics companies to expand existing processes and lower operating costs
Berkeley, Calif. - (June 6, 2023) - Ambi Robotics, the industry leader in AI-powered robotic parcel sorting systems, today introduces AmbiSort B-Series, a modular parcel induction and sorting solution that redefines speed, flexibility, and scalability in the shipping logistics market. This powerful solution empowers shippers and ecommerce companies to revolutionize their sorting operations while reducing operating costs. AmbiSort B-Series automates the process of inducting and sorting parcels into gaylord destinations, addressing the challenges of labor-intensive manual sorting throughout high-speed supply chain operations.

"The AmbiSort B-Series is a testament to our proven expertise in AI-powered robotic parcel sortation, meticulous engineering, and unwavering dedication to delivering a product that aligns with market demands," says Jim Liefer, CEO of Ambi Robotics. "The AmbiSort B-Series marks Ambi Robotics' entry into automated induction, middle-mile sortation, and reverse logistics as we build upon the success of the 80 flagship AmbiSort A-Series systems deployed across the US."
The AmbiSort B-Series is designed to be the most modular sorting solution yet, going beyond piece-picking to execute end-to-end sorting. Customers can configure the system to their precise sorting needs, seamlessly integrating automated induction, sorting, item manipulation, and accurate placement. Configurations include:
• Induction Cell: Automated induction from deep bin or conveyor to conveyor, trays, and containers.
• End-to-End Sortation: Automated induction onto a central conveyor with six sided scan tunnel and bidirectional conveyor divert modules, sorting to a variety of output containers including gaylords, wire containers, and more.
• Vision-Based Sorter Expansion: Enhance capacity and efficiency in high-speed sorting operations by integrating AI-based quality control with upstream sorters. Seamlessly integrate with existing machinery to enable advanced tracking and package analysis throughout middle-mile parcel sorting operations, optimizing performance and minimizing errors.
AmbiSort B-Series can be leveraged for induction only, reverse logistics, sort to carrier, zone skipping, and final-mile sortation. The system can also be configured for conveyor and AI vision systems only, making this the most configurable system available today.
The AmbiSort B-Series expands with existing processes and is flexible and modular so customers can add additional induction cells to boost throughput speeds or expand the number of destinations to increase capacity. The system automates the labor-intensive and manual sorting processes involved in inducting and sorting mixed parcels into gaylord destinations. Powered by proprietary simulation-to-reality (Sim2Real) AI, the solution offers unmatched configurability, delivering end-to-end sorting capabilities with throughput exceeding 1,200 parcels sorted per hour.
"Today's ecommerce retailers need fast and flexible AI-powered sorting capabilities that enable them to inject packages at strategic points within the growing parcel network," says Jeff Mahler, Co-founder and CTO of Ambi Robotics. "Configurable from its core, the AmbiSort B-Series couples cutting-edge parcel induction, with high-speed end-to-end sortation - unlocking new levels of productivity, accuracy and worker safety."
AmbiSort B-Series uses multiple robot arms in unison to sort parcels at high speed from bulk unstructured input bins into gaylord destinations. The sorting solution is versatile, with the number of outputs and layout adjustable to fit specific needs and footprint. The system provides a complete sortation process automation, including induction, grasping, 6-side scan tunnel, quality control, and accurate placement into output locations.
AmbiSort B-Series is powered by AmbiOS, ensuring high uptime and accuracy rates of over 99.5%. The system can handle a wide range of package types, including boxes, polybags, and flats. AmbiSort B-Series comes equipped with access to AmbiAccess, the on-demand robotic fleet management and business intelligence platform. The system also comes with 24/7 customer support.
For more information, visit https://www.ambirobotics.com.
About Ambi Robotics
Ambi Robotics is an artificial intelligence (AI) and robotics company developing advanced solutions that scale ecommerce operations to meet demand while empowering humans to handle more. The company's industry-leading AI operating system, AmbiOS, leverages proprietary simulation-to-reality (Sim2Real) technology to operate highly-dexterous robotic systems. Founded in 2018, the world's top roboticists, AI researchers, and leading business professionals work together to build the supply chain's most valued systems. The company is located in Berkeley, Calif. For more information, please visit www.ambirobotics.com.
Featured Product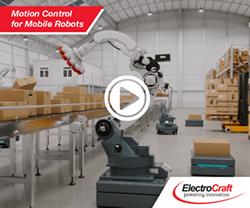 ElectroCraft is showcasing its award-winning mobile robot technology including their powerful and compact wheel drives, high-torque-density brushless DC motors, precision linear actuators as well as servo motor drive technology at a variety of conferences and tradeshows including the Boston Robotics Summit. Robotics Summit is the premier symposium for the sharing of ideas, technology, and market developments for robotic technologies across industries. Beyond a showcase and pitch of product, ElectroCraft is eager to participate in the collaborative discussion of challenges and opportunities that will shape the near and long-term robotic marketplace.