Leading Robotics Integrator Secures Franchise Partner Covering Entire Dallas-Fort Worth Metroplex
After recently launching the world's first robotics integration franchise program, RobotLAB, the premier robotics integrator that has delivered impactful business innovations and solutions for more than 15 years, has signed its first franchise partners, Prashant and Ruchika Nagrath of Requis Inc. The Texas-based husband-and-wife duo have acquired exclusive RobotLAB franchising rights to the entire Dallas-Fort Worth territory, which encompasses more than 120,000 businesses and seven million residents. Created to meet the growing demand for AI and robotics integration in all sectors, RobotLAB's first-of-its-kind robotics franchising program will increase access to automation and operational efficiency solutions like cleaning, delivery and customer service robots, allowing business owners of all sizes to implement cost-saving technologies into local enterprises.

"Until recently, robots were relegated to movies and science fiction, but they have quickly become an undeniable reality that reward businesses with lower costs and countless other benefits thanks to the reliability they deliver and the relief they provide to the humans that work alongside them, who are freed from menial tasks to focus on higher-level customer service," said Elad Inbar, founder and CEO of RobotLAB. "Prashant and Ruchika's considerable interest in our franchise model, coupled with their tremendous tech-fueled passion for the efficiencies robotic technologies bring to business operations, reinforced a belief we've held for many years, and we're emboldened to see it come to life with our first franchisees."
While robotics integration franchising is a new-to-market opportunity, the Nagraths were attracted to the program because of their longstanding entrepreneurial background in technology, franchising and small business ownership. With more than 20 years each in the tech industry, and nearly a decade in combined franchise experience, the Nagraths will leverage their significant experience and expertise as RobotLAB's first franchise partners. Residents of Irving, Texas, they will focus initial franchising efforts on the immediate area, with growth plans that include the entire Dallas-Fort Worth Metroplex - the sizeable territory where they have exclusive rights to develop.
"As franchisees and small business owners ourselves, we are acutely aware of the struggles that plague businesses, like labor shortages and increasing economic headwinds, because we are dealing with those same challenges across our own portfolio," said Prashant Nagrath, President and COO of Requis Inc. "Through our new RobotLAB partnership, we're looking forward to sharing revolutionary robotics solutions with other Dallas-Fort Worth business owners because we have experienced how automation solves those problems, and pays dividends."
With an impressive roster of longstanding partnerships spanning the world's top robot manufacturers and more than 10,000 robots deployed across the globe, RobotLAB will share its 15-plus years of expertise with its franchise partners and the local communities in which they serve. Aiming to increase access to robotics and AI solutions across the U.S., the revolutionary franchising opportunity allows local franchise partners to seamlessly introduce all businesses in their territories to the power of automation. RobotLAB's franchise program boasts minimal overhead, comprehensive online and in-person training, limited staffing requirements and attractive revenue opportunities in a fast-growing industry with limitless potential. Plus, the program's low cost of entry and thorough training makes it ideal for entrepreneurs looking to enter the franchising world, as well as experienced franchisees wanting to diversify their portfolios with a first-of-its-kind opportunity.
Franchise Disclosure Documents (FDDs) have been cleared in nearly 40 states, with the remainder on track for completion by year's end. For more information about RobotLAB's franchising program, visit www.robotlab.com/franchise.
About RobotLAB
Since 2007, RobotLAB has guided businesses to dramatic bottom-line increases by helping them harness and leverage the immense power of automation. Catering to an array of economically critical industries that span education, finance, healthcare, delivery and hospitality, RobotLAB provides robotic business solutions that improve ROI and enhance the user experience. With a multitude of in-house teams and department specialists, the company remains focused on a seamless integration process that begins with an in-depth assessment of client needs. Sales and delivery experts ensure proper product immersion while implementation and installation professionals ensure peak performance. In a world replete with business uncertainties, RobotLAB ensures operational consistency through technology. In 2023, RobotLAB launched the first robotics integration franchise program to best serve growing demand for robotics across the U.S. in nearly all business sectors. To franchise with RobotLAB, visit www.robotlab.com/franchise.
Featured Product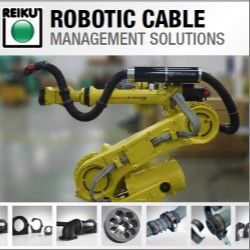 REIKU's Cable Saver™ Solution eliminates downtime, loss of revenue, expensive cable and hose replacement costs, maintenance labor costs. It's available in three sizes 36, 52 and 70 mm. All of the robots cables and hoses are protected when routed through the Cable Saver™ corrugated tubing.The Cable Saver™ uses a spring retraction system housed inside the Energy Tube™ to keep this service loop out of harms way in safe location at the rear of the Robot when not required. The Cable Saver™ is a COMPLETE solution for any make or model of robot. It installs quickly-on either side of the robot and has been tested to resist over 15 million repetitive cycles. REIKU is committed to providing the most modular, effective options for ensuring your robotic components operate without downtime due to cable management. www.CableSaver.com