Expands Position as Global Robotic Floor Care Market-Leader
BEDFORD, Mass.--(BUSINESS WIRE)--iRobot Corp. (NASDAQ: IRBT), a leader in delivering robotic technology-based solutions, today announced it has signed a definitive agreement to acquire privately-held Evolution Robotics, Inc. (ER), developer of Mint® and Mint® Plus automatic floor cleaning robots, based in Pasadena, California. The acquisition and the definitive agreement have been approved by the board of directors of iRobot and the board of directors and stockholders of ER. The acquisition, which is expected to close in the fourth quarter of 2012, expands iRobot's technology leadership through a combination of intellectual property, engineering talent and new products that will broaden iRobot's global portfolio of practical robotics solutions. iRobot will acquire ER for $74 million, subject to customary purchase price adjustments. iRobot will use its cash reserves to pay for the acquisition.

ER's technology originated in 2001 in a technology company incubator. In 2010, ER launched Mint®, an automatic floor cleaning robot designed exclusively for hard surface floors, which offers a different approach to cleaning than iRobot's current products. Mint automatically dusts and damp mops hard surface floors using popular cleaning cloths, such as Swiffer® brand Dry and Wet Cloths and other similar products. In 2011, ER expanded its product line with the introduction of Mint® Plus, an enhanced version. Both products have been available for purchase on ER's website and from select U.S. retailers. Mint® provides iRobot with a complementary dry/wet floor cleaning solution ideally suited for maintenance of hard surfaces. Positive customer experience has driven strong revenue growth since its first product introduction in 2010. Mint® provides lower market entry points for customers with hard floors.
"Evolution Robotics' products will expand our automated floor care offerings while its technology and intellectual property will bring visual navigation and simultaneous localization and mapping, among other technologies, which could be deployed in future iRobot products to deliver greater customer value," said Colin Angle, iRobot chairman and CEO. "There are tremendous opportunities to leverage the strength of the iRobot brand and our sales and distribution network to expand Mint product sales around the world. Robotic floor cleaners are one of the fastest growing consumer products in the past few years and our retailers and distributors welcome opportunities to fuel that growth."
"I am also pleased to announce that Paolo Pirjanian, CEO of Evolution Robotics, will be joining iRobot as Chief Technology Officer, continuing to be based in the Pasadena office. I have known Paolo for many years and his extensive experience as an industry-leading roboticist will greatly enhance our team," Angle added.
"I am very excited about Evolution Robotics and iRobot joining together as a formidable force in robotic technology and look forward to my new role as iRobot's CTO," said Paolo Pirjanian, CEO of Evolution Robotics, Inc.
The acquisition is expected to contribute additional revenue of $4-6 million in 2012 and $22-24 million in 2013. On a GAAP basis, iRobot expects the acquisition to be dilutive in 2012 and 2013, subject to final purchase price accounting determinations. The acquisition is expected to be accretive by Q4 2013, excluding non-cash charges, one-time charges and integration costs. Please refer to the supplemental data sheet attached hereto for detailed information about the financial impact of the transaction.
A live, audio broadcast of the conference call will also be available at http://investors.irobot.com/phoenix.zhtml?c=193096&p=irol-EventDetails&EventId=4837280. An archived version of the broadcast will be available on the same website shortly after the conclusion of the live event. A replay of the telephone conference call will be available through September 25, and can be accessed by dialing 630-652-3042, passcode 33337546#.
About iRobot Corp.
iRobot designs and builds robots that make a difference. The company's home robots help people find smarter ways to clean, and its defense & security robots protect those in harm's way. iRobot's consumer and military robots feature iRobot Aware® robot intelligence systems, proprietary technology incorporating advanced concepts in navigation, mobility, manipulation and artificial intelligence. For more information about iRobot, please visit www.irobot.com.
About Evolution Robotics
Evolution Robotics, Inc., based in Pasadena, California, is the developer of Mint® and Mint® Plus automatic floor cleaning robots. Evolution Robotics was founded as an operating company of Idealab, a creator and operator of technology businesses, and has been funded by Vodafone Ventures Ltd, CMEA Ventures and Shea Ventures.
For iRobot Investors
Certain statements made in this press release that are not based on historical information are forward-looking statements which are made pursuant to the safe harbor provisions of the Private Securities Litigation Reform Act of 1995. This press release contains express or implied forward-looking statements relating to, among other things, iRobot Corp.'s expectations regarding the timing of the closing of the acquisition of Evolution Robotics, Inc., the impact of the acquisition on its products and product offerings and the demand for its products, and the impact of the acquisition on its future financial performance, anticipated revenue for fiscal year 2012 and fiscal year 2013, and earnings per share for fiscal year 2012 and fiscal year 2013. These statements are neither promises nor guarantees, but are subject to a variety of risks and uncertainties, many of which are beyond our control, which could cause actual results to differ materially from those contemplated in these forward-looking statements. In particular, the risks and uncertainties include, among other things: our ability to operate in an emerging market, the financial strength of our customers and retailers, general economic conditions, market acceptance of our products, and competition. Existing and prospective investors are cautioned not to place undue reliance on these forward-looking statements, which speak only as of the date hereof. iRobot Corp. undertakes no obligation to update or revise the information contained in this press release, whether as a result of new information, future events or circumstances or otherwise. For additional disclosure regarding these and other risks faced by iRobot Corp., see the disclosure contained in our public filings with the Securities and Exchange Commission.
Featured Product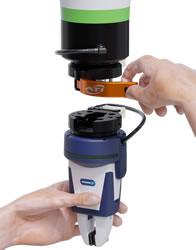 Simpler, stronger, and more precise. ATI Industrial Automation has developed a series of Manual Tool Changers that provides a cost-effective solution for quickly changing tools by hand. They feature a unique design that combines high strength, excellent repeatability, and a patent-pending screw-cam locking mechanism with multiple fail-safe features, which resists vibration and prevents loosening. These robust and compact Manual Tool Changers can handle payloads up to 80 pounds (36 kg) and pass pneumatics and electrical signals.