New embedded video interface delivers size, power, and performance advantages while simplifying design of advanced cameras, x-ray detector panels, and imaging systems
OTTAWA, CANADA, October 17, 2013: Pleora Technologies, the world's leading supplier of high-performance video interfaces, today introduced the industry's first embedded hardware product for integrating GigE Vision 2.0™-compliant video connectivity into cameras, x-ray detector panels, and imaging systems. The iPORT™ NTx-GigE Embedded Video Interface is now in trials for use in medical, military, and industrial automation applications, with full availability scheduled for early 2014.

Pleora's iPORT NTx-GigE delivers design and performance advantages that speed the path to GigE Vision 2.0 compliance - including enhanced synchronization of image capture functions with other system elements - while reducing time-to-market, increasing reliability, and lowering cost.
"The iPORT NTx-GigE meets growing demand from manufacturers for a fast, economical, and low-risk way to integrate GigE Vision 2.0-compliant connectivity into cameras and imaging systems," said John Phillips, senior marketing manager, Pleora Technologies. "Together with the iPORT NTx-U3 for USB3 Vision™ connectivity family, it supports our goal of providing manufacturers with a cost-effective, one-stop shop for all high-performance video interface needs."
Key benefits of the iPORT NTx-GigE include:
• Ultra-Compact Form Factor - Measuring just 37 millimeters (mm) x 37 mm x 28 mm - no bigger than the size of a man's wrist watch - the embedded hardware is easily embedded into small-body cameras, flat-panel imaging devices x-ray detectors, and imaging systems;
• Flexible, Low-Power Performance - Power over Ethernet (PoE) and external power options, combined with power consumption of approximately 2 watts when streaming video at 1 Gb/s, provides design flexibility while lowering component and operating costs;
• Per-Frame Metadata - Ability to add metadata, such as results of image pre-processing or the exact position of a quadrature encoder at the time the image was captured, to each image transmitted over the GigE link;
• IEEE 1588 Precision Time Protocol - Synchronization of multiple cameras and imaging devices to a network master clock with up to 1 μs (microsecond) precision enables exact triggering of image acquisition using the GigE Vision 2.0 action command feature.
Learn more: Pleora will be showcasing its video interface solutions, including the iPORT NTx-GigE, at the 2013 AUSA Annual Meeting and Exposition, October 21-23 in Washington, DC. Meet with Pleora at booth #2160. To learn more about the iPORT NTx-GigE, visit http://www.pleora.com/our-products/embedded-hardware/iport-ntx-gige.
About Pleora Technologies
Pleora Technologies invented high-performance frame grabbers and embedded hardware for the delivery of video over Gigabit Ethernet, and leads the market in video interfaces for USB 3.0 and wireless. With this spirit of innovation, Pleora engineers reliable video interfaces for system manufacturers and camera companies serving the military, medical, and industrial automation sectors. Pleora provides end-to-end solutions that shorten time-to-market, reduce risk, and lower costs. We partner with customers and tailor our products to individual needs. Find out more at www.pleora.com.
For more information, contact:
John Phillips, Senior Manager, Marketing
Pleora Technologies Inc.
Tel: +1-613-270-0625, ext. 134
Email: john.phillips@pleora.com
Twitter: @Pleora
Featured Product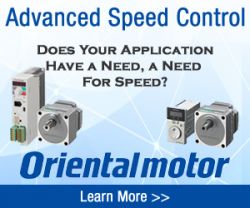 The BLE2 Series replaces our popular BLE Series and continues our brushless motor advantages by featuring an all new compact, high-power and high-efficiency brushless DC motor combined with a Driver that can be digitally set and controlled via external DC voltage or by the front panel. The BLE2 Series can easily compete with larger 3-phase inverter driven motors in many more applications, with built-in simple holding torque function, saving space and increasing performance thanks to the advantages of a brushless motor design. The BLE2 Series has a maximum speed of 4000 r/min, achieving a speed ratio of 1:50 (80 to 4000 r/min). The new motor structure is small than previous models and enables high power and high efficiency while incorporating easy setting, installation and wiring. The new motor connector offers IP66 degree of protection and allows for easy and direct connection between motor and driver with two available orientation of cable outlet direction. Standardized use of stain