Increasing productivity, while reducing downtime for changeovers
The QC-001 Micro Robotic Tool Changer, recently developed by ATI Industrial Automation, Apex, NC, is ideal for high-speed "spider" or parallel-link robots enhancing their ability to switch end-effectors automatically. The new compact and lightweight Tool Changer allows for multiple assembly, dispensing, sorting, and material handling New QC-001 Micro Robotic Tool Changer Provides Flexibility for Extremely Light Payloadsoperations to be performed by one robot greatly increasing productivity, while reducing downtime for changeovers.

ATI Robotic Tool Changers provide the flexibility to automatically change end-effectors or other peripheral tooling with accuracy and ease. ATI Tool Changers are designed to function reliably for millions of cycles at rated loads while maintaining extremely high repeatability. A variety of models are available to cover a wide range of applications from very small payloads to extremely heavy payload applications requiring significantly large moment capacity.
QC-001 Micro Tool Changer Details
The QC-001 Micro Tool Changer weighs less than 122 grams (4.3 ounces), handles payloads of up to 1.4 kilograms (3 pounds), and features integrated pneumatic ports and electrical connections.
Additional features include: patented Fail-Safe locking mechanism to ensure high-moment capacity and strength; a common Lock/Unlock air supply and a Lock/Unlock sensing method; four (4) M5 pass-through air connections, eight (8) 3A/50VAC electrical connections, and a stack height of only 16.9 mm (0.67 inches).
Also, No-Touch™ technology allows up to 1.0 mm (0.04 in) plate separation when locking. Positional repeatability (X, Y, and Z) tested at a rated load at one million cycles is 0.0102 mm (0.0004 in). All locking parts are made of 58 HRC stainless steel and are designed for superior reliability, repeatability, and strength.
ATI Industrial Automation is a world-leading, engineering-based developer of robotic peripheral equipment, including Automatic Tool Changers, Multi-Axis Force/Torque Sensing Systems, Robotic Deburring Tools, Robotic Collision Sensors, and Compliance Devices. ATI's engineering department, the largest of its kind for a robotic tooling company, is focused on developing cost-effective, state-of-the-art products and solutions that improve robotic productivity.
Featured Product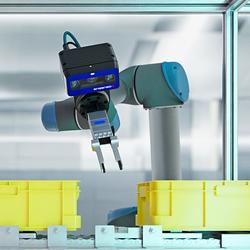 App Your Sensor®! What would smartphones be without apps? They would be mobile phones that can't do much more than make phone calls and sending SMS. Apps turn smartphones into intelligent assistants with any number of different tasks. Transferred into the world of image processing, this app-based approach transforms cameras and sensors into customised, smart vision sensors.