"Our high-performance AW3D HD is the fastest, most accurate 3D printer available for under $3,000"
ATX West 2014

ANAHEIM, Calif.--Engineers attending ATX West looking for a high-performance 3D printer for rapid prototyping within cutting-edge robotics, automation and assembly technologies will receive spectacular live demonstrations of Airwolf 3D's AW3D HD at Booth #3390 here this week.
ATX West is the largest design and manufacturing event on the West Coast where 50,000 engineering professionals can hear Airwolf 3D president and co-founder Erick Wolf speak on "Applications of Desktop 3D Printers for Rapid Prototyping" on Wednesday, February 12 at 11 a.m.
"Our high-performance AW3D HD is the fastest, most accurate 3D printer available for under $3,000," Wolf explained. "The AW3D HD is also easy to use. It features a class-leading build envelope of 1,150 cubic inches (12" x 8" x 12"), making it ideal for rapid prototyping. The printer offers layer-to-layer resolution as fine as 0.06mm, and a maximum print speed of 150mm/s with a positioning precision of 0.02mm. The 3D printer is fully autonomous, so no link-up to a computer is required."
Airwolf 3D is noteworthy in that it uses its own 3D printers to replicate themselves nearly 24/7 at the company's headquarters in Costa Mesa, Calif. This enables Airwolf 3D technicians to seamlessly evolve and improve the machines. The process also acts as quality control (QC) to ensure the 3D printers perform flawlessly over long periods of continuous use.
The AW3D HD 3D printer comes standard with Matter Control Pro host software and a six-month warranty. It's compatible with both Windows and Mac computers.
The patent-pending Airwolf JR (jam resistant) 3D printer hot end provides higher performance than standard nozzles as well as vastly increased serviceability. This drop-in replacement for Prusa-derived 3D printers is available with 0.50mm and optional 0.35mm orifice nozzles.
Purchasers eager to start building with their new 3D printer can download an STL file from several locations on the Internet, then slice and print. Unlike other printers that may only offer 8 different printing materials, the AW3D HD accepts 12 materials from multiple sources, making it remarkably cost efficient.
MSRP for the fully assembled and calibrated AW3D HD with Airwolf 3D's proprietary jam-resistant hot end is $2,995.
Additional models include the AW3D XL ($2,399 MSRP), AW3D V5 ($1,695 MSRP) and two 3D printer kits that come unassembled and presoldered: AW3D XL ($1,895 MSRP) and AW3D ($1,295 MSRP).
About Airwolf 3D
Airwolf 3D designs and manufactures high-performance 3D printers that are fast, affordable, durable and easy to use. All 3D printers are made in America at the company's 5,000 sq. ft. facility in Costa Mesa, Calif. Airwolf 3D printers can be found in engineering firms, government agencies and schools worldwide. For more information visit www.airwolf3d.com, telephone (949) 478-2933, email info@airwolf3d.com, or visit the company's showroom at 130 McCormick, Suite 112, Costa Mesa, CA 92636 for free demonstrations.
Featured Product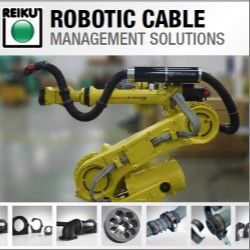 REIKU's Cable Saver™ Solution eliminates downtime, loss of revenue, expensive cable and hose replacement costs, maintenance labor costs. It's available in three sizes 36, 52 and 70 mm. All of the robots cables and hoses are protected when routed through the Cable Saver™ corrugated tubing.The Cable Saver™ uses a spring retraction system housed inside the Energy Tube™ to keep this service loop out of harms way in safe location at the rear of the Robot when not required. The Cable Saver™ is a COMPLETE solution for any make or model of robot. It installs quickly-on either side of the robot and has been tested to resist over 15 million repetitive cycles. REIKU is committed to providing the most modular, effective options for ensuring your robotic components operate without downtime due to cable management. www.CableSaver.com