Connectors cut space and weight in harsh environment applications where failure is not an option
SALEM, N.H.--Harwin Inc, the leading manufacturer of hi-rel interconnect solutions and cost-saving PCB hardware products, today announced that its Gecko G125 high reliability, high performance 1.25mm pitch connector family has been named the winner of the EETimes/EDN ACE Awards in the category Ultimate Products - Passives, Interconnects and Electromechanical.

Gecko connectors enable engineers to reduce the size and weight of systems for harsh environment applications such as commercial and defense aerospace and unmanned aerial vehicles, down-hole exploration and drilling applications and robotics. Gecko connectors offer exceptional performance in a miniature package - they feature pin spacing of 1.25mm and up to 50 contacts per connector, a dense pin count in a small package which achieves a 35% space saving over other high-performance connectors such as Micro-D. Current rating is 2A per contact simultaneously and contact resistance of 20mΩ. Environmental performance is also outstanding, with products classified for 65/150/96 hours at 95% RH, and featuring an operational temperature range of -65 to 150degC and the ability to withstand shock of -981m/s2 (100G) for 6ms. Vibration sensitivity with latched connectors in 10Hz to 2000Hz, 1.5mm, 198mm/s12 (20G), duration two hours. The durable mating system is tested to 1,000 mating operations
"We are continually amazed at the level of creativity in the design, innovation and technology exemplified by these award winners," said Patrick Mannion, VP, Brand Director, UBM Tech Electronics. "We are pleased to be able to celebrate their achievements."
Commented Doug Steele Harwin's VP Global Distribution: "We are delighted that our new Gecko connectors have been so well-received around the world, enabling product differentiation in very many market sectors. We thank UBM Tech Electronics for this wonderful recognition."
The winners were announced at an awards ceremony on Tuesday, April 1 at The Fairmont San Jose, during EE Live! A panel of EE Times and EDN editors narrowed down the entries to five finalists in each category, then the winners are determined from among the finalists by a panel of independent judges.
About Harwin
Harwin is a manufacturer of standard interconnect components with an enviable reputation for high quality and exceptional customer service. Harwin has been successfully manufacturing electronic components for more than 50 years. Harwin's sales and service extend worldwide via offices and manufacturing facilities in the USA, UK, Germany, France, Singapore & Taiwan and a world wide distribution network. Products include: High Reliability devices; RFI & PCB Hardware; and an extensive range of industry standard interconnection solutions. The company operates a continuous product development program, and offers a custom connector design service.
Featured Product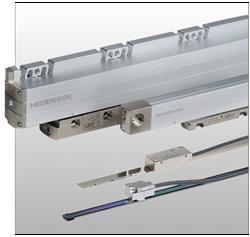 Nothing beats the positioning accuracy of linear encoders from HEIDENHAIN. Available in absolute and incremental versions and ideal for a variety of applications-including machine tools, semiconductor machines and medical machines-these measuring solutions combat a variety of issues that erode precision.