Two Companies to Work Together to Bring Next Generation 3D Modeling to the MakerBot Replicator 3D Printing Platform
SAN FRANCISCO--MakerBot, a global leader in desktop 3D printing, and The Foundry, the global CG software provider, announced a unique partnership Thursday evening at The Foundry's San Francisco launch event for MODO 801, the latest edition of the popular 3D modeling, animation, visual effects and rendering software package. MakerBot was one of the sponsors of the live-streamed event, which featured a range of leading speakers from a variety of industries.

As part of the partnership, MakerBot and The Foundry are working together to develop resources to ensure the seamless integration of MODO and the MakerBot® Replicator® 3D Printing Platform. It is anticipated that this relationship will help make The Foundry's software, when combined with 3D printing on a MakerBot Replicator® Desktop 3D Printer, even easier and more accessible for artists of every level.
This partnership also offers users of The Foundry's MODO 3D content creation platform a ten percent discount on the purchase of a MakerBot Replicator Desktop 3D Printer, a MakerBot Replicator Z18 3D Printer, or a MakerBot Replicator 2 Desktop 3D Printer through June 25, 2014.
The Foundry's design-focused solutions include MODO, the advanced end-to-end 3D content creation package as well as the revolutionary MeshFusion Boolean modeling plugin toolset. The Foundry's software suite, including MODO, powers visual effects for films like Gravity, Pacific Rim, and World War Z, and television shows such as Boardwalk Empire and Game of Thrones.
The Foundry describes the new version, MODO 801, as bringing high-end features to the masses, building upon the groundbreaking content creation functionality that was implemented in the last release. Every element of the end-to-end 3D workflow has been improved upon and tweaked based on extensive customer feedback from a wide range of industries.
MODO and MeshFusion together represent the simplest and most powerful way for an end-user to create custom models, which can then be exported to MakerBot Replicator Desktop 3D Printers. MODO also provides tools for MakerBot Digitizer™ Desktop 3D Scanner customers to clean and modify their scanned data in a streamlined and integrated modeling environment.
"We are very excited to announce this relationship with The Foundry," noted Bre Pettis, CEO of MakerBot. "MakerBot has long been a fan of The Foundry's MODO application and the MeshFusion plugin, which provide a variety of modeling methodologies that can take a 3D model from ordinary to extraordinary. We are excited to see what our combined communities and products working together will create."
"Using our solutions, artists have the ability to effortlessly blend, add and subtract objects, then export to a watertight mesh, a process that we believe revolutionizes 3D modeling and offers infinite creative possibilities for MakerBot 3D printer users," said Christopher Kenessey, Chief Sales & Marketing Officer at The Foundry. "In our opinion, MakerBot shares our passion for creating accessible products without sacrificing final quality results, and we look forward to working closely together to streamline our offerings and make them more and more applicable to designers around the world. We also share similar corporate cultures as well as a love for Star Wars! MakerBot has Star Wars themed conference rooms, and we have a Wookiee costume."
The Foundry customers interested in purchasing a bundled software package with a MakerBot Replicator or Digitizer can find out more at thefoundry.co.uk/products/modo/3d-printing.
About MakerBot
MakerBot, a subsidiary of Stratasys Ltd., is leading the Next Industrial Revolution by setting the standards in reliable and affordable desktop 3D printing. Founded in 2009, MakerBot has built the largest installed base of desktop 3D printers sold to innovative and industry-leading customers worldwide, including engineers, architects, designers, educators and consumers. The MakerBot 3D Ecosystem drives accessibility and rapid adoption of 3D printing and includes Thingiverse.com, the MakerBot Digitizer Desktop 3D Scanner, the MakerBot Replicator line of Desktop 3D Printers, MakerBot Desktop, the MakerBot MakerCare® Protection Plan, the MakerBot Retail Stores and strategic partnerships with top-tier brands. MakerBot has been honored with many accolades, including Popular Mechanics' "Overall Winner" for best 3D printer, Time's "Best Inventions of 2012," Popular Mechanics' "Editor's Choice Award," Popular Science's "Product of the Year," Fast Company's "One of the World's Top 10 Most Innovative Companies in Consumer Electronics" and many more. Join the Next Industrial Revolution by following MakerBot at makerbot.com.
About Stratasys
Stratasys Ltd. (Nasdaq: SSYS), headquartered in Minneapolis, Minn., and Rehovot, Israel, is a leading global provider of 3D printing and additive manufacturing solutions. The company's patented FDM® and PolyJet® 3D printing technologies produce prototypes and manufactured goods directly from 3D CAD files or other 3D content. Systems include 3D printers for idea development, prototyping and direct digital manufacturing. Stratasys subsidiaries include MakerBot and Solidscape and the company operates the RedEye digital-manufacturing service. Stratasys has more than 1,800 employees, holds over 550 granted or pending additive manufacturing patents globally, and has received more than 25 awards for its technology and leadership. Online at: stratasys.com or blog.stratasys.com.
About The Foundry
Headquartered in London, with offices in Los Angeles and Silicon Valley, The Foundry develops award-winning creative software solutions used globally by leading designers, digital artists, hobbyists and students. The portfolio lets users create inspiring and high-end visuals and digital content across a wide range of industries including product and concept design, marketing and advertising, VFX and game development. All of the company's products, including MODO, are used to create breathtaking visual effects sequences on a wide range of feature films, television projects and commercials. For more information, visit thefoundry.co.uk.
Featured Product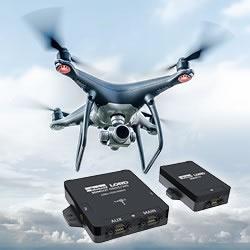 The new complete inertial navigation solution comes with GNSS/INS 3DMGQ7 sensor, 3DMRTK correction modem and real time SensorCloud RTK correction network. The sensor comes with Dual antenna GNSS, tactical grade IMU with centimeter-level accuracy with RTK. Low profile and light weight at 78 grams, this sensor is The sensor is optimized for size and weight in Unmanned Ground Vehicles, mobile robots and autonomous vehicles. The network interface 3DMRTK modem is seamlessly integrated into the 3DMGQ7 sensor supports industry-standard NMEA and RTCM 3.1 protocols. The network RTK support comes with cellular data plan. The SensorCloud RTK is a cloud-based RTK correction system with private encrypted data stream. Check out our G Series and C Series OEM products.