LASYS 2014: Cost-effective laser welding of metals thanks to intelligent clamping - Micro processing possible with weld seam widths smaller than 100 µm
Whether micro processing or macro processing, joining metals using laser technology is now becoming established in many areas. However, the fascinating question facing many production companies is the cost-effectiveness of small batch sizes. That's because there is a growing trend towards more variants and individual products. Visitors will find answers to this question at the forthcoming LASYS 2014, International Trade Fair for Laser Material Processing. The trade fair is expected to attract around 200 exhibitors who will present their latest innovations in the area of laser systems, laser solutions and laser production systems at the Stuttgart Trade Fair Centre from 24 to 26 June 2014. They will also provide their extensive know-how during this event. LASYS 2014 will feature the complete range of applications of lasers in material processing, e.g. cutting, welding, inscribing, hardening, coating, structuring and trimming, as well as new application areas. Laser machines, processes and services relating to different industries and materials will be the focal points of LASYS 2014 and will therefore make the trade fair a unique worldwide information and presentation platform.

LASYS 2014 will provide answers
The exhibitors at LASYS 2014 will include well-known companies and research institutes. They possess, for example, a great deal of experience in the area of laser welding of metals and have precise knowledge of the challenges in this area. Here are some relevant comments by exhibitors: "In order to fully exploit the advantages of laser welding, e.g. high productivity and quality," said Richard Petersen, Sales Manager at weil engineering, "it is necessary to adapt the component design to the requirements of the laser. This is called 'laser-compatible design'." According to the expert, other important aspects include the shapes of the joins/joints and the choice of material. "One of the major challenges in laser welding is high fitting and positional accuracy of the workpiece in relation to the laser beam," is the experience of Tommy Lindner, Product Manager at Laservorm. The company solves this task with programmable beam quality that was developed in-house. Jens Hahn, Product Manager for Laser Systems at SITEC Industrietechnologie, takes a similar view. He, too, sees a special challenge in ensuring reproducible positioning accuracy of the laser beam in relation to the joining point: "Especially during the use of ultra-brilliant laser beam sources, the interaction between highly accurate mechanics, combined with quality monitoring systems operating in real time, guarantees high unit numbers with constant production quality." According to the expert, quality must be ensured during laser welding through intelligent process control and process monitoring, especially with hard-to-weld metals which are susceptible to cracking.
Rapid changeover vital "Set-up times play an important role, especially with small batch sizes," said Lindner. The Laservorm expert says that CNC machining is almost indispensable for high process speeds: "The jig or the machining table must ensure that the parts are quickly removed and charged so that automated and rapid processes are used in the best possible way." The Sales Manager from weil engineering can only concur with him: "Laser welding has become well-established for small batch sizes. This calls for intelligent clamping which meets these requirements in regard to its flexibility and the changeover time and costs. Dr. Siegfried Pause, Managing Director of LLT Applikation, has learned the following: "Laser welding on CNC-controlled machines is worthwhile even with very small unit numbers since the welding geometry is generated by a NC program. The process is also extremely flexible as regards the choice of welding parameters and the material pairs to be joined." According to Dr. Pause, special demands on the joining partners arise in regard to seam preparation, for example no gap or the smallest possible gap because welding is often carried out without any additional material.
SITEC Product Manager Jens Hahn mentions other arguments why laser welding is increasingly worthwhile: "The laser tool can firstly be used very flexibly and works without contact. Secondly, the investment volume for laser beam sources has decreased continuously in the last few years." In addition, some tasks can only actually be performed using a laser. And costs can also be saved because laser welding ensures low distortion and low heat input. Thanks to the visually appealing and highly precise weld seams, very little rework is required," said Product Manager Lindner from Laservorm. He said that one typical task in laser material processing is membrane welding of sensor components in precision mechanics.
New dimensions attained
"Entirely new dimensions have been attained at times with laser welding processes for joining small parts, for example in the watch industry, medical technology, microsystems engineering and other industries," emphasised Dr. Pause. According to him, weld seam widths of less than 100 µm can now be achieved using a single-mode fibre laser so that even very small parts and parts at risk of distortion can be successfully welded with a laser. One example is welding of watch cogs. LLT Applikation supplies its in-house developed machine concepts, e.g. the EWS 200 with Fanuc control and up to 5 axes, for laser precision welding and micro welding. Different laser beam sources with fibre coupling, but preferably fibre lasers, can be integrated in the machine.
Economical production of short pipes
The LASYS exhibitor weil engineering has developed machine concepts for short pipe production for example. These concepts can now ensure economical order-related production. Flexistar and Ecostar are the representatives here for automated production with integrated round and welding technology while Flexmaster acts as a pure welding machine for the stand-alone solution. Related applications can be found in the heating, ventilation and air-conditioning industry.
Optical scanners integrated in the NC solution
Technology development is an important aspect at Laservorm. "With the advantage of also using the developed machines in our own job shop," said Lindner, "we are increasing our awareness of further developments which improve the quality of work processes and speed them up." In the live offset mode the employee can intervene in the program sequence over and beyond the possibilities of a normal CNC machine. "In future traditional movement axes and optical scanners will be integrated in the NC solution," revealed the expert and added: "This will increase the options for programmable beam quality. Here at Laservorm we are already working successfully with this technology and can react to the growing demand for additive production processes."
Complete process-reliable solutions
SITEC Industrietechnologie is facing up to the increasing market demands by concentrating on complete process-reliable solutions for laser material processing. The range of products extends from laser processing centres in the LS series as a stand-alone system through to an automated solution with special laser systems and the production of small to large series. The LASYS exhibitor also supports users in the development of technologies and processes for laser welding, laser cutting, laser hardening, laser structuring and prototype production. The company also constructs its own jigs.
Rising demand for remote applications
LASYS 2014 will also feature a great deal of information on future prospects and trends. With regard to laser welding for precision parts and micro parts, LLT Managing Director Dr. Pause sees a trend towards increasingly smaller part dimension in conjunction with the optimisation of processes, for example through special beam shaping optics or special pulse control systems: "And one field for further development involves systems for online monitoring of the welding process - increasingly also with feedback for controlling the laser parameters and advance control." "Cold material removal using ultra-short pulse lasers is also being used more and more in micro processing," added SITEC Product Manager Jens Hahn. According to him, direct diode lasers have constantly improved the beam quality and have become attractive again as an efficient laser tool due to their robustness. He added: "Another trend is the increase in remote applications resulting in greater demand for laser welding and laser cutting processes with ultra-brilliant laser beam sources." In the area of macro processing weil Sales Manager Petersen has observed that there is still a continuing trend to take more account of sheet metal in design: "This combines the simplification of components. The advantage here is that materials adapted to the loading case can be selected in the form of the material thickness or material quality - also in the mix. This is associated with economical production of these sheet metal assemblies through reshaping and laser welding."
Large number of first-class talks during LASYS 2014
The exhibitors at LASYS 2014 and experts from renowned laser research institutes will be able to prove the cost-effectiveness of laser technology through their many years of experience. They will also demonstrate this during the excellent accompanying programme, running in parallel with LASYS 2014, in numerous events and talks, as well as the Solution Centre "meet the experts". The trade fair will contain something for everyone, whether newcomers or advanced laser experts and users. Attendance at LASYS 2014 in Stuttgart will definitely be worthwhile.
Other events will be held concurrently with LASYS 2014 at the Stuttgart Trade Fair Centre. These events will certainly produce synergy effects for visitors: The events in question are:Automotive Shows Engineexpo, Vehicle Dynamics Convention, Global Automotive Components and Suppliers Expo, Automotive Testing Expo and Automotive Interiors Expo. O&S, International Trade Fair for Surface Treatments and Coatings, and parts2clean, Leading International Trade Fair for Industrial Parts and Surface Cleaning, will also run in parallel with LASYS 2014.
Featured Product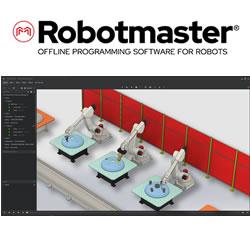 Robotmaster® offline programming software for robots helps manufacturers maximize their productivity and profitability with an intuitive and powerful programing solution ideal for production runs of all sizes and varying part complexity as a result of integrated CAD/CAM functionality.