The mission of the individual test sites is to develop international centres of expertise focused on the development, applications and operations of UAS/RPAS.
Orlando, Florida, May 14, 2014 - The International Consortium of Aeronautical Test Sites (ICATS) is quickly growing. With the formal announcement at the UAS Center of Excellence in Alma, Canada in February 2014, the four executive countries that include Canada, USA, UK and France, are holding a signing ceremony of the Memorandum of Understanding (MOU) hosted by UBIFRANCE, the French Agency for International Business Development.

The representatives of the UAV test & service centre (CESA) (Bordeaux, France), the Oklahoma State University - University Multispectral Laboratories (Oklahoma, United States), the National Aeronautical Centre (Wales, United Kingdom) will formally sign and celebrate the MOU. This agreement consolidates the various MOUs signed between the Centers in the past two (2) years.
The mission of the individual test sites is to develop international centres of expertise focused on the development, applications and operations of UAS/RPAS. By joining forces the consortium of test centres aim at supporting and guide the industry in the development, operations and certification of UAS/RPAS as established by their respective regulating bodies. ICATS will also focus on cross-borders normalisation of training and licensing, as well as airspace management and regulations. The test sites aim to engage with private, academic and public sector partners, as well as experts from around the world, to develop new business opportunities in the field of UAS/RPAS operations. In addition, they will support research and development activities; create jobs; promote investment; develop and commercialize advanced technologies and expand existing services, both in their own countries and cross-borders.
The consortium will support the industry by enabling the development, testing and ultimate certification of Unmanned Aerial Systems (UAS)/Remotely Piloted Aircraft Systems (RPAS) to allow for their use in non-segregated airspace. This will be achieved by sharing of information on operational safety, flight regulations and, when allowed to do so, actual operational experiences. The test centres will help continue to bridge the gap between the establishment of regulations and actual operations.
Since the formal announcement, ICATS has received expressions of interest from several UAS/RPAS test sites in multiple countries. The consortium welcomes interest from all UAS test sites and encourages contact with the ICATS Director of International Relations, Dr. Stephen McKeever, Secretary of Science and Technology, State of Oklahoma.
Unmanned Aerial System Centre of Excellence
The Unmanned Aerial System Centre of Excellence is a non-profit organisation whose mission is to develop an international centre of expertise and innovative services in the design, operations and applications of UAS. The UAS CE counts sixteen members in its ranks plus an important network of international partners.
Oklahoma State University - University Multispectral Laboratories
Government-owned, contractor-operated (GOCO), the University Multispectral Laboratories (UML) is a not-for-profit trusted-agent institution owned by Oklahoma State University and operated by Cherokee Nations Research Laboratories. UML provides research, development, test, evaluation and training (RDT&E) laboratory and field facilities in support of C5ISR, cyber, UAS, energy and related missions across all federal, state, local and commercial requirements.
UAV test and service center (CESA)
The CESA, the first French civilian UAS testing zone, is a result of collaboration between the Regional Council of Aquitaine, the State, the French civil aviation authority (DGAC) and the Ministry of Defense. Managed and operated by the Bordeaux Technowest technopole, CESA will soon allow certification and qualification of autonomous systems of less than 150 kg.
National Aeronautical Centre (NAC)
The National Aeronautical Centre (NAC) is a unique location in the UK that enables the development, testing and demonstration of systems and technologies associated to the aeronautical industry. Its key feature is the world's first area of restricted airspace designed specifically for military and civilian unmanned systems operations. This is enhanced by the facilities and organisations at the NAC, all of which deliver support to the sector's most specialized working environment.
For more information:
UAS CE, Quebec, Canada: Mr. Marc Moffatt , +1 (418) 487-3583, marc.moffatt@ville.alma.qc.ca
OSU-UML, Oklahoma, U.S.: Mr. Paul Gaasbeck, +1 (580) 492 5835, pgaasbeck@okstate-uml.org
CESA, Bordeaux, France: Mrs. Gosia Petaux, +33 6 16 57 27 94, m.petaux@technowest.com
NAC, Wales, U.K.: Mr. Ray Mann, +44 (0)1989 564880, raymann@mann-org.com
Featured Product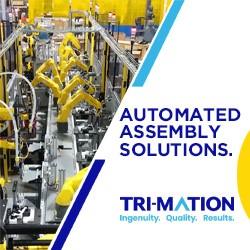 Tri-Mation reduces labor costs, improves accuracy, and production speed. Our integrators specialize in building automated assembly manufacturing systems for part production in any required volume or level of complexity.