Central Florida adhesive and dispensing equipment manufacturer builds industrial dispensing robot for repeatable, precision adhesive applications.
Sanford, FL June 16, 2014

Hernon Manufacturing, the innovator in adhesives, sealants and dispensing equipment has engineered an automated, industrial dispensing robot, called the Autosealer 2250. The new robot offers reliable operation with excellent repeatability for the precise application of adhesives and sealants.
Hernons Autosealer is an industrial dispensing robot that can be used for multiple manufacturing processes including potting or bonding. Its three and four dimensional motion controls allow for an operator to easily program complex patterns on different planes.
"Hernons Autosealer 2250 robot is ideal to be used for repeat, complex patterns and uniform patterns," said Edgardo Rodriguez, Director of Sales and Marketing for Hernon Manufacturing. "Our new robot is more than just a piece of dispensing equipment. It will save manufacturing time while increasing accuracy, and decreasing costs associated with labor and the adhesive loss typically associated with other methods of dispensing."
With the ability to work as a stand-alone unit or as part of an automated solution, Hernons Autosealer robot can be easily integrated into assembly lines and other in-line conveyor-based manufacturing processes. Additionally, this industrial dispensing robot can be quickly set-up and easily programmed via a personal computer eliminating the need for learning complex programming languages.
"If youre looking for an industrial, precision adhesive dispensing system, this is it," added Rodriguez.
HERNON Manufacturing has been committed to delivering world class adhesive, sealant, and impregnation solutions along with precision dispensing systems for nearly four decades. A long-time member of Central Floridas industrial manufacturing community, HERNON offers strong brands and technologies, all made in the United States, for a diverse range of industries including: Energy/Power Generation, Medical, Electronics, Electrical, LED, Automotive, Appliances, Sporting Goods, Ammunition, Communications, Aerospace, Aviation, High Tech Audio, Defense, Fire Suppression, Transportation, and Marine. HERNON Manufacturing is proud to be an ISO-9001 and ITAR registered company whose products meet or exceed Mil-Specs.
*Awarded 2012 ThinkGlobal Exporter of the Year
*Nominated one of Florida's Top Companies to Watch in 2012
*Received the 2012 William C. Schwartz Industry Innovation Award
*Named 2013 State of Florida Small Business Exporter of the Year
Visit http://www.hernon.com or contact 407-322-4000 for more information.
Featured Product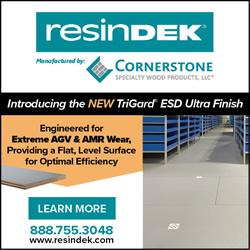 To maximize the productivity of an autonomous mobile robot (AMR) or automatic guided vehicle (AGV) deployment, it's critical to create the optimal environment that allows the vehicles to perform at their peak. For that reason, Cornerstone Specialty Wood Products, LLC® (www.resindek.com) created the TriGard® ESD Ultra finish for its ResinDek® engineered flooring panels. The TriGard ESD Ultra finish is ideal for high-traffic robotic applications characterized by highly repetitive movement patterns and defined travel paths.