Tomorrows Technology Today
DUNCAN, SC - Stäubli will be opening the doors of its North American headquarters in Duncan, South Carolina on June 26-27. The two-day event offers a unique opportunity to explore a vast array of leading edge robotic, connection and textile technologies - more than any other event of its kind. Along with exhibits and live demonstrations, Stäubli Technology Days will feature interactive workshops and guided tours of Stäubli's 100,000 square foot facility.

Stäubli Technology Days is geared to professionals in engineering and manufacturing management who are looking for ways to increase efficiency and maximize productivity through technology. Stäubli's Robotics and Connectors Divisions will each be sharing their innovations:
Robotics: Discover how advanced robots can carry out a multitude of tasks with exceptionally high speed, accuracy and reliability. The Robotics Division will present robots as well as robot controllers and software solutions for automating numerous applications across all industries. Ten unique live demos will include the ultra high-speed TP80 Fast Picker, capable of 200 picks per minute.
"I'm excited to showcase our new products, such as our TP80 Fast Picker and state-of-the-art offline programming software, SRS 2013. We'll also be demonstrating our VAL software suite for dedicated industries," said Florian Vie, Robotics Applications Manager. "Support is a big part of our company, so we'll also be presenting the first-class services we offer customers worldwide."
Connectors: The leading provider of quick connection solutions worldwide, Stäubli Connectors continually raises the bar on safety and reliability. Attendees will have the chance to explore a broad range of advanced connection solutions for fluids, gases and electrical power, including multi-coupling plates, electromagnetic quick mold change systems, robotic tool changers, refueling systems for natural gas vehicles, and mono couplings for nuclear and military applications.
"This is a great opportunity for Stäubli to highlight current products as well as demonstrate new technologies that will revolutionize the market. The event will bring awareness to the unique products we offer, and illustrate how Stäubli can be a critical part of the customer's solution," remarked Stacy Jones, Stäubli Robotics New Business Development Manager.
Stäubli technology experts from all over the world will be available to answer questions and help attendees make the most of the experience. We will be offering daily drawings and a grand prize for participants. Stäubli's management team will also be on hand to address business development opportunities and answer technical questions. Those interested in attending are encouraged to contact Jan Abel at techdays.usa@Staubli.com or 864-486-5430, or register online at www.Staubli.com/techdays. Event details including a full list of seminars and directions can also be found at www.Staubli.com/techdays.
Featured Product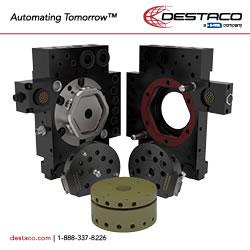 The Accelerate Collection is a range of products designed to help stamping press operators speed up their production lines with higher efficiencies. Working with our customers helped to bring innovative new products to the market, which in turn helps them produce more stamped parts per hour, while reducing moment forces and overall system wear and tear. Accelerate Collection products include Lightweight Tooling, Polyurethane Vacuum Cups, Sheet Metal Grippers, Plastic Proximity Switch Mounts, and new Digital Solutions.