A Comprehensive Line of Feeding Technology at the Lowest Price on the Market
Plymouth, Minnesota June 25, 2014

Superior Paper Handling Solutions is leading the friction feeding industry and shifting the way the fulfillment industry drives business. Superior-PHS has developed the lowest priced, dependable feeder series on the market with models for batch counting, one shot, continuous, and staging/presentation modes all for under $4,000 each.
The new Maxim RX™ feeder series is designed and engineered with new product features not currently found in traditional friction feeders. It introduces patent pending feeding technology that aids in product separation, removable magnetic wedges that can be positioned anywhere on the feeder to support standard and irregular shaped product sizes, and more standard operating features and options available at the lowest price on the market.
The all-encompassing feeding product line offers technology that dominates the market by including the fastest servo fed motor technology, the Xtreme Ultra™ Series, the robust and versatile Xtreme XM™ Series, and now, the lowest priced feeder series: the Maxim RX™ Series. Superior-PHS began shipping staging and continuous Maxim RX™ models in June 2013, and batch count and one shot modes in December 2013. Less than one year later, the Maxim RX™ Series is the fastest selling comprehensive startup line of friction feeders currently on the market today.
Superior Paper Handling Solutions is a manufacturer of economical solutions for automating paper and related material handling processes for print, mail, and packaging fulfillment. This includes product lines in friction feeding, batch counting/bundle stacking, transfer and wrapping systems, and collating & kit fulfillment. Stop by the Superior-PHS booths during this year's Graph Expo and Pack Expo shows in Chicago, IL to see their complete line or visit http://www.superior-phs.com for more information.
Featured Product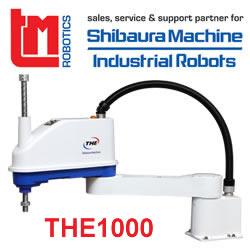 Designed for assembly and inspection applications in the electronics equipment and automobile components industries, the THE600 SCARA is a powerful automation tool. Advancing from the specifications of the existing THE400 SCARA, the THE600 has been developed to meet growing demand for fast-cycle automation. The THE600 model includes improvements in synchronised control and tracking precision. The THE600 is compact in design and offers improved high speed, with 60 per cent higher payload capacity than competing SCARA models in the same price range, making it the price-to-performance leader. Affordable price, impressive performance.