The new SensorCloud platform features are designed to significantly enhance users productivity and were largely driven by customer suggestions.
(Cary, NC - July 15, 2014) - LORD Corporation MicroStrain® Sensing Systems - a global leader in developing embedded sensing systems for aerospace and industrial markets - has announced a series of enhancements to its SensorCloud cloud-based sensor data platform (http://www.SensorCloud.com).

Introduced in 2011, the SensorCloud platform is a unique sensor data storage, visualization, and remote management platform that leverages powerful cloud computing technologies to provide excellent data scalability, rapid graphing, and user-programmable online analytics. It is currently used by numerous LORD MicroStrain® customers across a variety of industries and disciplines, including aviation, defense, oil & gas, and manufacturing.
The new SensorCloud platform features are designed to significantly enhance users productivity and were largely driven by customer suggestions. Among the highlights:
*Shared views of user data including embeddable FastGraph® charts, which provide simple embeddable graphs for web sharing of data with just one line of html code
*OEM white label options (including both customized, embedded FastGraphs® and a full, standalone version)
*MathEngine® iPython notebooks—real-time, cloud-based, data analytics platforms
*GitHub repository with SDKAPIExample code and RESTful API, which allows any device or application to upload data to SensorCloud. The API is implemented as a web service using standard HTTP request commands.
*SensorCloud API, including libraries and example code for Python, Java, and C#
"Were very pleased to offer our customers these great enhancements to our award-winning SensorCloud platform," says Justin Bessette, LORD MicroStrains Manager of Software Engineering. "These new features will make SensorCloud users even more productive due to its improved ease-of-use and data collaboration tools for sharing data. When combined with MathEngine®, the SensorCloud data platform brings custom analytics to the cloud for a complete, end-to-end Internet of Things (IoT) solution."
LORD MicroStrain® is also introducing a simplified pricing model for its SensorCloud data platform, including a complimentary "start now" option, which includes 10 million data points of storage per month.
Through its Sensor IoT platform, SensorCloud allows users to employ LORD MicroStrain's Wireless Sensor Data Aggregator (WSDA®) to directly and securely upload wireless and inertial data to the cloud. The Custom Alerts feature keeps users informed on their data 24/7 with email and SMS messaging options, and the ability to add custom information including time, threshold values, and links to the event data, helps set SensorCloud platform apart.
"Were confident these features will be a game-changer for prospective SensorCloud platform users," says Bessette. "The API and the CSV import tool allow users to upload their own data, making it easier than ever to immediately start experiencing the benefits."
Call 1-802-862-6629 or email sensing_sales@lord.com for product inquiries. To view the new features and for more information, visit http://www.SensorCloud.com.
About LORD MicroStrain®
LORD MicroStrain® Sensing Systems range of sensing solutions includes inertial measurement systems, micro-displacement transducers, wireless sensor networks and energy harvesting technologies. Solutions range from rapidly deployed test and measurement to long-term embedded health monitoring. Applications include structural health monitoring, condition-based maintenance, navigation and control, environmental monitoring, and rotating component health. Recognized as a leader in the sensor industry, LORD MicroStrain® has received numerous product innovation awards. Visit http://www.microstrain.com for additional information.
About LORD Corporation
LORD Corporation is a diversified technology and manufacturing company developing highly reliable adhesives, coatings, motion management devices, and sensing technologies that significantly reduce risk and improve product performance. For 90 years, LORD has worked in collaboration with our customers to provide innovative aerospace, defense, automotive and industrial solutions. With world headquarters in Cary, N.C. and 2013 revenues in excess of $880 million, LORD has more than 3,000 employees in 26 countries and operates 16 manufacturing facilities and eight R&D centers worldwide. LORD actively promotes STEM education and many other community engagement initiatives. For more information, visit http://www.lord.com.
Featured Product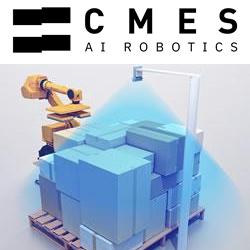 Powered by AI, CMES Robotics enables 3D vision for factory robots. CMES AI vision software enables robots to recognize unstructured, flexible, or deformed objects, pick them up, and loading and unloading. CMES Vision software has been deployed worldwide for random palletization and depalletization along with void filling applications. CMES Robotics automates your warehouse, logistics, and supply chain. For more information, please visit: cmesrobotics.com or email info@cmesrobotics.com.