Release sets new standards for machine vision---- Preview at VISION 2014 in Stuttgart
Munich, September 2, 2014 - HALCON 12, the new version of the powerful standard software for machine vision, will be released by MVTec Software GmbH (Munich, Germany, www.mvtec.com) on November 15, 2014. HALCON 12 will set new standards for performance and usability, making it the number one choice for machine vision users.

Software developers face a great challenge whenever they have to speed up their application. HALCON eases their job by actively exploiting multi-core processors, SSE2 and AVX, as well as GPU acceleration. With version 12, HALCON also utilizes AVX2, thus running significantly faster on state-of-the-art processors. Moreover, the performance of several operators has been improved significantly in HALCON 12, increasing their speed by up to five times. Further speedups are achieved in HDevelop and HDevEngine where the execution of HDevelop code has become considerably faster. A so-called JIT (just-in-time) compiler automatically compiles HDevelop code to machine code for faster processing.
Improved OCR, 3D vision, SBI and usability
HALCON 12 eases Optical Character Recognition (OCR) applications with a new technology for text segmentation. Characters of any size are found robustly, in most cases without the need to adjust parameters. The new technology has an impressive capability to distinguish characters from background texture even under challenging conditions like slanted text or distorted characters. Together with HALCONs classification techniques, the new text segmentation technology is the key to reliable OCR.
HALCONs portfolio of 3D vision methods supports all aspects of 3D vision technology, such as 3D reconstruction, 3D registration, and 3D object processing. HALCON 12 includes a new technique: local deformable surfaced-based matching. With this new feature, bent or stretched objects like bananas can be found reliably, thus expanding the possibilities of 3D vision applications. Furthermore, HALCONs surfaced-based 3D matching in version 12 has become more robust when processing noisy image data, e.g. from time-of-flight cameras.
Sample-based identification can recognize trained objects only based on characteristic features like color or texture. It eliminates the need to use special imprints like bar codes or data codes for object identification purposes. In HALCON 12, this technology is even more robust especially if different objects are trained with a different number of sample images. Furthermore, sample-based identification has become more robust within images with cluttered background or illumination changes.
In addition, the usability of HALCON has been further improved. With its new and revised camera calibration, HALCON 12 reaches the same accuracy by using considerably fewer images or enhances the accuracy by using the same number of images. Furthermore, it is no longer necessary that the new calibration plates are completely visible in the image. Moreover, HALCON 12 offers camera calibration for Scheimpflug optics as well as hand-eye calibration for SCARA robots and makes sheet-of-light calibration much easier.
Enhanced interactive programming environment
HALCONs highly interactive programming environment (IDE) HDevelop has been enhanced with support of parallel programming and thus allows concurrency. Also, HALCON 12 supports event-based processing. As a special key feature for software developers, a new extension allows to inspect HALCON variables (tuples and iconic) directly within Visual Studio, thus easing debugging tasks tremendously. Finally, vector variables are now supported in HDevelop and tuples can be illustrated as 1D or 2D plots from the variable window.
At VISION 2014 in Stuttgart (November 4 - 6, Hall 1, Booth 1E72) MVTec Software GmbH will present HALCON 12 to the public for the first time with many live demos of machine vision applications.
Further information on MVTec Software: www.mvtec.com.
About HALCON
HALCON is the comprehensive standard software for machine vision with an integrated development environment (IDE) that is used worldwide. It enables cost savings and improved time to market: HALCONs flexible architecture facilitates rapid development of machine vision, medical imaging, and image analysis applications. HALCON provides outstanding performance and a comprehensive support of multi-core platforms and special instructions sets like AVX2, as well as GPU acceleration. It serves all industries, with a library used in tens of thousands of applications in all areas of imaging like blob analysis, morphology, matching, measuring, identification and 3D vision. HALCON secures your investment by supporting a wide range of operating systems and providing interfaces to hundreds of industrial cameras and frame grabbers, also for standards like GenICam, GigE Vision, and USB3 Vision. www.halcon.com
About MVTec
MVTec is a leading manufacturer of standard software for machine vision. MVTec products are used in all demanding areas of imaging: Semi-conductor industry, web inspection, quality control and inspection applications in general, medicine, 3D vision and surveillance. MVTec, with its head office in Munich (Germany), has more than 30 established distributors worldwide and in addition, MVTec, LLC works out of Boston, MA (USA). www.mvtec.com
Featured Product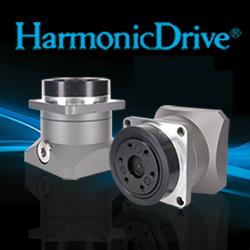 Harmonic Drive LLC, a leader in high precision motion control introduces new lightweight versions of select gearhead products. The new gearheads are ideal for designs where weight is a critical factor. Building on the success of Harmonic Drive LLCs current gear units, new lightweight versions were the next logical evolution of the CS/ SH product lines. With weight reductions of 20-30% without any reduction in torque ratings, the Lightweight (LW) gear units provide exceptional torque density.